10 tips for planning a great Disneyland and California Adventure itinerary
So – you've scoured the internet and come up with some itineraries that look great. You can't wait to try the "Disneyland in a day" travel plan. Cool! But wait – you may be disappointed if you believe there is a "one size fits all" itinerary.
Basic online itineraries are great as a guide, but beware of unexpected surprises that could totally derail your plan. These tips will help you stay on track!
Note: I don't earn commission from any links in this post, but I hope they will be helpful to my readers.
Tip #1 Know your Peeps!
Who will be joining you on your Disney Adventure? A group of friends? The baby? Grandma and Grandpa? Aunts, Uncles, and Cousins? Each group has a different dynamic that can frustrate the most well-laid plans. Here are some things to consider:
Do you have a baby that needs a quiet place to eat and/or nap?
Is one of your children recently potty trained?
Does Grandpa have a back problem that keeps his pace slow?
Are any of your kids too small to go on certain rides?
Do you have a large group that wants to stay together?
All of these are considerations that will affect your itinerary. Check out my Know Your Peeps post for more info!
Tip #2 Quiz your group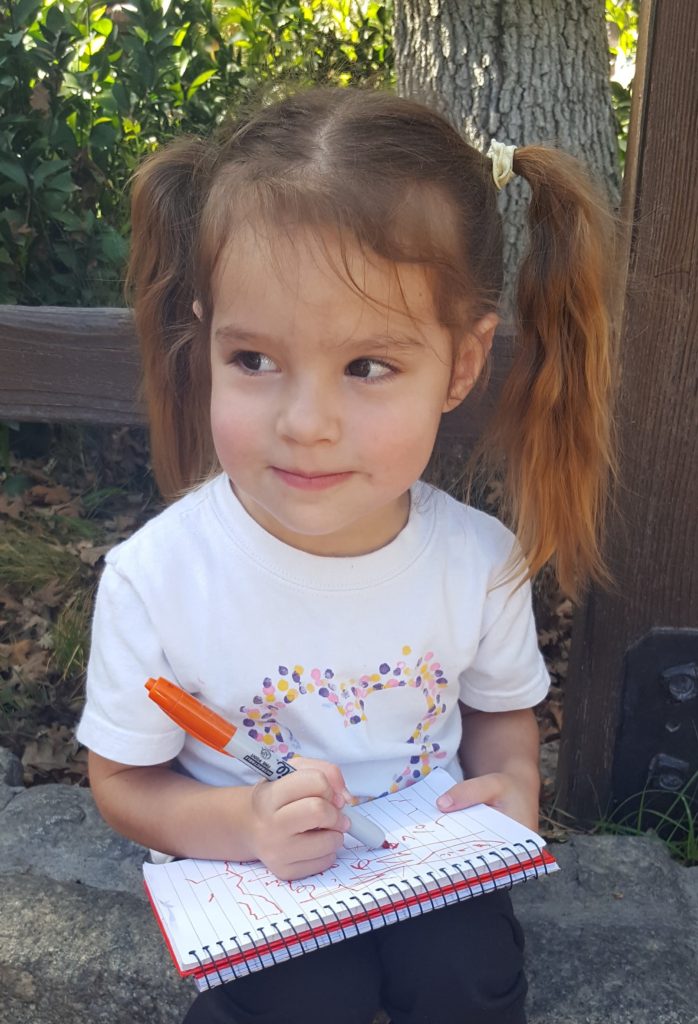 There is nothing that turns the happiest place on earth into the unhappiest place on earth quicker than adults kids who don't get to ride the one ride they walk by that looks super fun! So make sure to talk to your family members/friends/kids beforehand about what is important to them. I have a daughter with 5 kids, all with different likes and dislikes. One kid loves coasters and hates shows. One kids loves to meet the characters and hates coasters. One kid would spend his whole day in the gift shop. One kid is too little for coasters, but loves absolutely everything else. You get the idea. Luckily, my daughter quizzes her kids on what is most important to them each time they visit, so she can plan a great itinerary. (It doesn't hurt that she knows them so well either.)
For the Quiz that I use, go to my Quiz Your Group post.
Tip #3 Learn how to use FastPass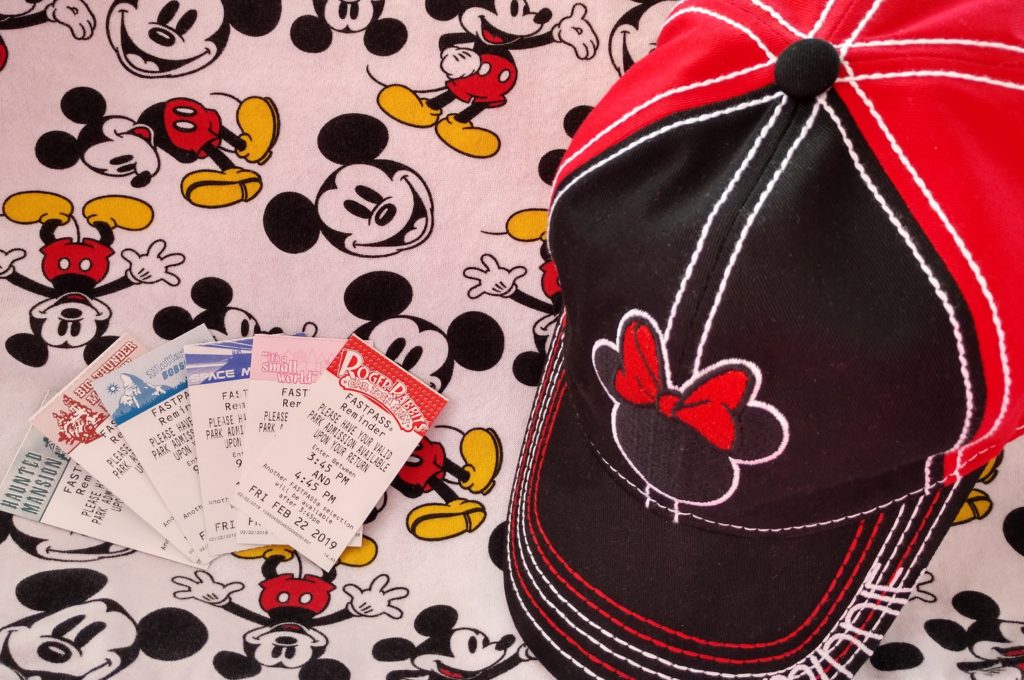 A friend of mine was telling me recently how she and her young nephew never got to ride Radiator Springs Racers because the line was always too long. I asked her if she had missed her FastPass window, and she looked at me blankly. "What's FastPass?" she asked. I was flabbergasted! FastPass is the I Ching of Disneyland and California Adventure! It's what makes every itinerary work. Don't visit Disneyland without a working knowledge of FastPass!
Tip #4 Be prepared for unexpected ride closures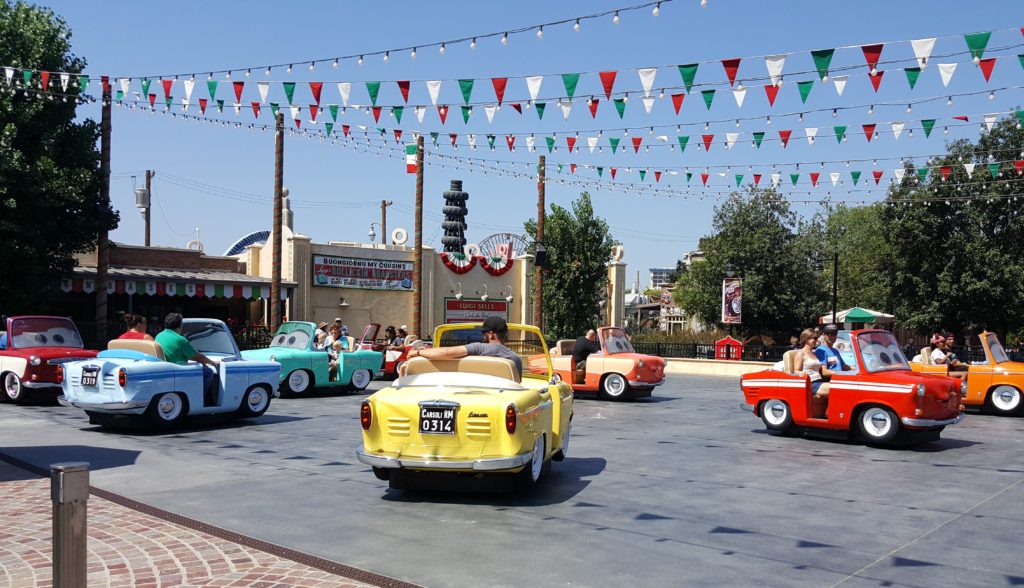 On our Disney trip last week, there were many rides that were closed for part or all of the day. Luckily, we were able to work around most of these closures, and only missed one ride – Luigi's Rollickin' Roadsters. (And it was too bad, because dancing in Luigi's cars is lots of fun!) But the point is – have a plan B just in case the next ride on your itinerary is temporarily closed!
Tip #5 Factor in the Park Entertainment
Even though my 10 year old grandson may disagree with me, Disney is not all about the rides. You can get rides at any old amusement park. Much of the reason Disney is extra special is that they go out of their way to create an experience for all of the senses. The sights. The sounds. The aromas. The tastes. The feelings. All of those things working together is what makes Disney a magical place! So look at the Entertainment Schedule before you plan your itinerary, because there are surely some shows that you don't want to miss.
Tip #6 Memorize the Disney Map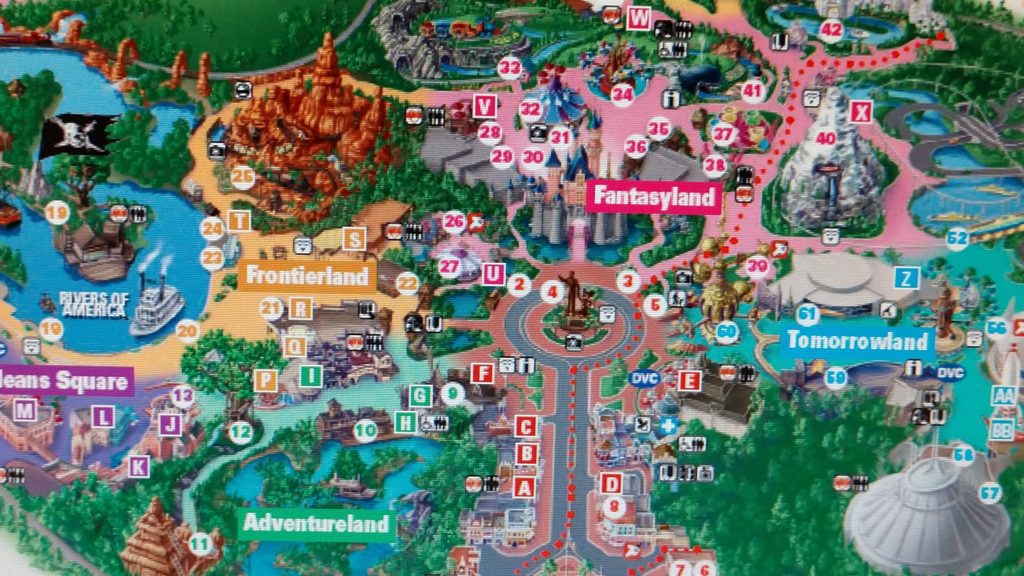 My mom tells the story of visiting Disneyland for the first time in the summer of 1956 as a teenager with her parents and 4 siblings. My grandpa, being a very thorough person, decided that it would be a great idea for the family to walk around and look at every ride before deciding what to spend their tickets on. (Disney had a ride ticket system at the time.) My mom says that by the time they had walked around the whole park in the hot sun without riding one ride, the family was so tired and grumpy that they didn't want to go on anything! This can be easily avoided in this day and age, when everything is online. And even though you can get the Disney app, which is very helpful, it pays to know where you are going, and if there are any shortcuts to get there.
Tip #7 Dress for the weather (and for fun.)
You may be fooled into believing that Southern California is always sunny and warm, but DON'T FALL FOR IT! It is sometimes chilly in the winter months, especially after the sun goes down. I was there last week when an unseasonable storm came through, and evenings were downright cold! Your well thought out itinerary could go out the window if you have to leave the park earlier than planned due to the complaining cold.
I love to dress up in Disney outfits while at Disneyland. It just feels festive! When traveling with kids, I also like to match, for easier spotting of said kids if they run off. Even without kids, I still love to wear Disney shirts and dresses.
Tip #8 Expect crowds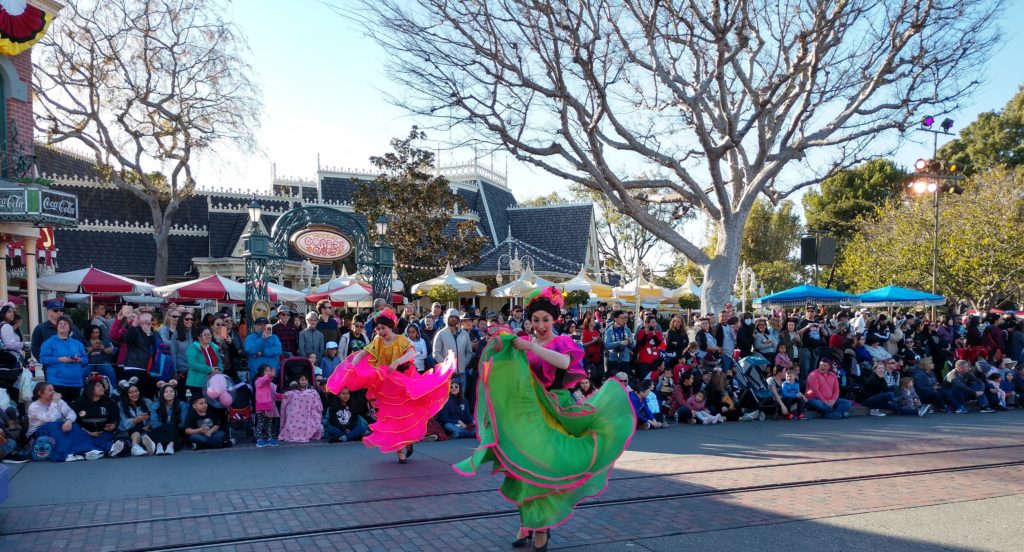 Since Disneyland is the happiest place on earth, naturally absolutely everybody wants to be there! And there are times that you may feel like actually everybody actually IS there. But if you pay attention to crowd trends, you can still find pleasant days that are relatively empty. The outright best time to visit is the first two hours of the day. Many guests don't like to get up early and rush over to Disneyland to wait in a line at the gate. But I promise you that if you are there at rope drop, you will save hours of standing in line throughout the day.
Tip #9 Pack with a purpose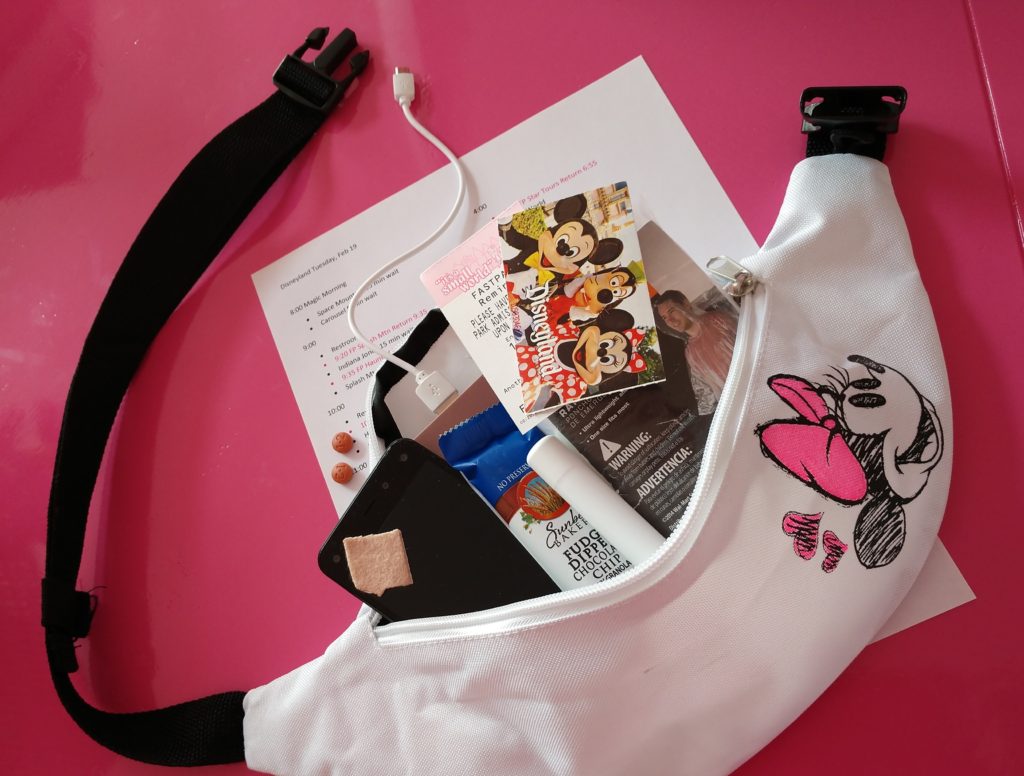 I love Disney's policy on bringing items into the park! About the only thing not allowed that you might want is your selfie stick. (Are these even a thing anymore?) Of course you can't bring suitcases or large coolers, knives or sporting goods, or even cremated remains(!). But seriously, who would want to drag those things around all day anyway? Stick with the essentials, which for me always includes my cell phone, ticket, and itinerary. I like to use a waist pack, which may not be the latest fashion statement, but I can keep it on during all rides, instead of putting it by my feet. It fits a few extras as well, such as a piece of moleskin in case of a blister, a chapstick, a couple of ibuprofen, a granola bar, a cheap rain poncho, and a small external battery charger for my phone.
Tip #10 Don't stress!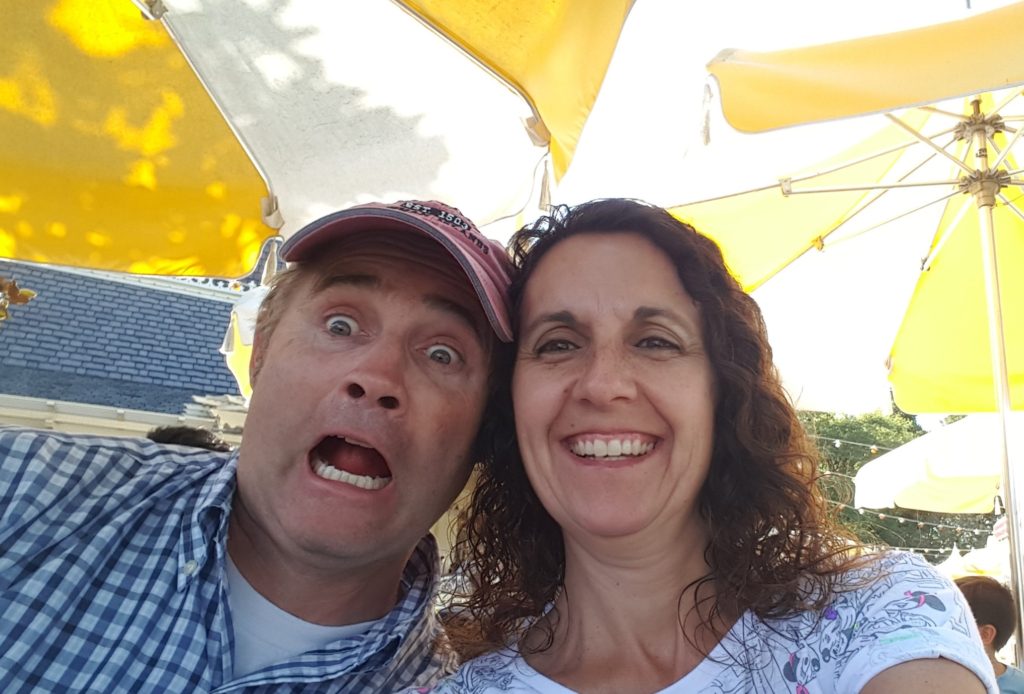 Disneyland and California Adventure are meant to be fun and exciting, not exhausting and miserable. If your itinerary doesn't work just right, skip an item and get to it later. I like to highlight the very most important activities, and be sure to make it to them. The rest is all just icing on the cake!
Do you have any other favorite tips that you use at Disneyland and California Adventure?