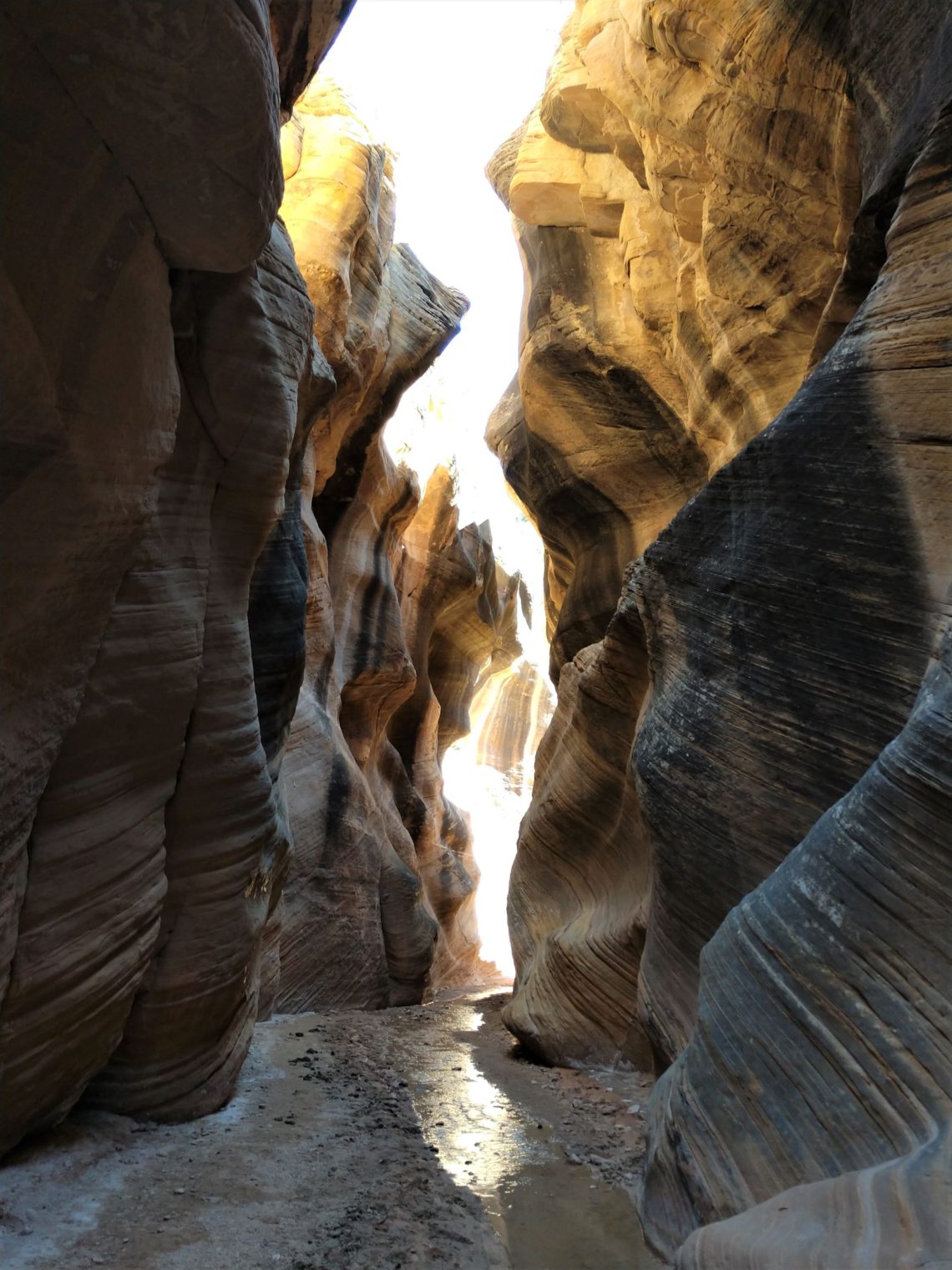 If you've always wanted to hike a slot canyon, but thought that they were too tricky or dangerous, I've got a great hike for you!
On our recent trip to Bryce Canyon we spent one morning hiking within the Grand Staircase Escalante National Monument. It was only about an hour from Bryce Canyon; alternately you can reach it from US-89 coming from the south. The VisitUtah website has detailed instructions for how to find Willis Creek.
The road to get there is a dirt road, and it can be sandy in places. We made it in our van, but there were some dicey spots. Bring a four wheel drive vehicle if you can!
There is a small parking lot that only had one other car when we were there. I heard it was popular, but we felt like it was our own private hike!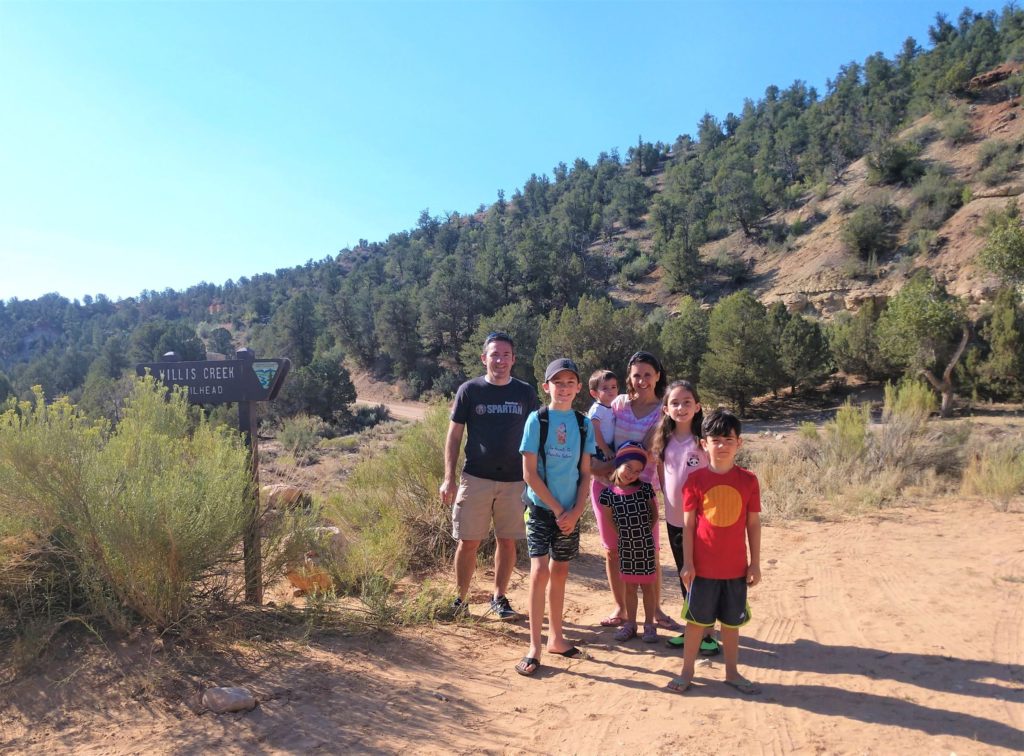 From the signpost, head down the dirt road to the creek, turn left, and wade right in!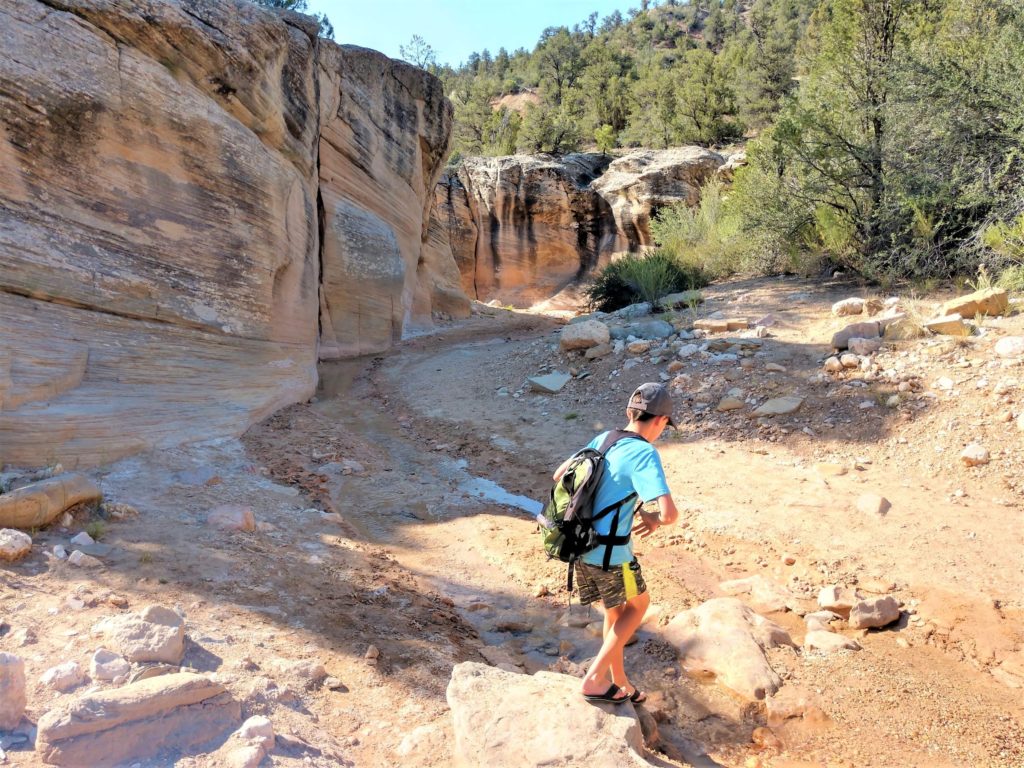 This is a hike where you will want to wear water shoes or sandals that can get wet. While it was technically possible to avoid walking in the water, there were several areas that many contortions were necessary to avoid it. And it was way cooler and more fun to walk down the middle of the creek!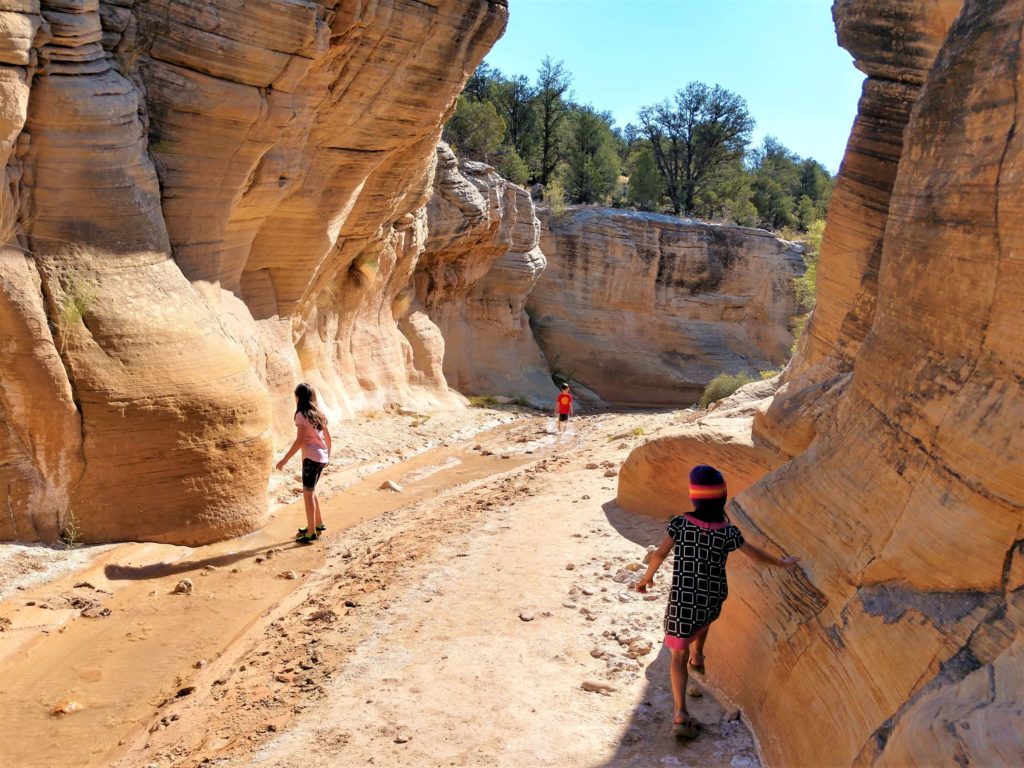 It was a great family hike, because the water never got more than a couple of inches deep. Also, there were fun rocks to play on!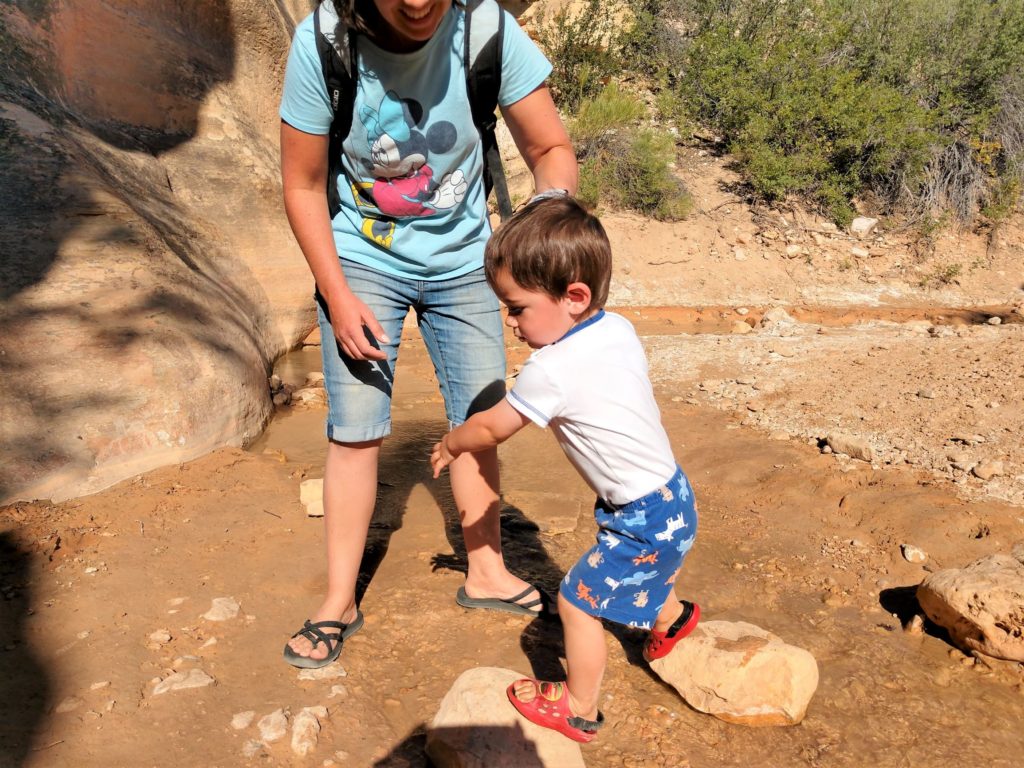 After walking just a little ways, we got to the first of the slot canyons. The shade and water made it a very pleasant walk.
It wasn't long before the slot canyon opened up and became a wide creek bed.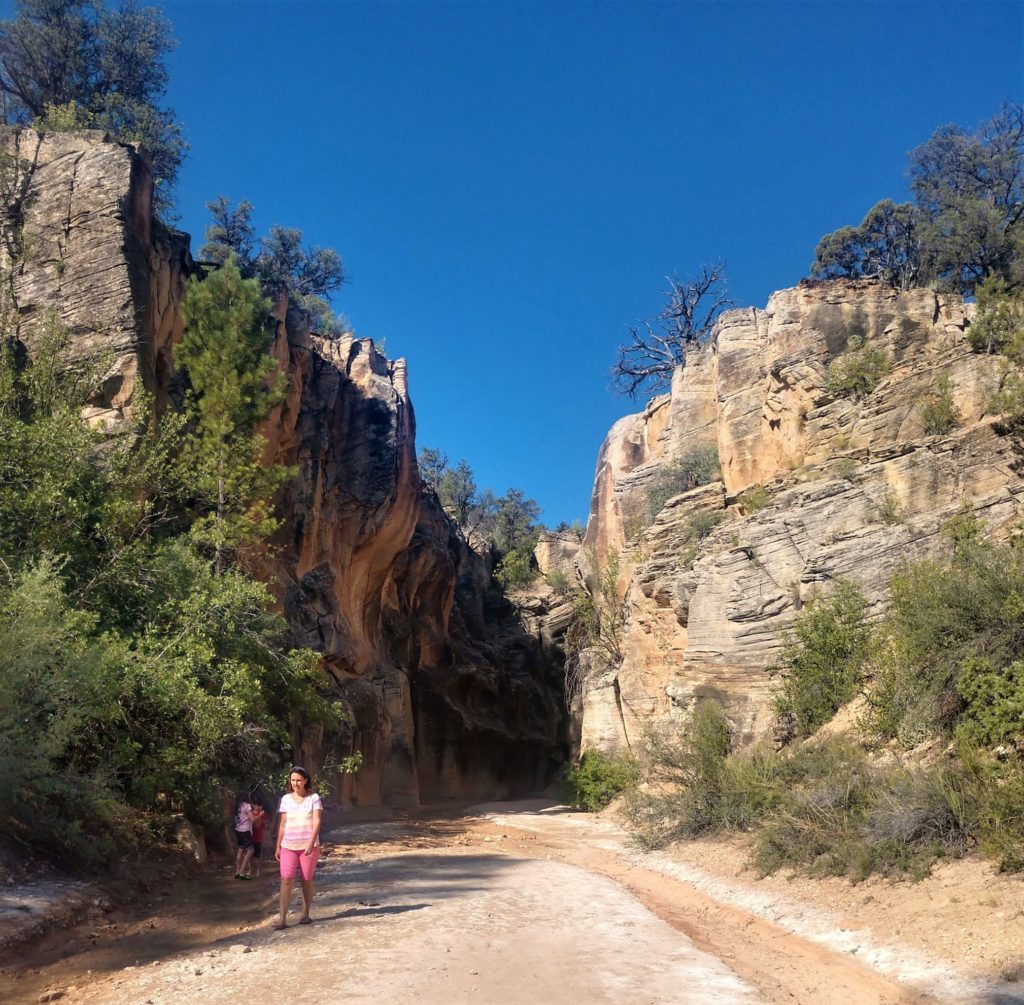 It was easier to walk in the dry part of the creek bed, because the mud was deep and sticky on the edge of the water.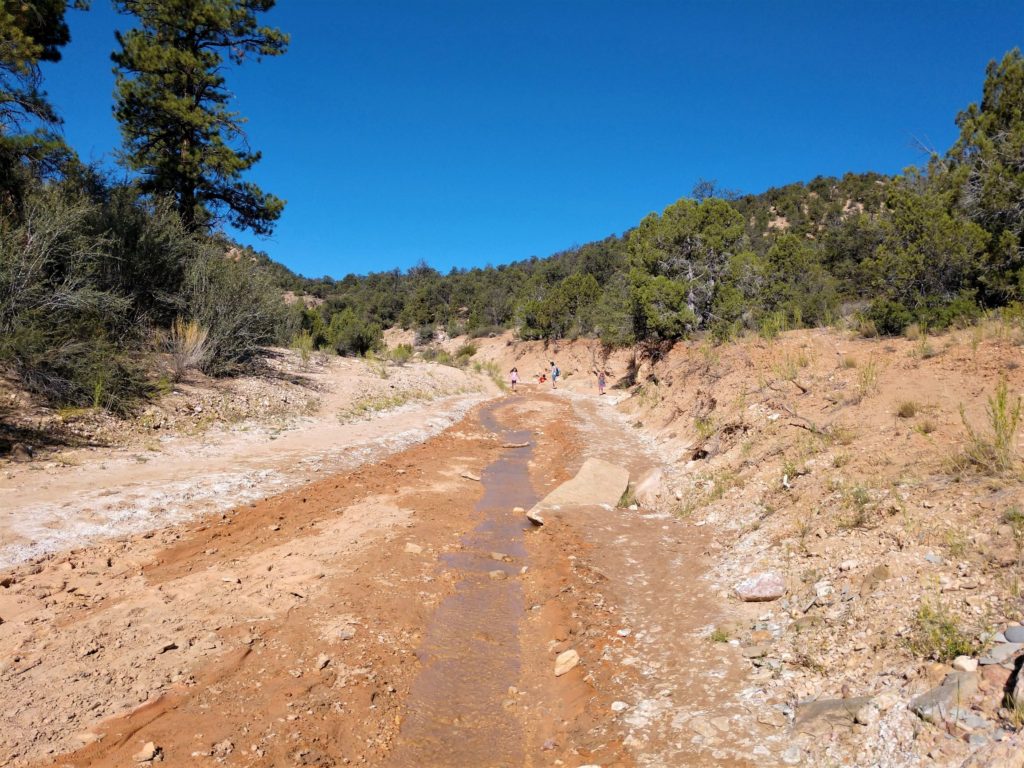 Near the end of the wide flat creek bed, we encountered a fallen tree. It was easy to go around it, but some of the kids elected to go under the trunk.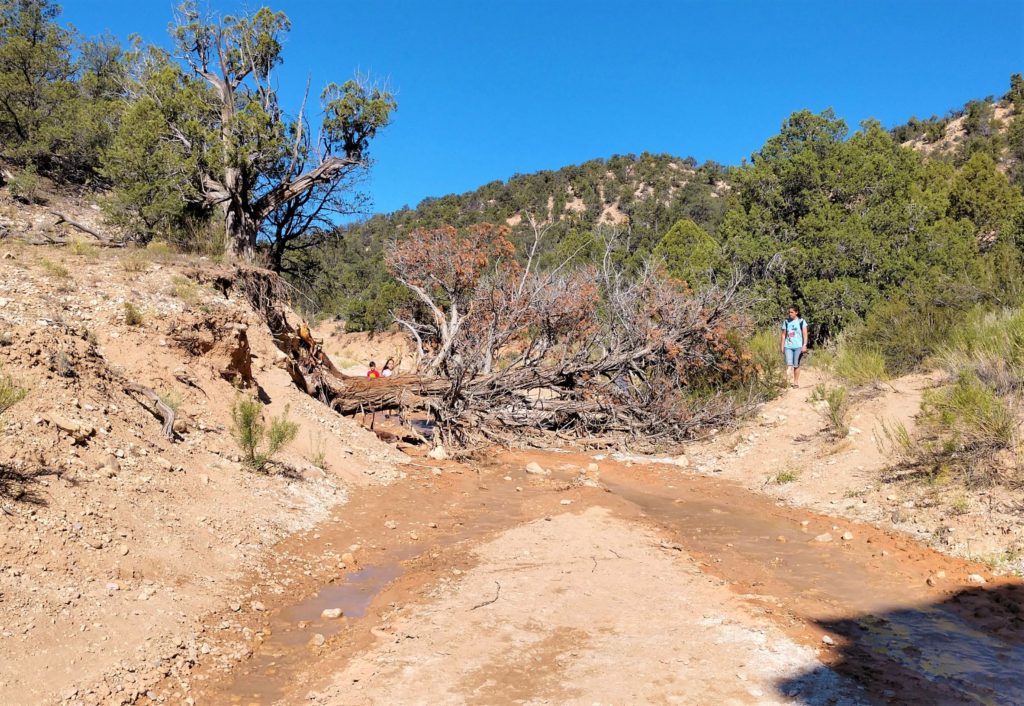 We rounded the corner, and a little ways down we came to an unexpected waterfall! It's so interesting to me how the creek cuts through what seems like solid rock to form these steep slot canyon walls.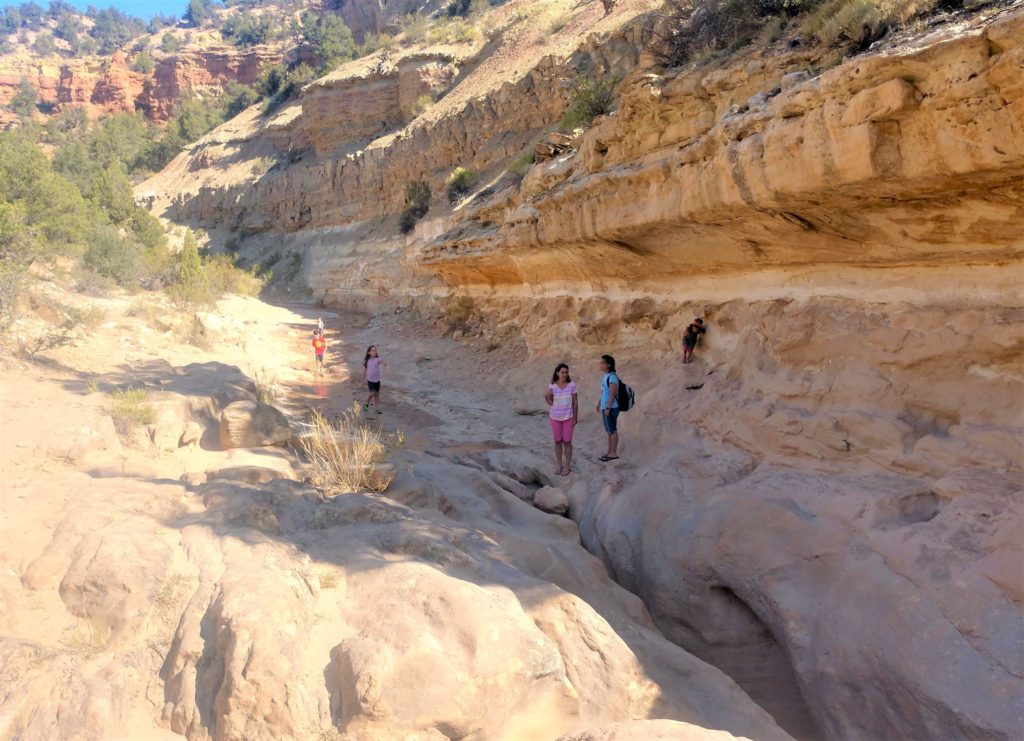 It was too far to jump down, so we had to walk around on the edges till we found a place to cut back down to the creek bed. It wasn't super dangerous for adults, but we kept hold of the little ones hands. Once we made our way down to the creek, we only had to come back a little way to see the waterfall from the bottom.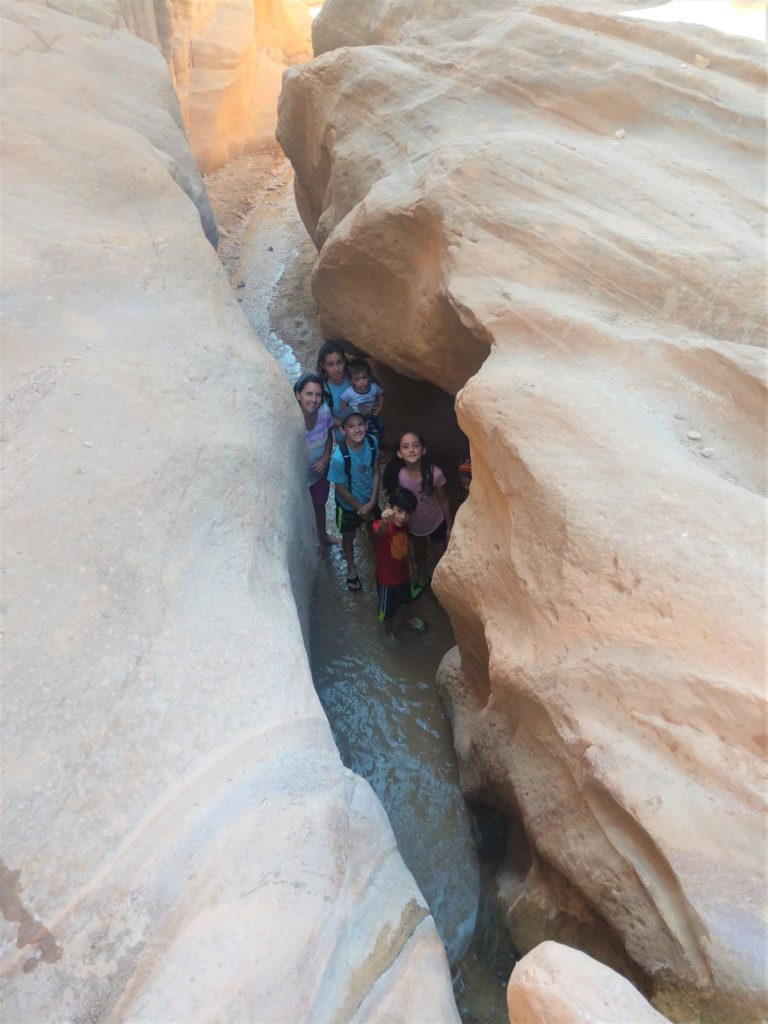 The kids thought this was one of the best parts of the hike!
After the waterfall, we came to another narrow canyon.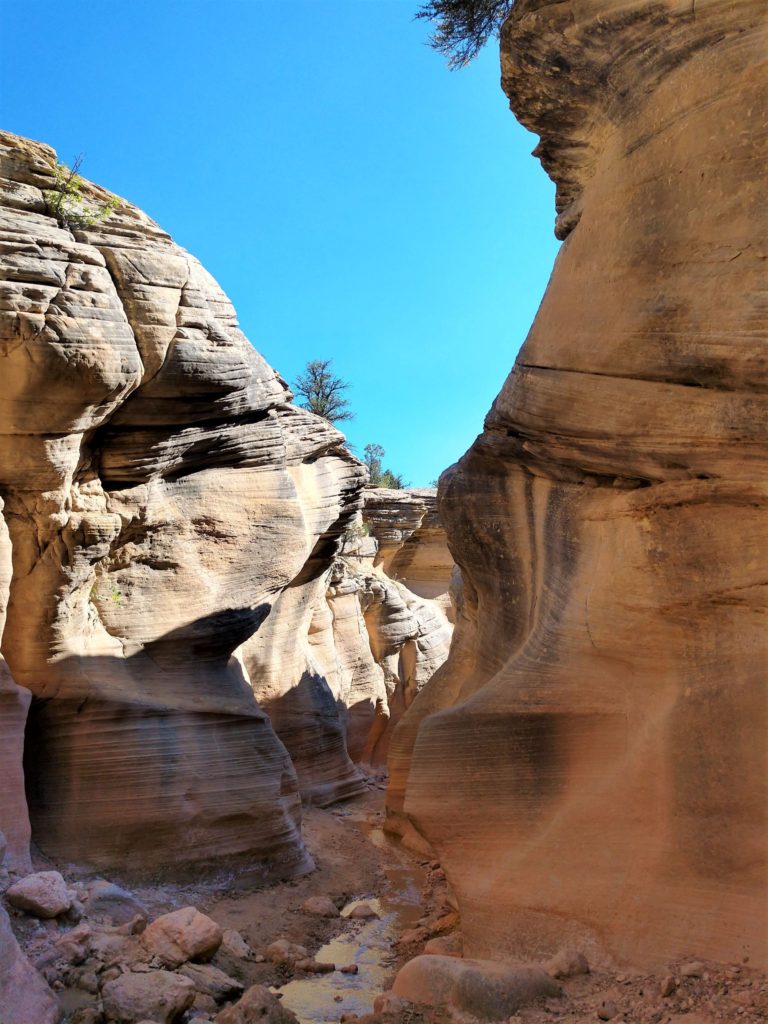 We decided this was a great place to stop and have a snack. Of course the best places to eat were up on the rocks.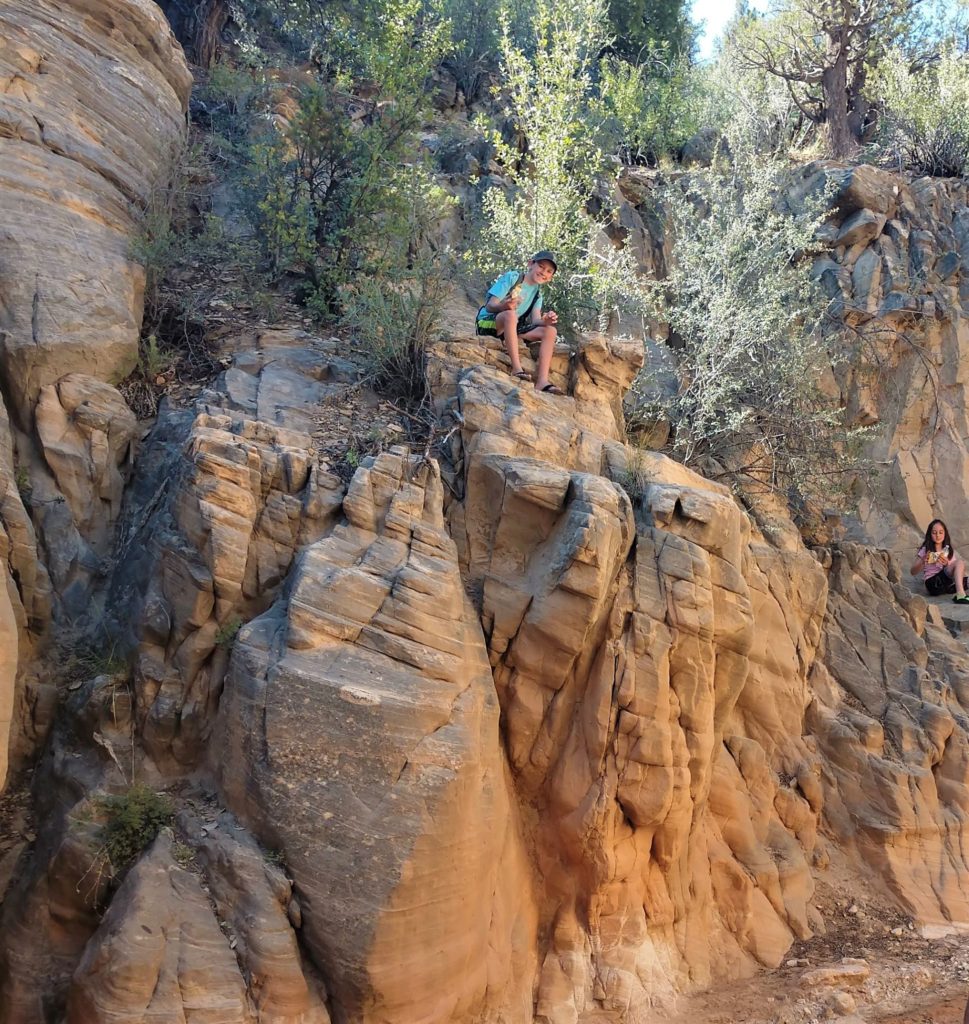 The whole hike consisted of narrow canyons interspersed with wider creek beds. I would have liked to see it from the air to get the lay of the land. It's hard to tell which direction you are going inside the slot canyon.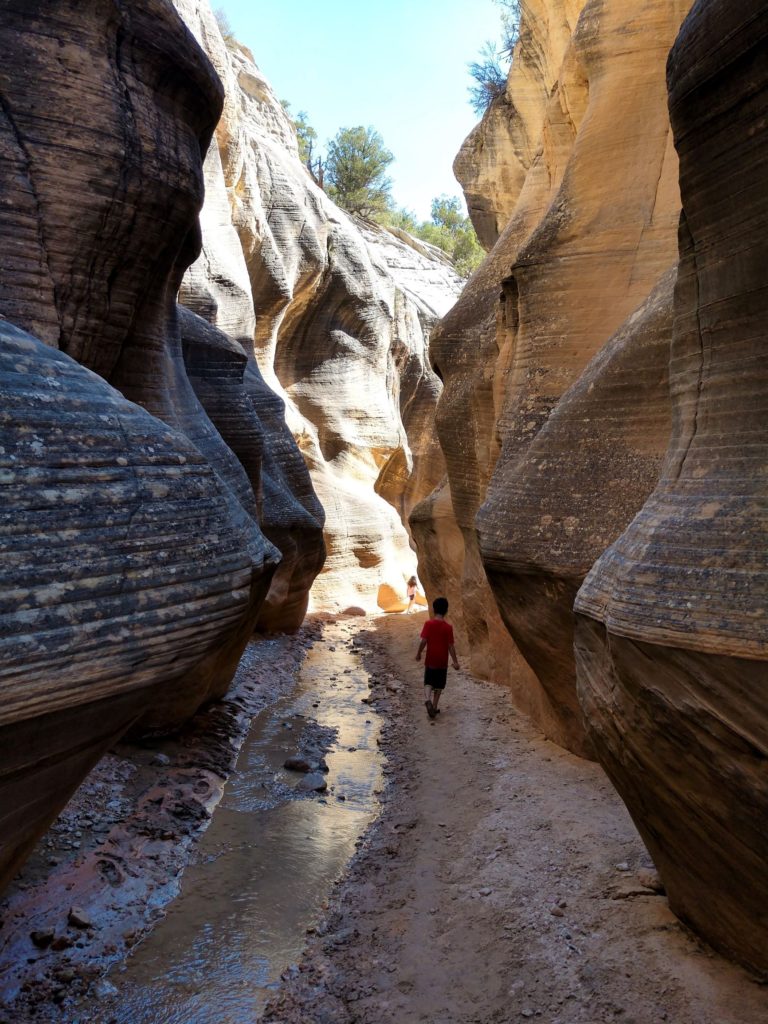 There were places along the way to climb up the side of the narrow canyon. The kids loved to find these places to play.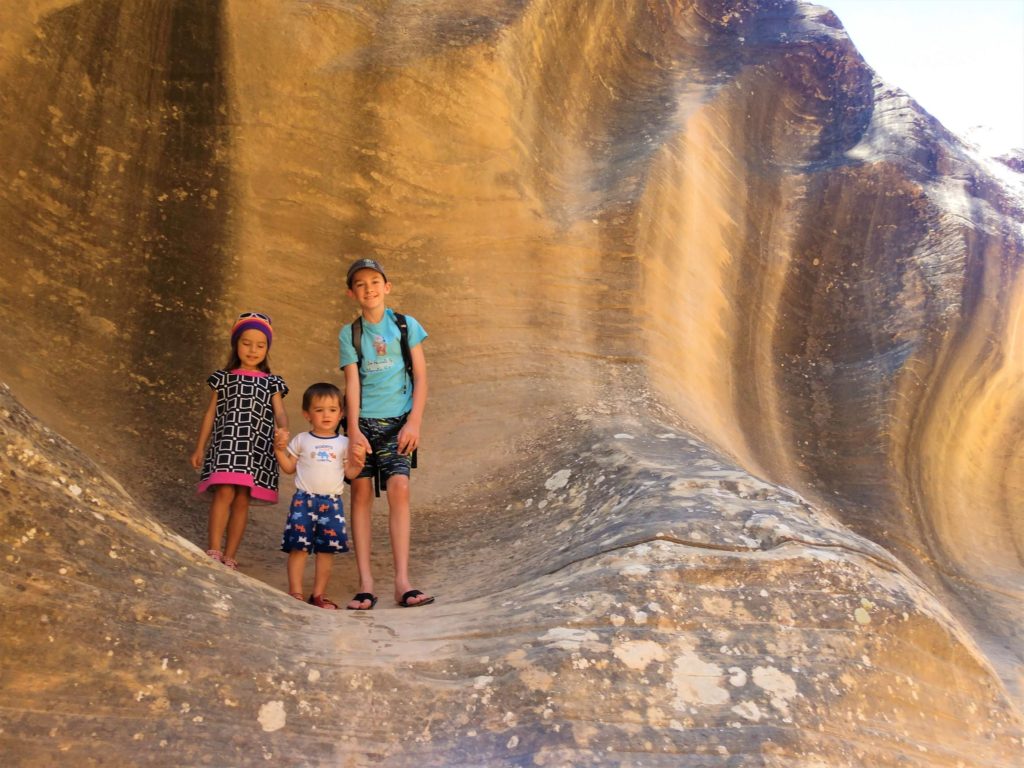 The toddler slipped and hit his ear on a rock just before we got to this canyon, so he wasn't quite as happy as when we set out.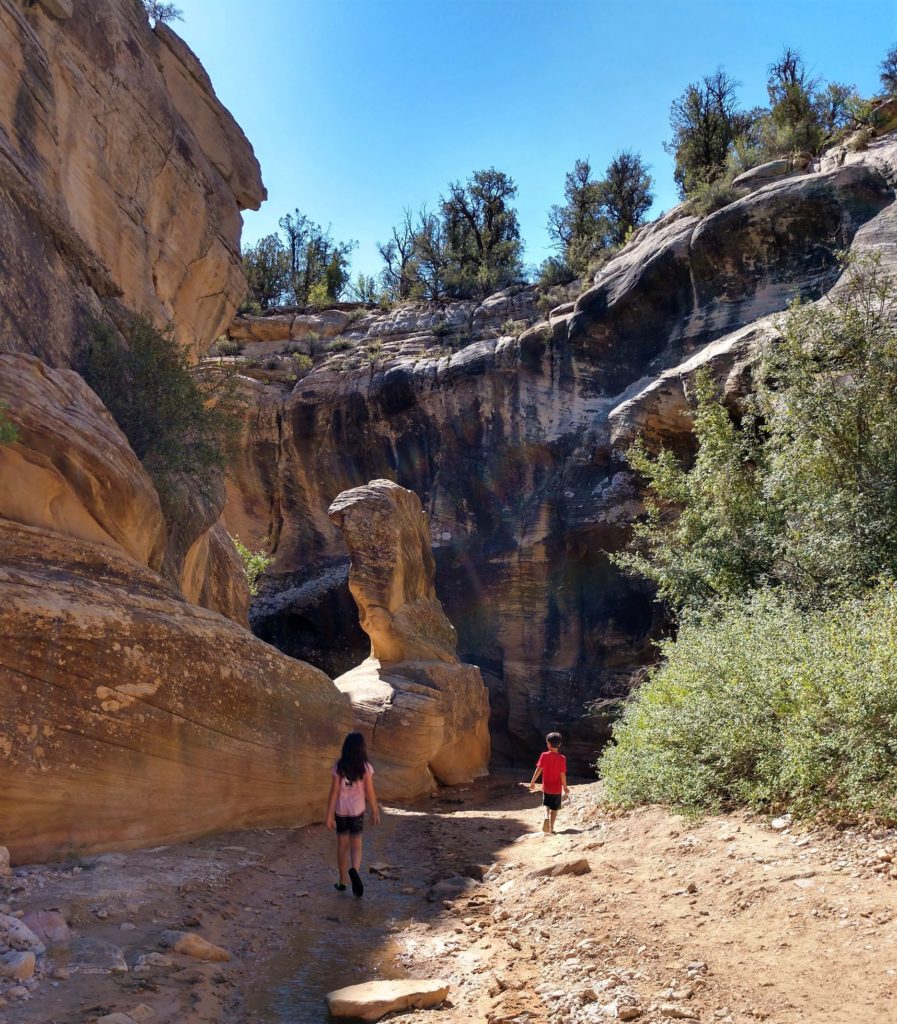 This was the last canyon we saw, and it was awe-inspiring!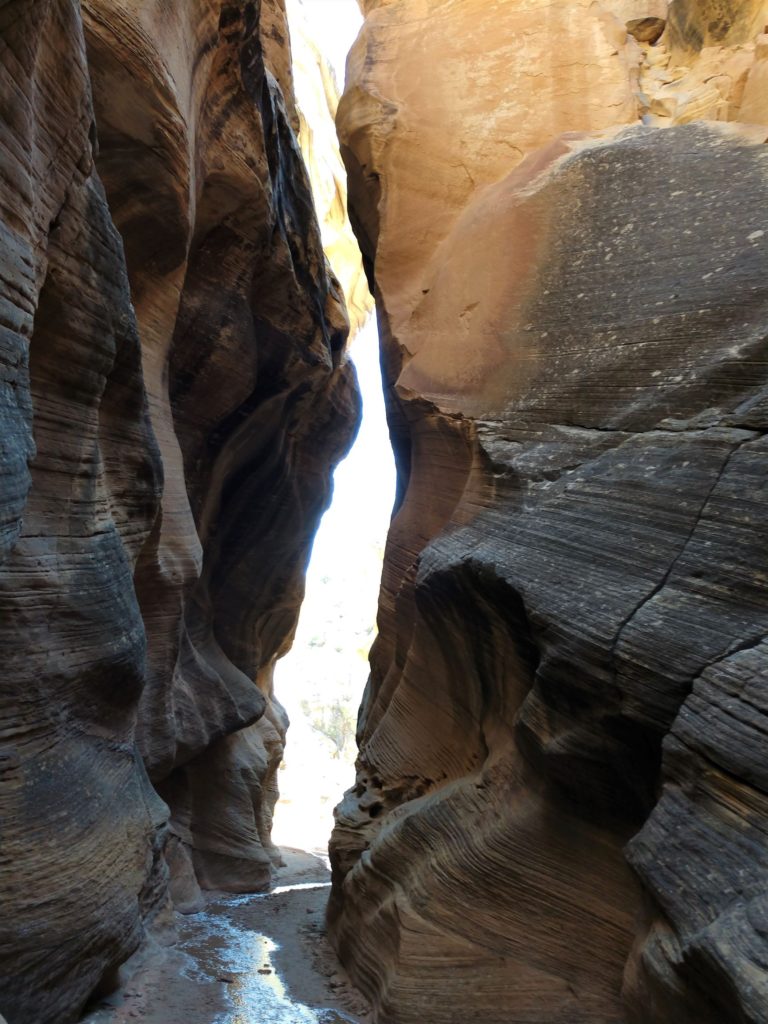 The walls soared up above our heads, making us feel so small.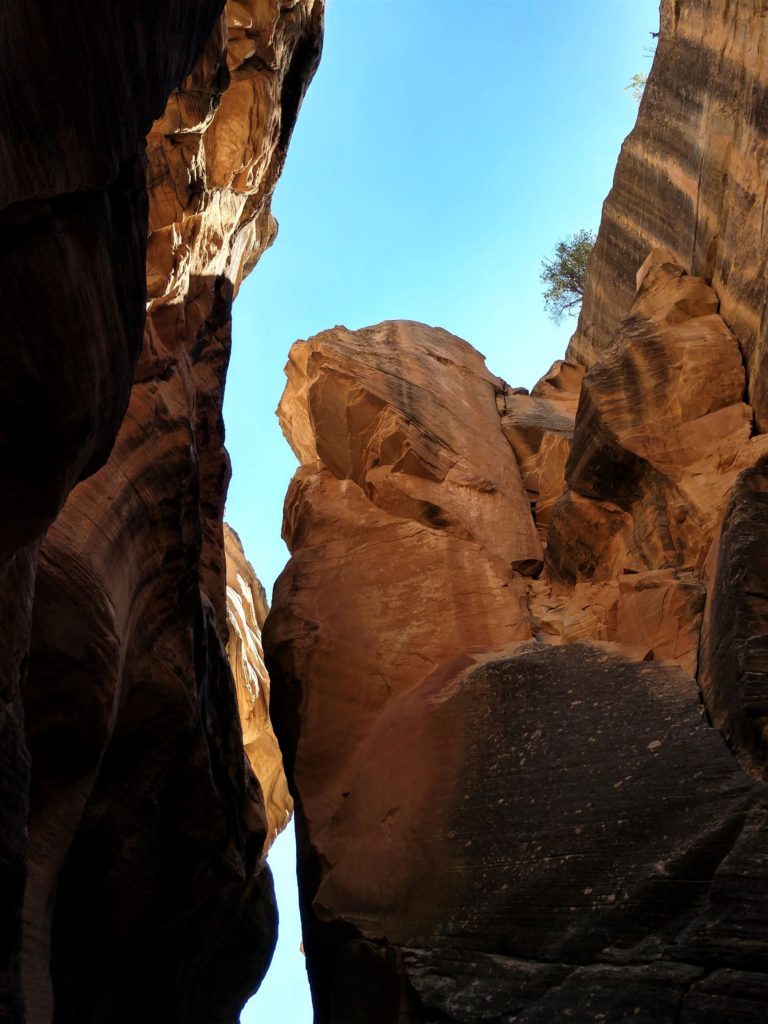 By the time we got to the last tall, narrow canyon, the 7 year old was past done. We had hiked what I would guess was nearly two miles. The trail continues, but the information we got was that it isn't as cool from there on. So we were good with calling it a day.
Too bad there wasn't an exit to our van at that point. We had to turn around and hike back out. It didn't take nearly as long though, because nobody was stopping to explore, eat snacks, climb on walls, play in waterfalls, or collect rocks.
Does this out and back, flat trail in shallow water sound fun to you? We loved it!