Disney World day 2 – Magic Kingdom and Mickey's Not So Scary Halloween Party
Our day at EPCOT yesterday turned out just the way we wanted! After falling into bed at 11:00 last night, we were ready for another early morning. Our bus picked us up at 7:05, and we were second in line at the turnstiles of Magic Kingdom by 7:25.
It's funny to see the Park decked out in Halloween decor in August! It gives it a festive atmosphere, even though it is hot and nowhere near fall.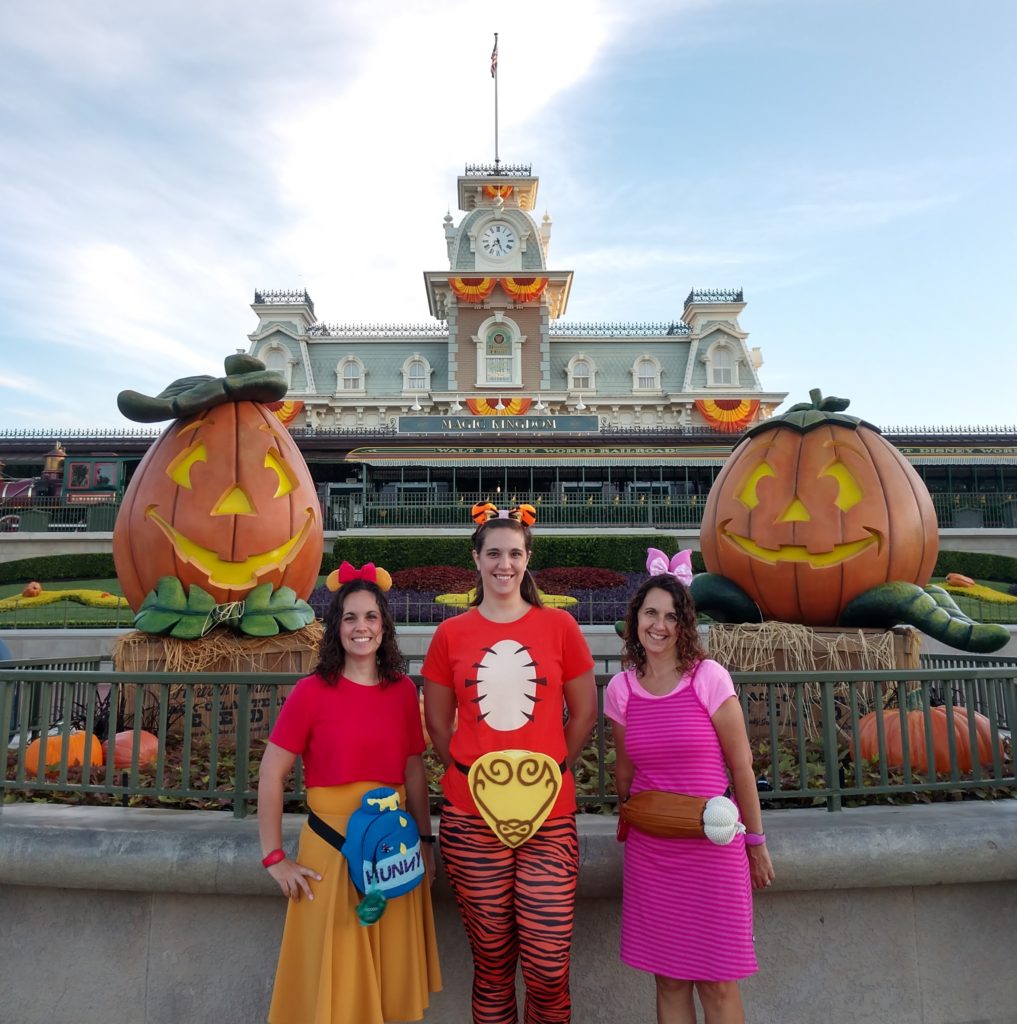 Note: I don't earn commission from any links in this post, but I hope they will be helpful to my readers.
Do you like our outfits? At the last minute I decided to make waist packs to go along with our Hundred Acre Woods disneybounding apparel. Pooh's hunny pot is my favorite! Tigger has the locket from The Tigger Movie, and Piglet has an oversize "haycorn".
As soon as the turnstiles opened, we hurried to the rope blocking Fantasyland, and were actually the only ones there for several minutes.
With most of the Park being roped off, we were limited in what we could find to eat. I left my daughters to save the spot while I went on a quest for food. The Main Street Bakery had a few baked goods, and I settled on a slice of pumpkin bread and a chocolate croissant, both of which were yummy.
Since we couldn't get a FastPass+ for Seven Dwarfs Mine Train, we had decided to Rope Drop it. We were right at the front of the pack when the rope was dropped. You can't really run to the ride, because a cast member escorts you there, but if you keep up a good pace, and follow on the heels of the cast member, you can get there quickly. We were the first three regular park admission guests on the ride, so that was awesome!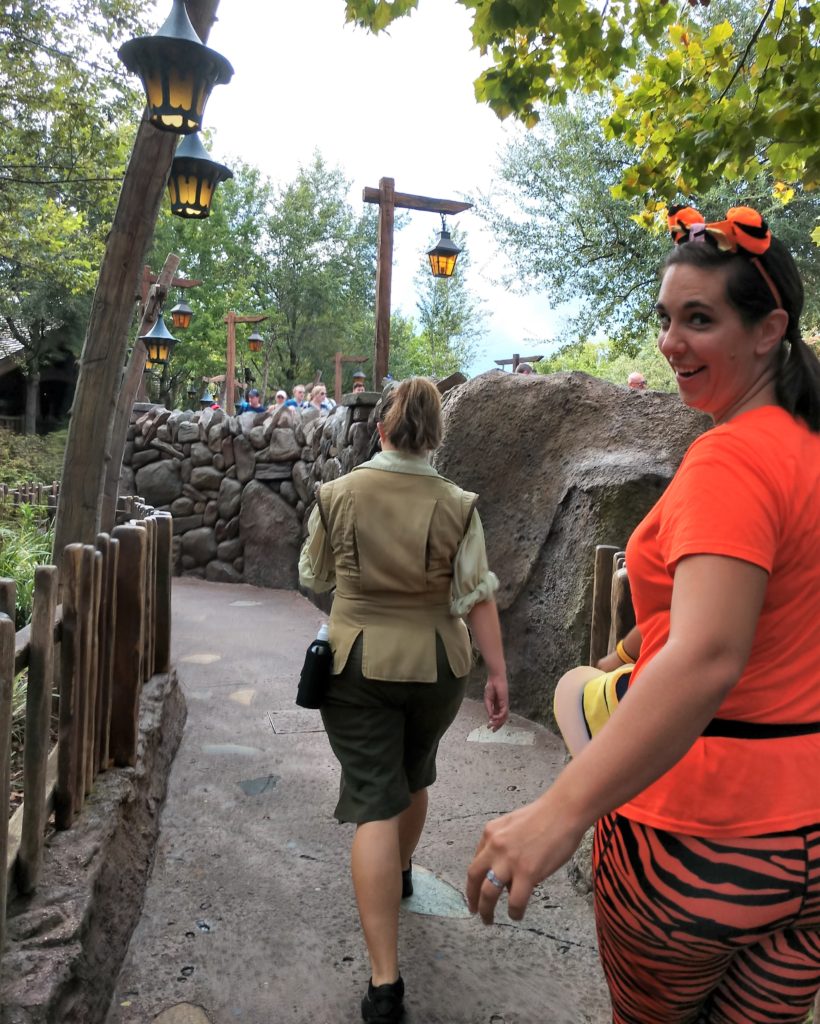 As we were getting off our Mine Train Ride, one of the cast members offered us another ride without a wait! I'm not sure why we got the Disney Magic, but we sure did appreciate the extra ride. This time we got the back seat, which is the best place on the Mine Train!
After Seven Dwarfs, we had planned to ride Big Thunder Mountain before it got busy, but we were a little behind schedule because of the extra ride. As we were walking through Fantasyland, we saw Cinderella's stepsisters, so we waited a minute to meet them. They were so funny, and we had fun interacting with them.
Next we headed over to Jungle Cruise, because we heard the line stays long for that ride all day. It was posted a 45 minute wait, but I looked at the line and it wasn't long at all. It ended up only being about a 10 minute wait. Jungle Cruise is fun if you have a good skipper, and ours was really good. Magic Kingdom's Jungle Cruise is a little longer than Disneyland's Jungle Cruise, and I feel it is in a little better condition.
We had just enough time before our first FastPass+ to ride Magic Carpets of Aladdin, because there was no line at all. It is a Dumbo-type ride, except with no wait. And we didn't have any kids insisting on Dumbo.
Our first FastPass+ was for Peter Pan's Flight, a ride with typically long lines. We only waited for 5 minutes! We then visited It's a Small World right across the street, and The Barnstormer over in Storybook Circus. We didn't have a FastPass+ for Barnstormer, so we waited about 20 minutes.
We got off just in time for our lunch reservation at Be Our Guest Restaurant, or in other words – The Beast's Castle. I had really wanted to eat here to get a chance to see inside, and it was really fun. We ate in the West Wing, which was dim and creepy not creepy at all but fun to pretend. My girls got sandwiches, which were good, but I got the French Onion Soup, which was excellent! Lots and lots of cheese…mmmm.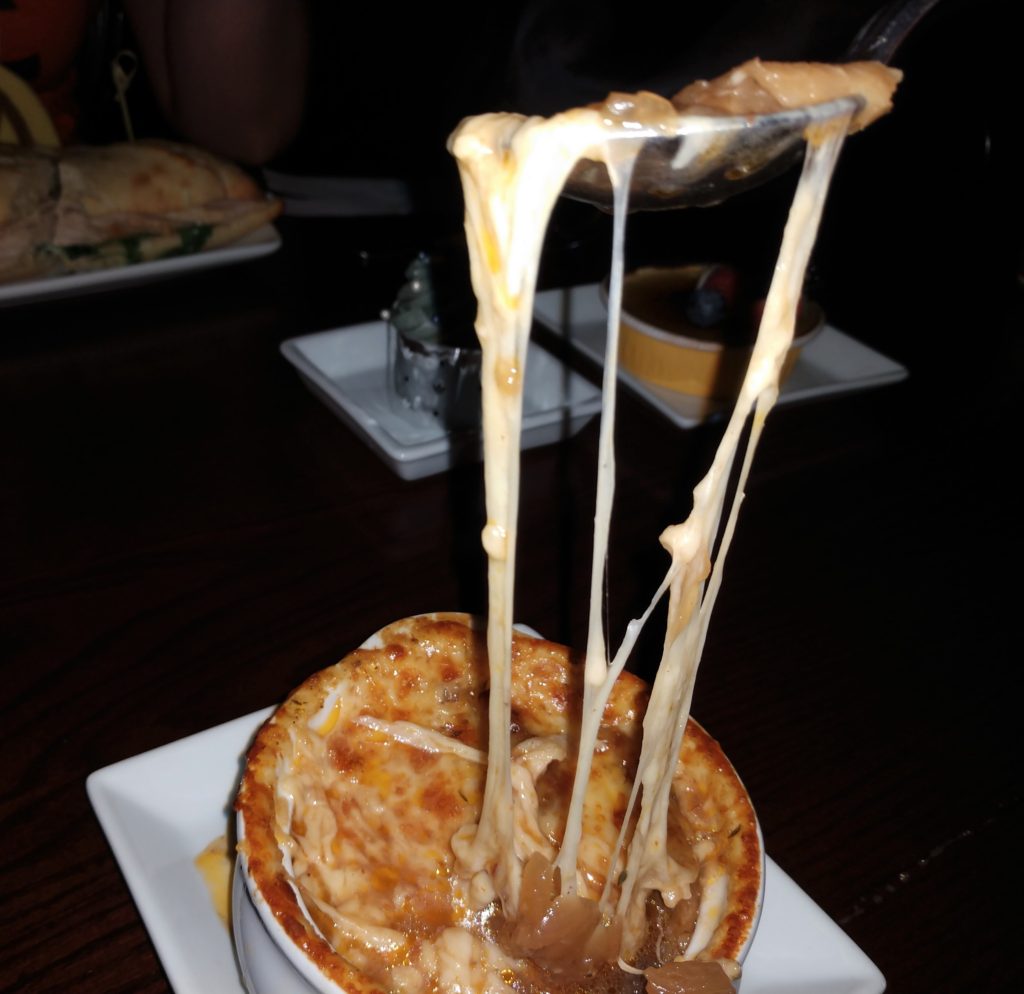 We shared two desserts; the gray stuff (of course), and creme brulee. The gray stuff is a chocolate cupcake with a mousse-like frosting. It was pretty good. But the creme brulee was super yummy!
After lunch we had another FastPass+ for Space Mountain. We only waited about 10 minutes. Stand-by was around 50.
Reminder: FastPasses are totally worth it! Get as many as you can!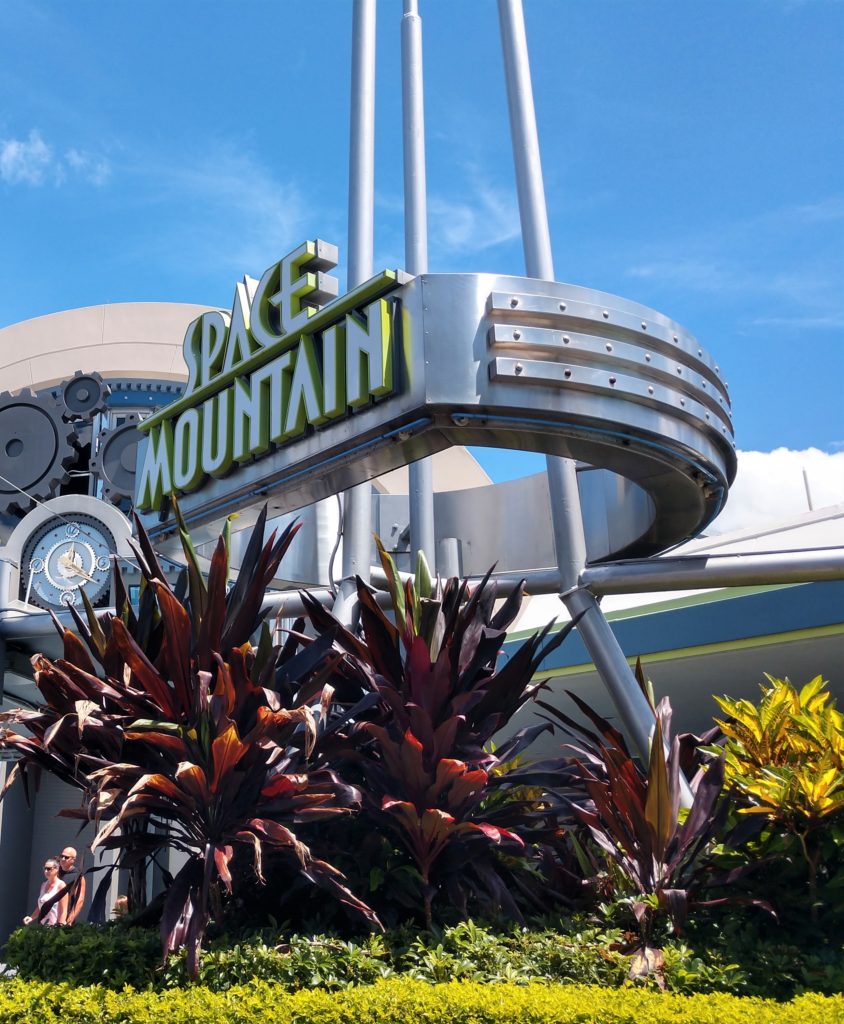 When we were done with Space Mountain we parked ourselves in front of Cinderella's Castle to wait for Mickey's Royal Friendship Faire. In the 10 or so minutes that we waited, I played around with my camera a little bit. Here is what I came up with: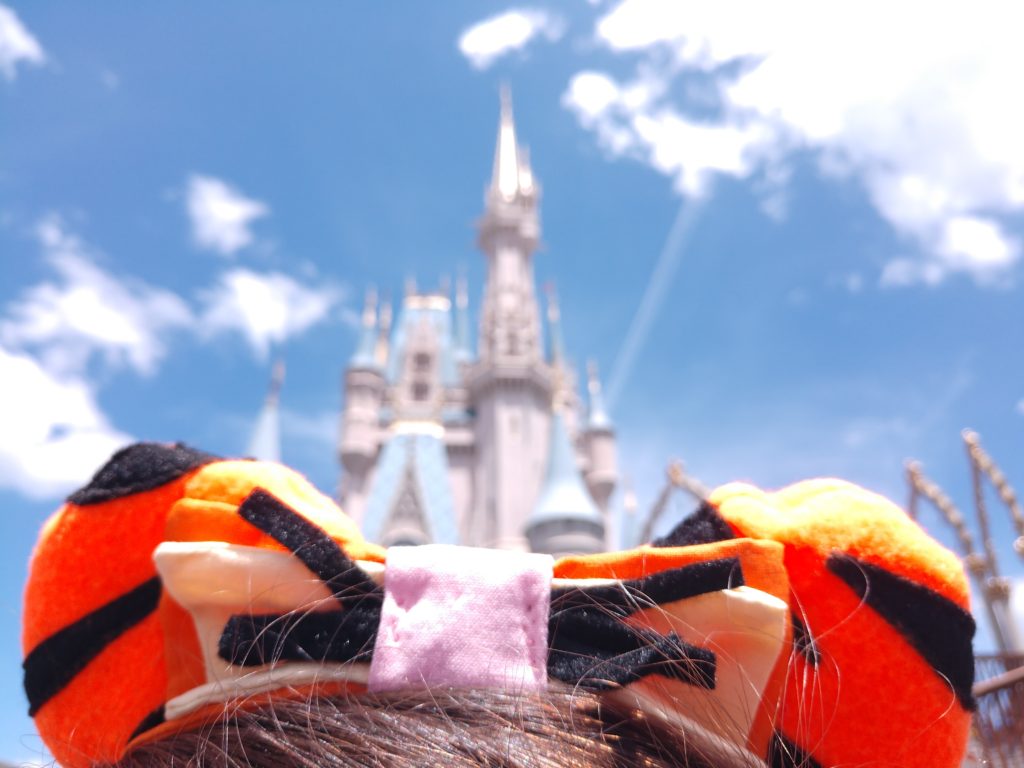 Mickey's Royal Friendship Faire is a lively show featuring Mickey and Minnie. They meet lots of different characters through song and dance, including Tiana and Naveen with Louis the Crocodile, Rapunzel and Flynn along with a group of pub thugs, and Elsa and Anna with Olaf. It was a darling show, and by the time it was over, we were all very hot and sweaty. I just kept thinking of poor Mickey and Minnie in their heavy costumes.
We were glad that our next FastPass+ was for Splash Mountain!
As soon as we tapped into Splash Mountain (which was our third FastPass+ of the day), we got on My Disney Experience and started looking for another FastPass+. We had noticed long lines for Winnie the Pooh earlier in the day, so we grabbed a FastPass+ for about an hour out. That gave us enough time to ride Splash Mountain and watch the parade before it was our time.
We actually didn't get too soaked on Splash Mountain. I think the Splash Mountain at Disneyland is set up to drench the guests, but this one only gets you a little wet.
Next, we needed a spot for the Festival of Fantasy Parade. We like to lurk around the paths that are left open for guests to cross the street until just before a parade starts, and when the cast members close the walkway, we snag a spot at the curb. It usually works pretty well if you don't have a large group.
As soon as the parade passed us, we hightailed it into the air conditioned theater to watch Country Bear Jamboree, which was right across the street from our parade spot.
We then used our FastPass+ for Winnie the Pooh, then headed over to Gaston's Tavern, where Gaston was scheduled to meet. Unfortunately, it had started to sprinkle a bit, and he didn't appear, so we rode Little Mermaid and the Carousel, then watched Mickey's Philharmagic.
Hint: Spread out your air-conditioned attractions in the summer, and schedule them for the hot afternoon hours!
Gaston did appear the next hour, but then a downpour hit, and he had to leave. Luckily we got to interact with him in time!
The downpour only lasted long enough for us to get our ponchos on. Then it was over, and we had hot, drippy ponchos.
Hint: Just get wet. It feels cooler anyway.
The Great Moments in American History with the Muppets show was really cute. We caught a couple of different versions on our way by Liberty Square, where they just pop out a window. The first one was about Paul Revere, which we watched while eating a waffle. The second one was after our Haunted Mansion FastPass, and it was partly over as we went by.
Since we were visiting on a day when there was a Mickey's Not So Scary Halloween Party, the park was starting to fill up with guests in costumes by this time in the afternoon. It was fun to see the costumes, and we were kind of surprised that a lot of people didn't dress up at all. Being dressed up all day was one of the best things about our whole trip! We went and got our wristbands near the entrance, then picked up our trick or treat bags and our first treat.
Guests were already lining up to meet characters. The one group we really wanted to meet was the Hundred Acre Wood characters, so we hopped in line, even though they hadn't arrived yet. We had plenty of time to go and get treats while one of us stayed in line to hold our place. Two of us even rode the teacups. Somebody got overzealous with Mickey's marshmallow ear before we remembered to take the photo of this exclusive party pumpkin shake.
Finally it was our turn to interact with Pooh, Tigger, Eyeore, and Piglet. They were so cute in their costumes! Piglet came right up to me and gave me a hug. I think Eyeore felt a little bit left out. Poor Eyeore!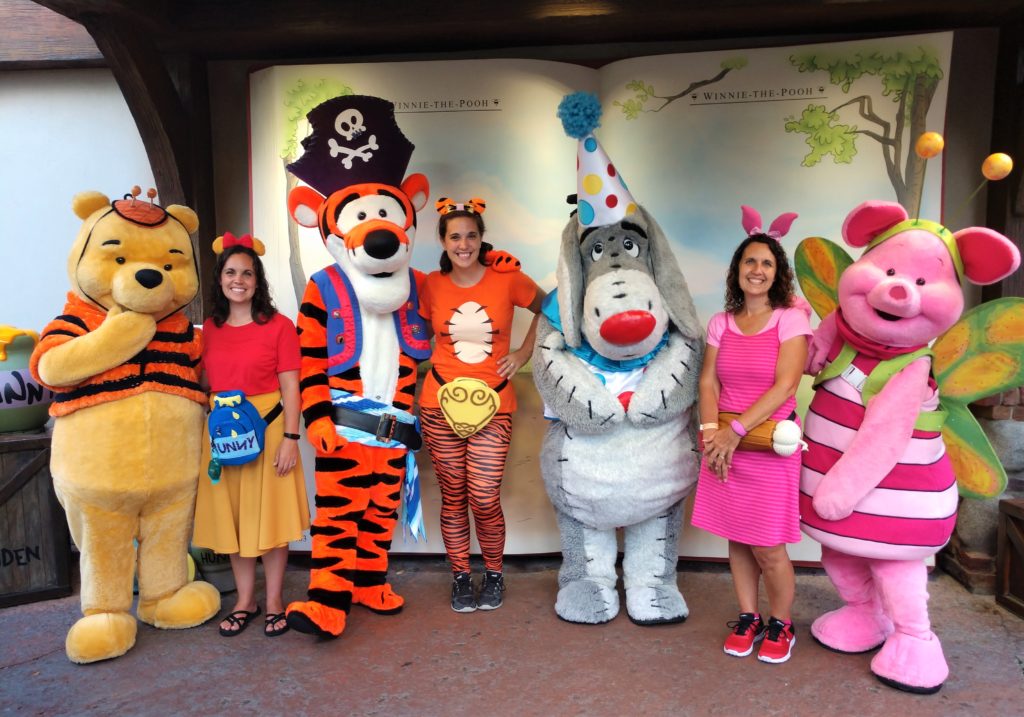 Pirates of the Caribbean had 5 human characters to liven up the action. Two were in line and three were on the bridges inside the ride. We invited one pirate to jump in our boat to escape, but for some reason he wouldn't take us up on it. The wait time was posted 30 min, but we only waited about 15.
Next up was Big Thunder Mountain, which we had skipped in the morning because of our bonus Seven Dwarfs ride. The wait time was posted 20 min, and it was accurate. At the exit there was a Trick or Treat trail which we hopped through twice.
We considered riding Splash Mountain again, but the wait time was 45 minutes, so we decided to just do the Trick or Treat Trail, and watch the earlier parade.
We used our lurking around the walkway maneuver once again to secure a great spot for the Boo to you Halloween parade, then followed the parade to the Castle, where we found a spot far enough back to see all of the projections during the fireworks. It was the best fireworks display ever!
We also loved the Hocus Pocus show with the Sanderson Sisters. We had the foresight to watch Hocus Pocus on the flight to Florida, so all of their antics were fresh in our minds.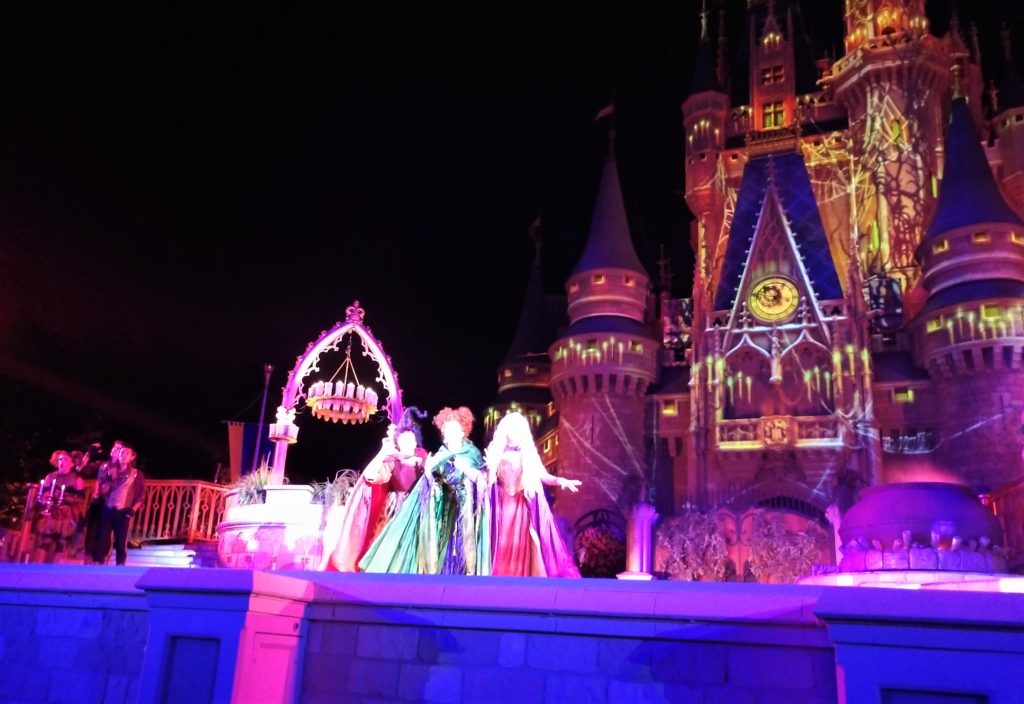 After the show we headed over to Space Mountain, but the line was super long, so we decided to catch the Monsters Inc Trick or Treat Station. It was a cute show where the monsters on the screen interacted with the audience, along the same lines as Turtle Talk with Crush. We walked through the Trick or Treat station at Carousel of Progress where they handed out applesauce! Then we went over to Cosmic Ray's where there was a kids DescenDance party going on, but I think most of the kids had gone home by that time. We got tons of candy at that Trick or Treat station, though!
I'm super glad that we decided to attend the Mickey's Not So Scary Halloween Party! I'm not sure I would pay for kids to go unless they love parades and shows, because that was definitely the best part for us.
What do you think? Would you attend the Halloween Party on a day that you were already in the Magic Kingdom?