Red Canyon and Tropic Reservoir
While Bryce Canyon National Park is spectacular, there are other recreational areas nearby that also have red rock hoodoos. One of them is Red Canyon in the Dixie National Forest. There are plenty of trails in Red canyon for hiking, mountain biking, horseback riding, and ATV fun!
The Red Canyon Visitor's Center is located on highway 12 between Panguitch and the entrance to Bryce Canyon. We visited in the evening after it was closed, but had we arrived in time we could have picked up a trail map showing the points of interest along the two trails that we hiked.
We did get to see the display out in front of the Visitor's Center, showing many of the interesting things to see and do around Red Canyon.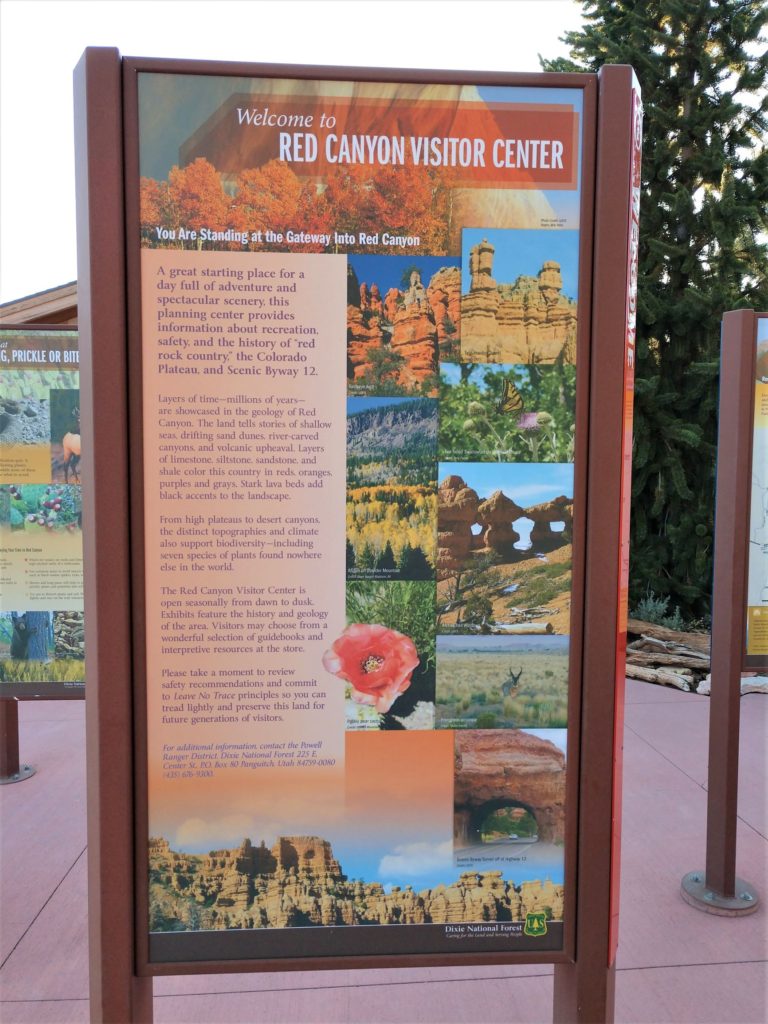 And we also got to grab a photo with everybody's favorite camping bear, Smokey!
We started with the Pink Ledges trail, which takes off from the far side of the Visitor's Center parking lot. It then connects with the Hoodoo Loop trail, which we opted to do also.
The sun was low in the sky and cast a welcome shadow at the end of a hot day.
There were places to climb up and take photos along the way.
The short trail takes you into a small canyon and then back out.
There were lots of hoodoos to see and climb around.
The trail was short and not very steep, which was great for the kids!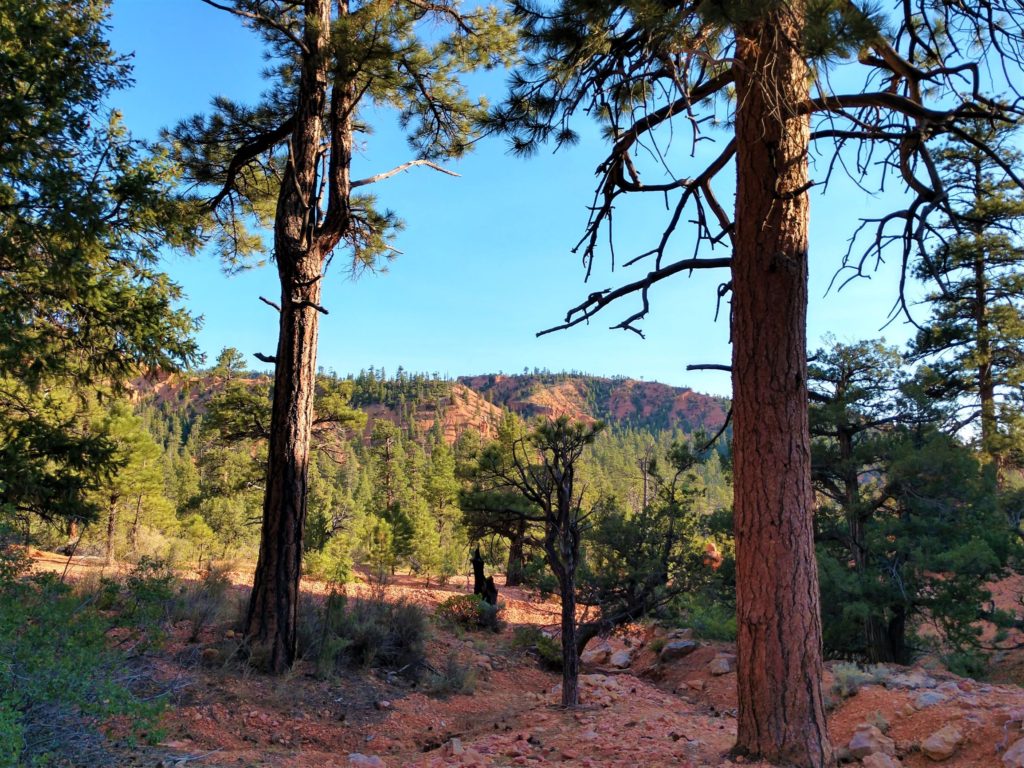 The rock formations are majestic!
The seven year old was having a zen moment.
Near the end of the Hoodoo Loop trail was this Hoodoo that was perfect for a photo op. If you don't want a long, strenuous hike, you need to consider hiking these trails!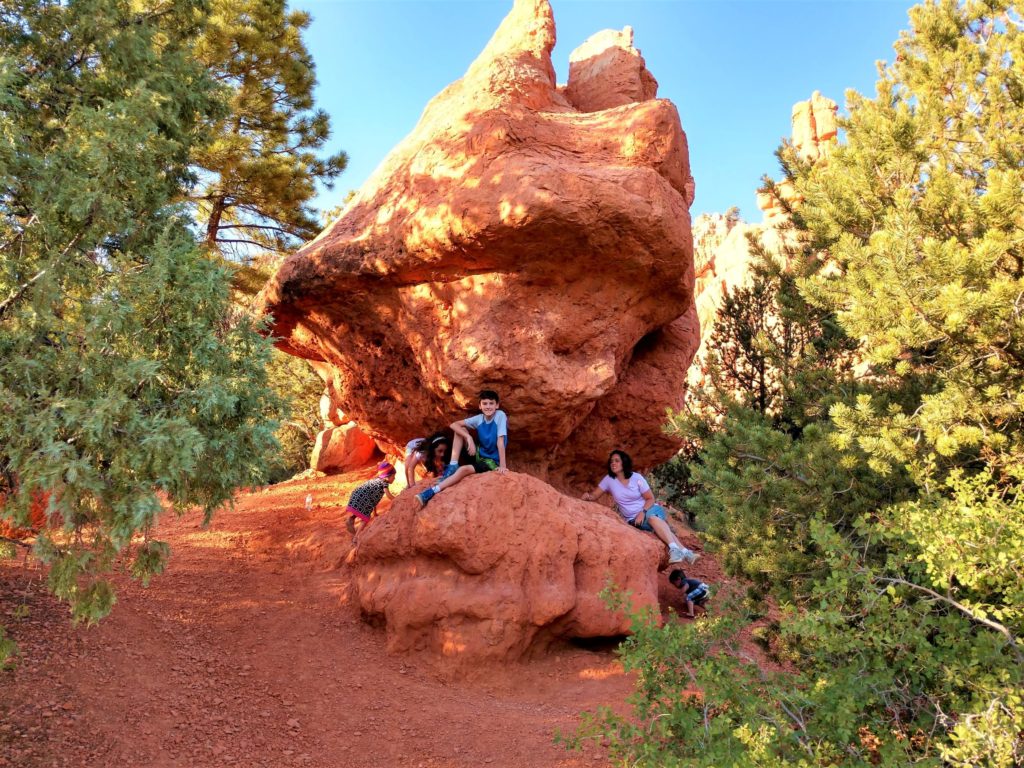 In addition to the trails that we hiked, there are dozens more. The Birdseye Trail is a moderate .8-mile hike, and if you want a longer hike, take the 3-mile Losee Canyon Trail. The Casto Canyon Trail is only one of the trails that allows ATV's, if that sounds fun to you. Just a short drive east of the visitor's center is the Red Canyon Trailhead Kiosk, where you can access five different trails. One of the advantages of Red Canyon is the opportunity to bring horses, bikes, and ATV's on the trails.
After two days of hiking, the kids were ready for a break, so we visited Tropic reservoir. It's a smallish body of water, and wasn't very crowded the day we went.
There was quite a bit of vegetation growing on the bottom. It kind of freaked the kids out a little to wade through it.
After a few minutes, we decided to move over by the dam. It wasn't as sandy, but the water was a lot more clear.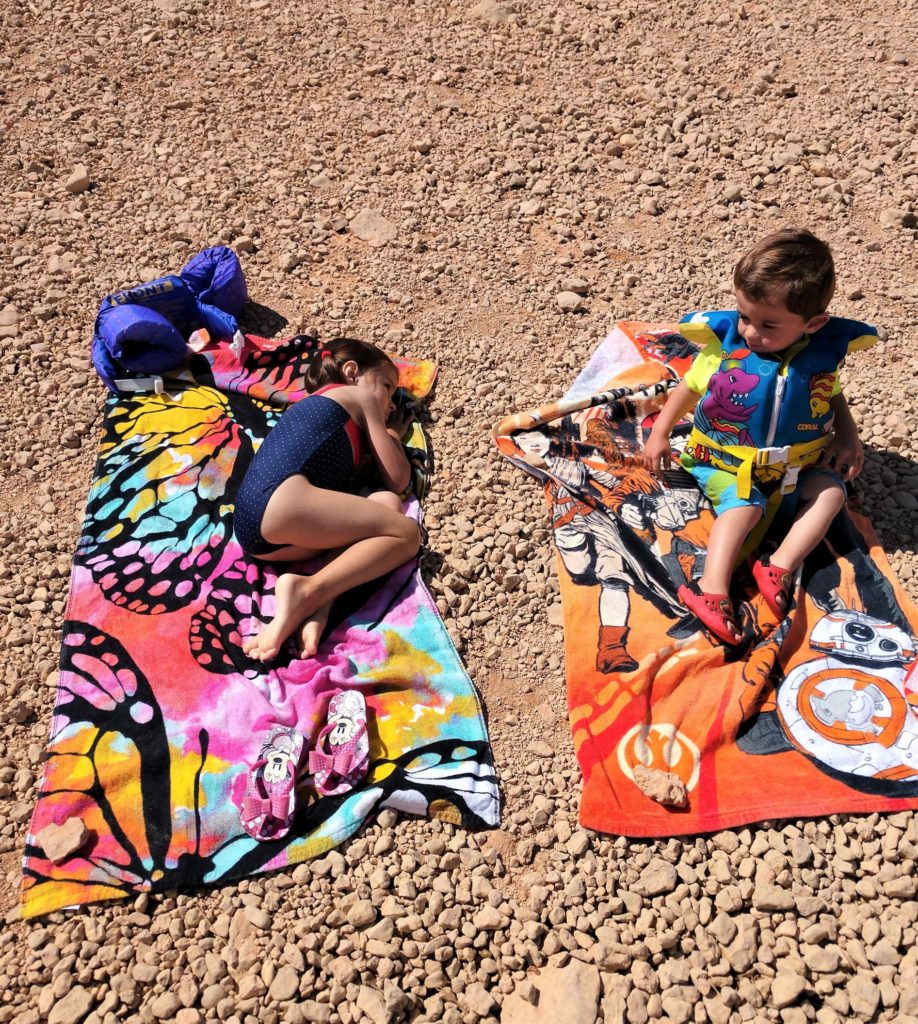 Several people had kayaks to paddle around in. We had planned to bring kayaks, but opted out because they weren't riding on the van very well. It would have been fun to have them!
If you plan to camp, the King Creek campground is right next to the reservoir. There are 37 campsites with fire rings and picnic tables, plus two group sites. It is open mid May thru early September, with campsites starting at $17.
If you have a few days at Bryce Canyon, consider visiting both Red Canyon and Tropic reservoir. They were a nice addition to our trip!