Hiking in Zion National Park
Zion National Park is located in Southern Utah. It is full of hiking trails and gorgeous scenery. Whether you are old or young, there is something for you to do in Zion!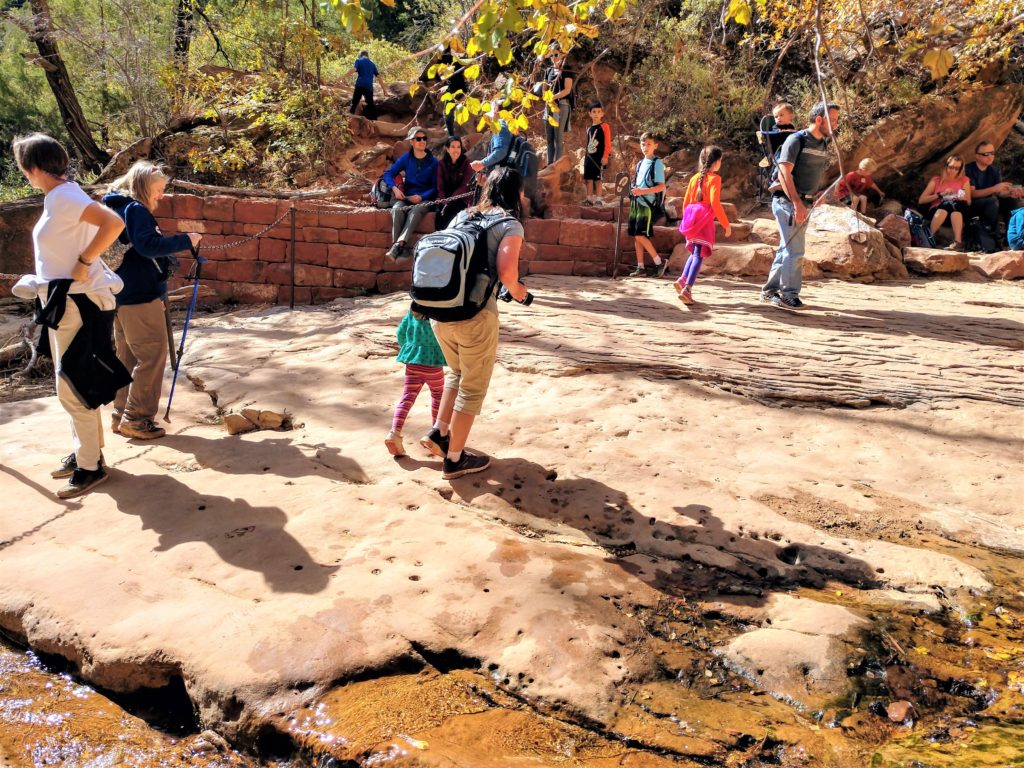 Parking and shuttle information
We visited Zion in late October, during the kids fall break from school. Surprisingly, there weren't a lot of kids in the park the day we were there, but that doesn't mean it wasn't crowded. We arrived about 11:00 AM, and all of the parking spots at the visitor's center were taken.
Hint: Arrive early! If you are visiting in the summer, plan to be there by 8:00 AM or earlier.
There is a small parking lot at the Human History Museum, and several pull outs along the road. Technically, the pullouts aren't for daily parking, but due to the lack of stalls, people use the pullouts anyway. NPS suggests that you park in Springdale and take the free shuttle.
Helpful Shuttle Hint: If you absolutely can't find a place to park inside Zion, have the driver of the car drop everybody off at the Visitor's Center and go park in Springdale.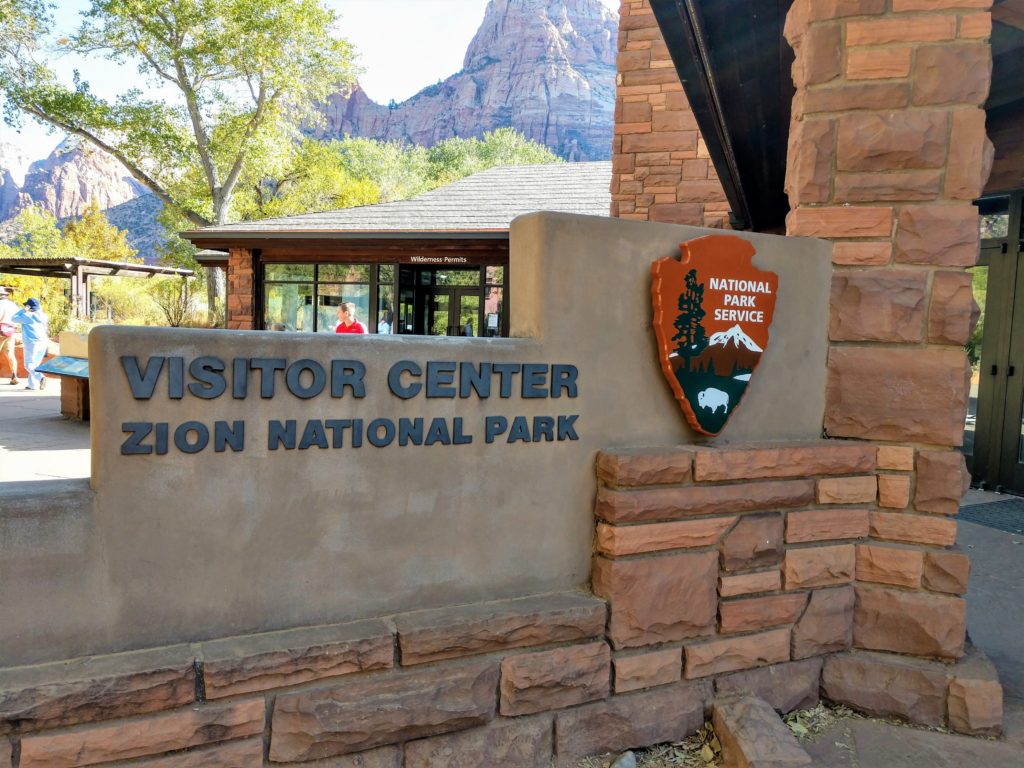 If you take the shuttle from Springdale and walk into the park, you will have to pay a $20 per person entrance fee for everybody over 15 years of age. Alternately, if you drive into the park, you pay $35 per carload. As you can plainly see, if you have two or more people over 15 years in your party, you will pay more to walk into Zion than to drive in.
You will also have to pay to park your vehicle in Springdale, at the rate of $12-$24 depending on the lot and size of your vehicle. (Some hotels and B&B's have free parking for those visitors staying at their establishment.)
If you decide to camp at Zion, your campsite comes with a parking space. There are two campgrounds near the visitor center: South Campground ($20 to $50 per night) and Watchman campground ($20 to $130 per night). South campground is open from March 1st until Oct 31st, while Watchman campground is open all year. Reservations can be made at South campground up to 14 days in advance and at Watchman campground up to 6 months in advance. Watchman campground is available first come first served from the end of November until February.
Hiking
Once you get into the Park, your first stop will be the Zion Park Visitor's Center and shuttle stop #1. Here there are outdoor exhibits that tell all about the Park. The visitor center building has an information desk and a Park store, with lots of books and souvenirs featuring Zion Park.
There is a restroom nearby which you are encouraged to use before you get on the Zion Canyon shuttle. There are also several hiking trails that take off from the Visitor's Center.
The Archaeology Trail starts just across the parking lot from the Visitor's Center. This is a very, very short, steep trail that ends at a flat area where there was once a prehistoric building. I couldn't actually see the outline of the building.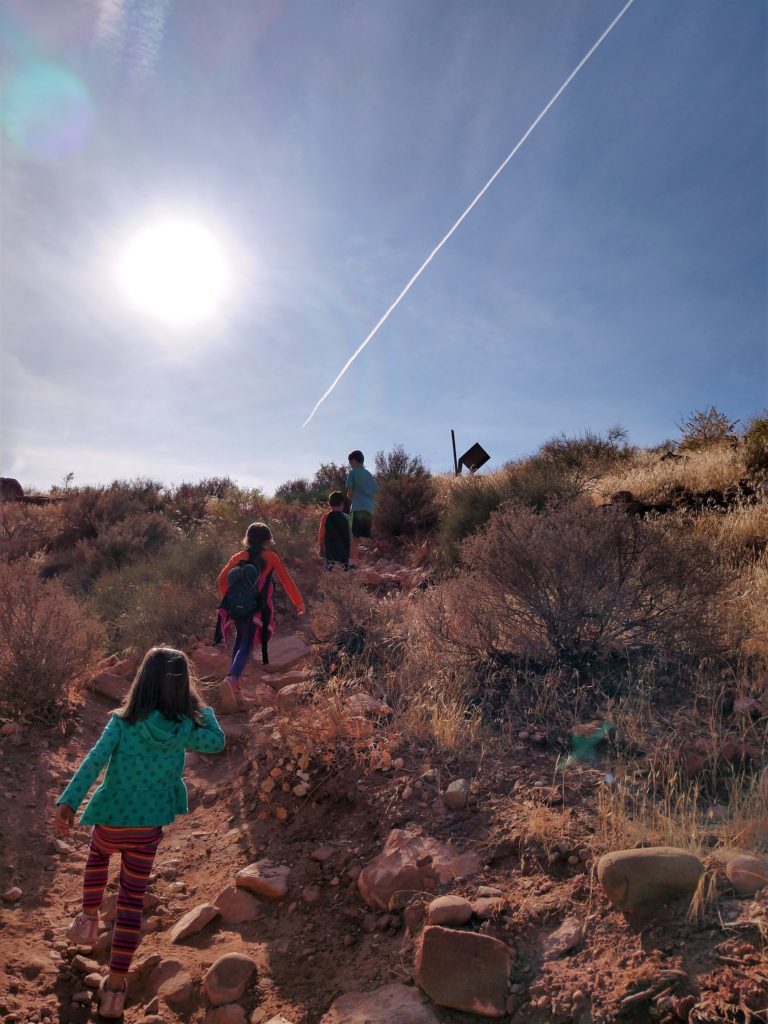 We thought there was more, so we followed the trail beyond the flat area, but it didn't seem to be going anywhere, and there was no more to see. I would skip the Archaeology Trail, unless you have a few minutes to kill at the Visitor's Center.
The Pa'rus Trail and the Watchman Trail both start at the river that crosses the road as you come into the Visitor's Center parking lot. The Pa'rus Trail is an easy trail that generally follows the Zion Canyon Road along the Virgin River to the Canyon Junction shuttle stop. Pa'rus is Paiute for "bubbling water".
The Watchman Trail is a moderate trail that leads you up the mountain where you have great views of Watchman Peak and the Towers of the Virgin.
The Zion Canyon shuttle leaves from the Visitor's center every few minutes. We only waited about 5 minutes. In busier times of the year, you may have to wait for a couple of shuttles before you get to the first of the line.
The Zion Canyon shuttle has nine stops, and is the only way to get to most of the hiking trails in the park. You can only drive your car up the canyon as far as stop number 3, where the Zion-Mt Carmel Highway merges, unless you have a reservation at Zion Lodge. Back in 2000, Zion Park instituted the mandatory shuttle for the canyon because there was way too much traffic.
Our shuttle driver told us that Zion is the 6th most visited National Park in the United States, with approximately 4.5 million people visiting each year. He claimed that although it was Zion's Centennial Celebration this year, the NPS did not advertise it because the Park already had more visitors than they could handle.
Stop #2 is for the Zion Human History Museum. It has indoor exhibits, an orientation film, and a rotating art show. This year, because of the 2019 Centennial Celebration, the museum has a special exhibit called "Keepers of Sanctuary: Zion's First 100 Years".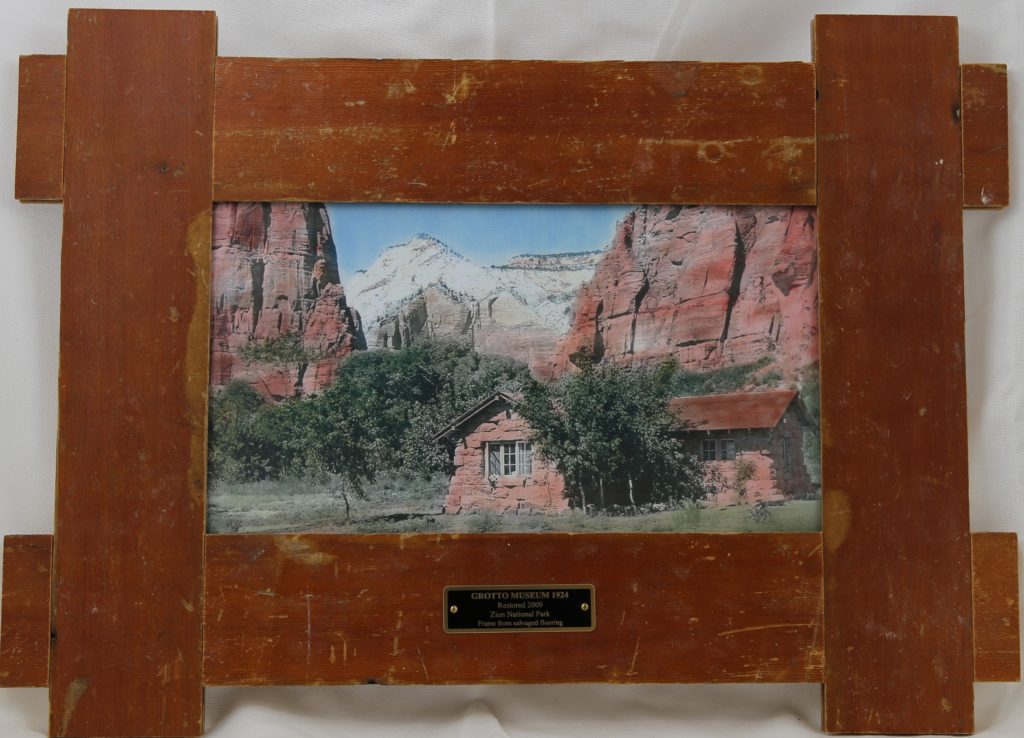 Stop #3 Canyon Junction is where the Zion-Mt Carmel Highway merges, and the end of the Pa'rus trail. If you decide to drive through the tunnel, be aware that there is a line of stopped traffic at the entrance. This is because the tunnel is too narrow for oversized vehicles such as buses and RVs, and traffic must be stopped to let those vehicles use both lanes as they come through. If you are driving an oversized vehicle, you will have to pay $15 for the Rangers to stop traffic and let you through. Get the times that this service is available here.
Stop #4 is the Court of the Patriarchs, named after Abraham, Isaac, and Jacob from the Old Testament. There is access to the Sand Bench Trail, although the beginning of the trail is at Zion Lodge. The Sand Bench Trail is a commercial horse trail that runs along the top of a landslide under the Sentinel.
Stop #5 is for Zion Lodge as well as The Grotto and Emerald Pools Trails. Zion Lodge has a little store where you can get ice cream and other snacks. We like to stop and have an ice cream cone after our hike.
The Grotto Trail
Lower Emerald Pools trail is a great trail for kids. It is paved and not too steep. Unfortunately it was closed for refurbishment the day we were there.
Stop #6 is called The Grotto. There are three day hikes that take off from this stop: The Grotto, that meanders along the road between Stops #5 and #6, The Kayenta Trail, which we hiked, and Angels Landing.
The Kayenta Trail used to connect to the Lower Emerald Pool trail, but NPS has recently blocked the connecting trail. To access Middle and Upper Emerald Pools, the Kayenta trail must be used. This is a 3 mile round trip, and we weren't sure if the kids would make it, but they were troopers!
Most of the trail was uphill but not too steep. There are some minor drop offs, but the trail is wide enough that you can stay away from the edge. We were never afraid that the kids would fall.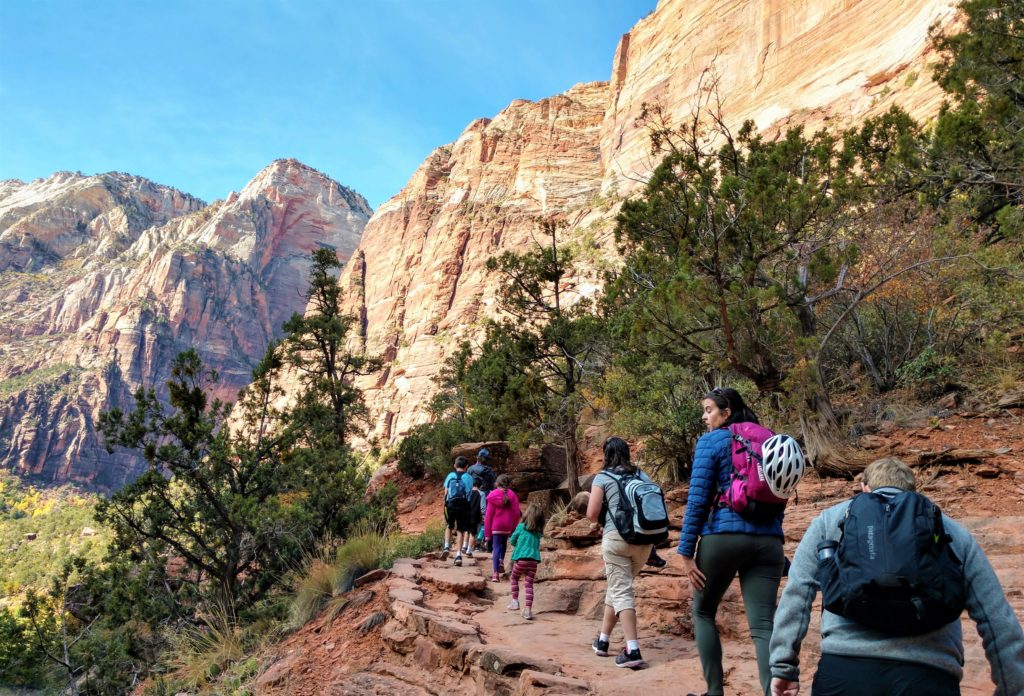 The baby had fallen asleep on the shuttle, and badly needed a nap, so Kelley carried him until he woke up.
The Kayenta trail climbs gradually along the face of the mountain, then all of a sudden, it turns the corner and heads into a box canyon, which is where Upper Emerald Pool is located. Here is the view when it turns.
The Emerald Pools weren't very full this time of year. Middle Emerald Pool wasn't actually much of a pool at all. But the scenery was still beautiful!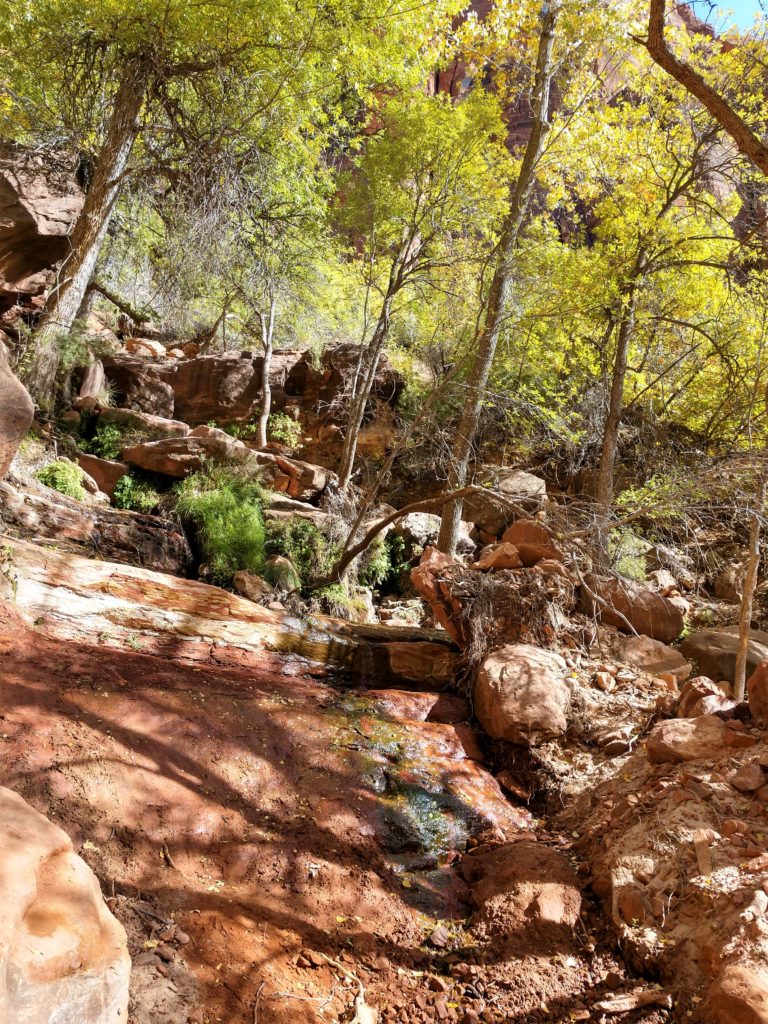 The climb to Upper Emerald Pool was a little steeper, but still not too bad.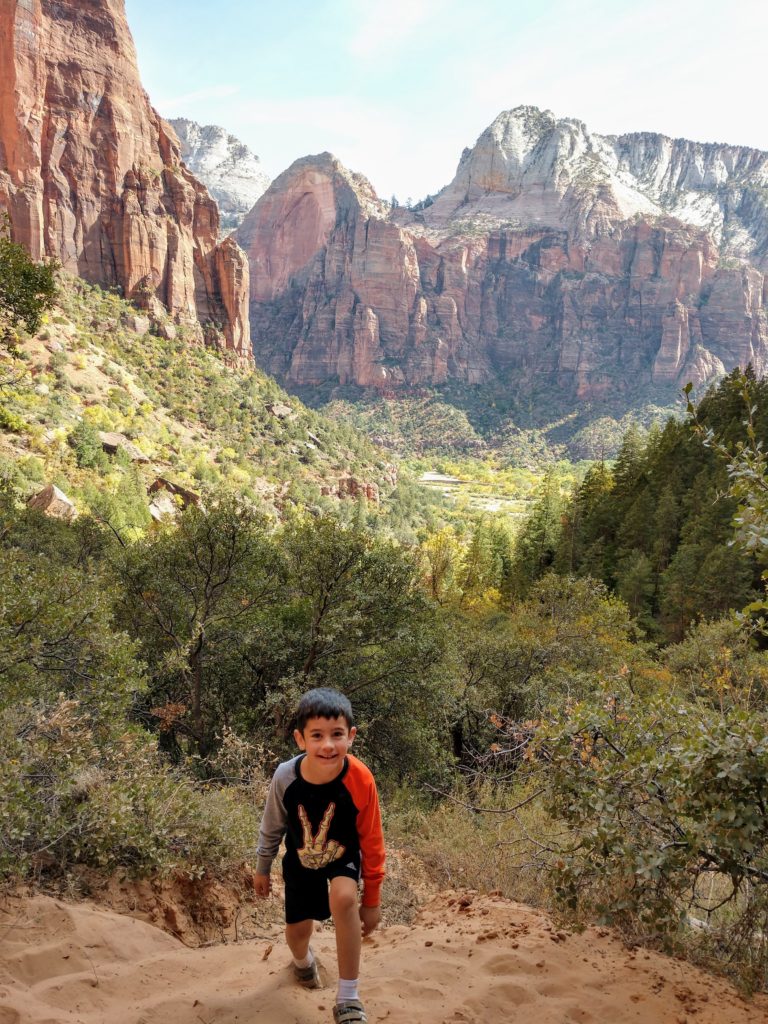 At the very end there is a steep downhill section with steps. It's pretty short, and then you have to cross over a little stream on rocks.
Once we got to the Upper Emerald Pool, the kids enjoyed climbing around on the rocks in the canyon.
It took us about three hours to hike the Kayenta Trail to Upper Emerald Pool and back again. This included a stop for lunch at Middle Emerald Pool, and some time playing on the rocks at the upper pool.
It was the perfect amount of time for the kids. I would recommend this trail if you have young ones who can walk a fair distance, or if you want to carry a baby. If you have kids that can't walk far and are too heavy to carry, I would recommend Lower Emerald Pool Trail.
The Grotto shuttle stop also has one of the most popular hikes at Zion: Angels Landing. Angels Landing is a strenuous 5 1/2 mile hike that climbs up to the top of a very tall, isolated mountaintop.
The only way to get to the summit is to walk along a narrow ridge with steep drop offs on both sides, then climb up a steep section of rock. Luckily, there are chains bolted into the mountain that you can cling onto.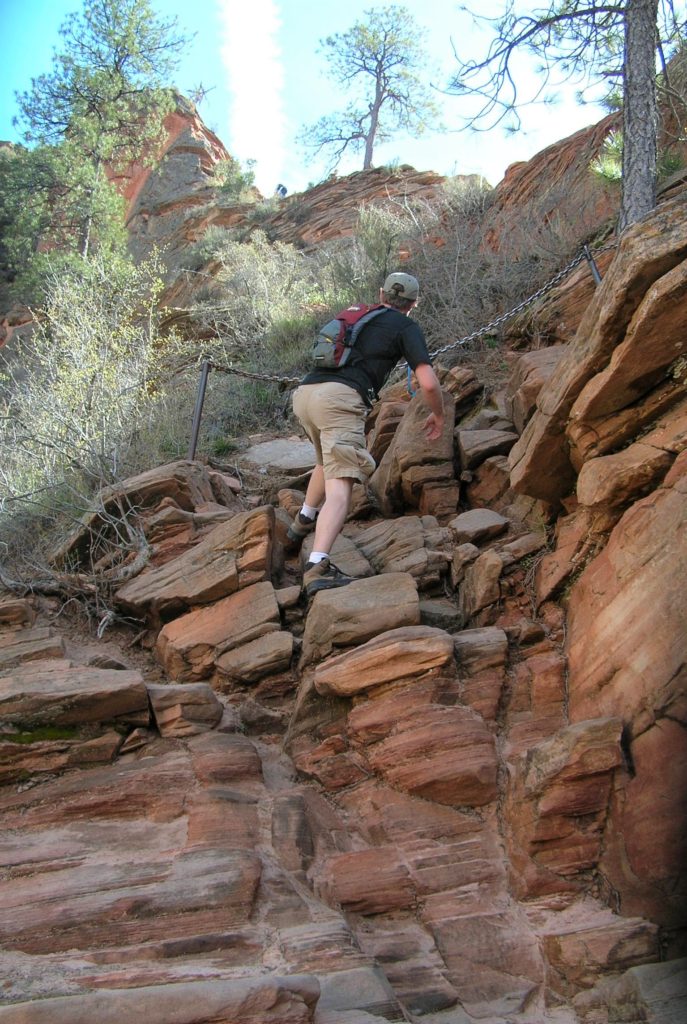 At the summit, you stand on a peninsula of rock, with drop offs on three sides. We weren't quite there in this photo.
It's not for the faint of heart, and not for young kids, so we didn't hike Angel's Landing on this trip. It is well worth doing, but usually more crowded that these photos suggest.
Stop #7 is Weeping Rock, and includes my favorite hikes in Zion, Observation Point and Hidden Canyon Trail. I wrote all about these hikes in my post Three fabulous hikes in Zion National Park. Due to a massive landslide on the East Rim Trail, these hikes are currently unavailable. Hopefully they will be back in working order for summer 2021.
Stop #8 is Big Bend, and is a great place for photos, but no trails begin there.
Stop #9 is the Temple of Sinawava. This stop includes the Riverside walk and access to the Narrows. The Riverside Walk is an easy 2.2 mile round trip walk along a partly shaded path. It is great for little ones, because it doesn't include climbing.
At the end of the trail is the Narrows. You can get in and play in the river, or you can hike upstream for as long as you want.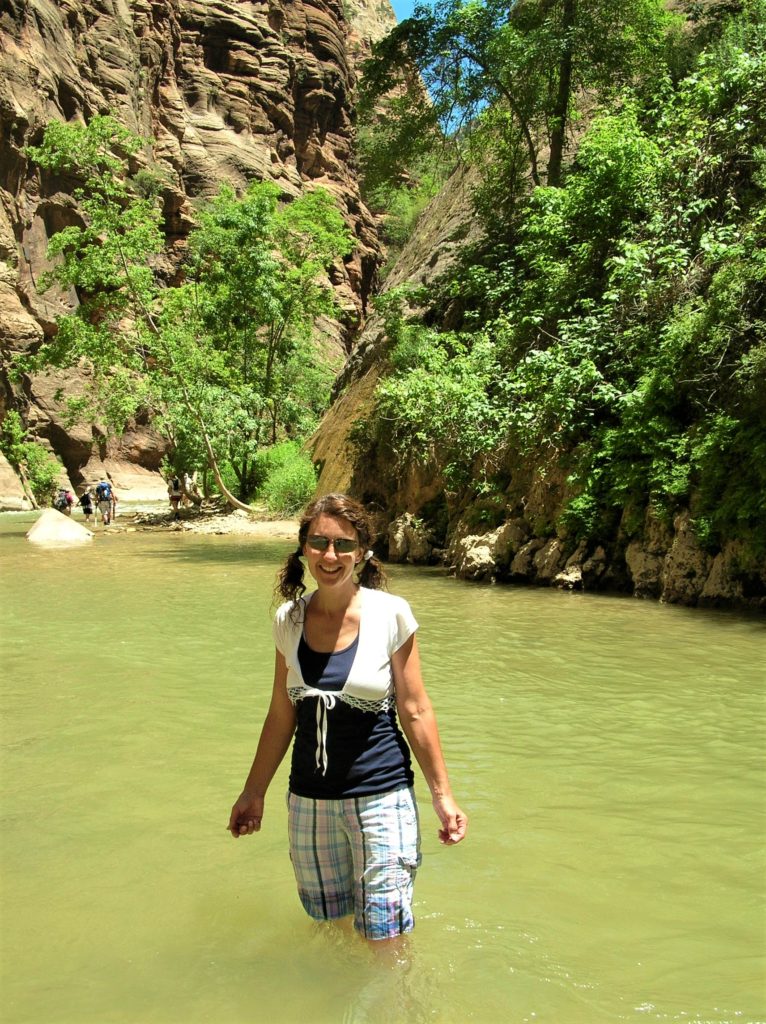 Some parts of the river can get deep, so this is considered a strenuous hike. We didn't take our little ones up the river. These photos are from a different trip.
There are also rapids in the river that look harmless, but are actually quite hard to get out of. A good Samaritan helped me out here.
Another area of Zion National Park is Kolob Canyons. Kolob Canyons is accessed from I-15 and includes a 5 mile scenic drive with a separate Visitor's Center. It is a 40 mile drive from Kolob to the main Zion entrance, so be sure to leave enough time if you plan to do both in one day.
Zion National Park is beautiful, and includes something for everyone! If you have little ones, you may not find enough hikes that are their level to spend more than a couple of days hiking in the Park, but if your group can handle the strenuous hikes, you could easily spend 4 or 5 days. There are also backpacking, canyoneering, and rock climbing activities that I haven't gone into here. These activities require reservations and/or permits. Happy hiking!
Do you love hiking? Have you hiked at Zion National Park?