Visiting Rockefeller Center in New York City
♫ Start spreading the news, I'm leaving today. I want to be a part of it, New York, New York! ♫
New York is such a vibrant city, with so many things to see and do. I've been there on several occasions, and still haven't experienced all of the activities that sound amazing to me. When you go, try to plan at least a week. If you can stay longer, do!
Note: This post contains affiliate links. By clicking the link, at no cost to you, we may earn a small commission.
You've heard of Times Square, and The Statue of Liberty. But do you know how much is going on at Rockefeller Center?
Radio City Music Hall Stage Door Tour
Have you ever taken a tour of Radio City Music Hall? We did! It was super fun and interesting!
In 1929, John D. Rockefeller Jr partnered with RCA (Radio Corporation of America) to build a complex of commercial buildings. This complex came to be known as Radio City, because of the involvement of RCA. The Music Hall, which featured both movies and stage shows, was the first building completed. At that time it was the largest indoor theatre in the world, and was designed in the Art Deco style.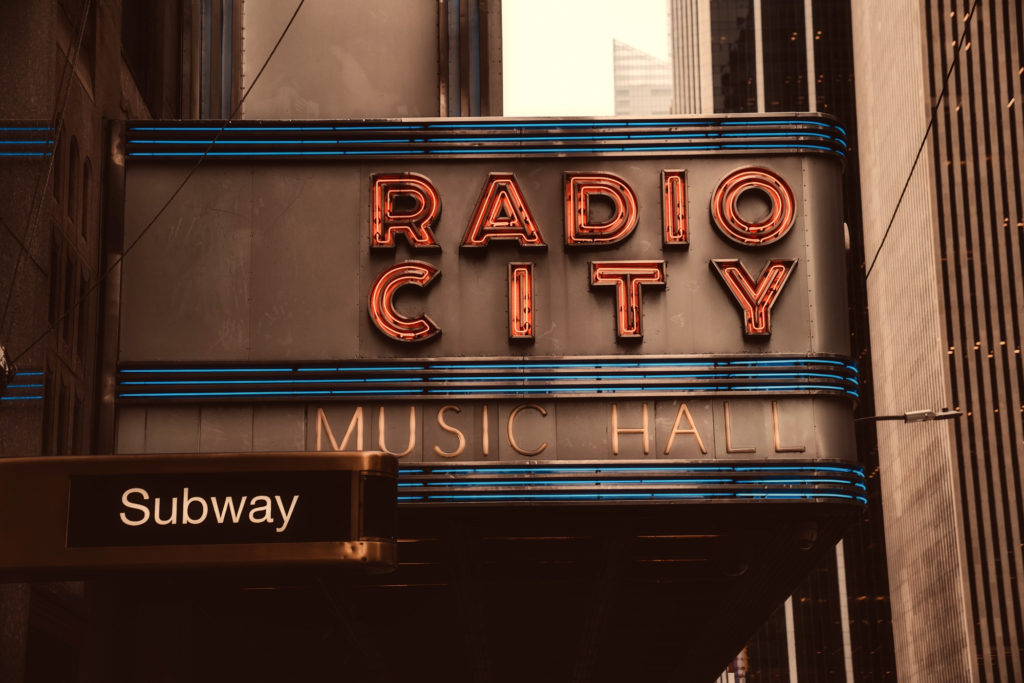 The Radio City Stage Door Tour takes you behind the scenes in nearly every part of the Music Hall. You start in the grand foyer, which was refurbished in 1999. It took 6 months just to clean the decades of cigarette smoke off this gorgeous mural! The mural is called The Fountain of Youth, and was painted in 1932 by Ezra A. Winter.
The tour continues across the stage, where you get to experience just how massive both the auditorium and stage are. There are approximately 6000 seats to choose from, with an Orchestra section and 3 Mezzanine sections. The stage is 60 feet wide and 100 feet long!
The stage is made up of four platforms that move up and down and side to side in different configurations. It also features an elevator system by which performers and props can be shuttled from front to back, side to side, and up and down to any level. This allows the performers to exit on one side and reappear on the other! The eight piston hydraulic system that controls the stage was a wonder at the time it was built. In the 1999 renovation, it was still so effective that although it was updated, it wasn't changed at all, except to add a computer.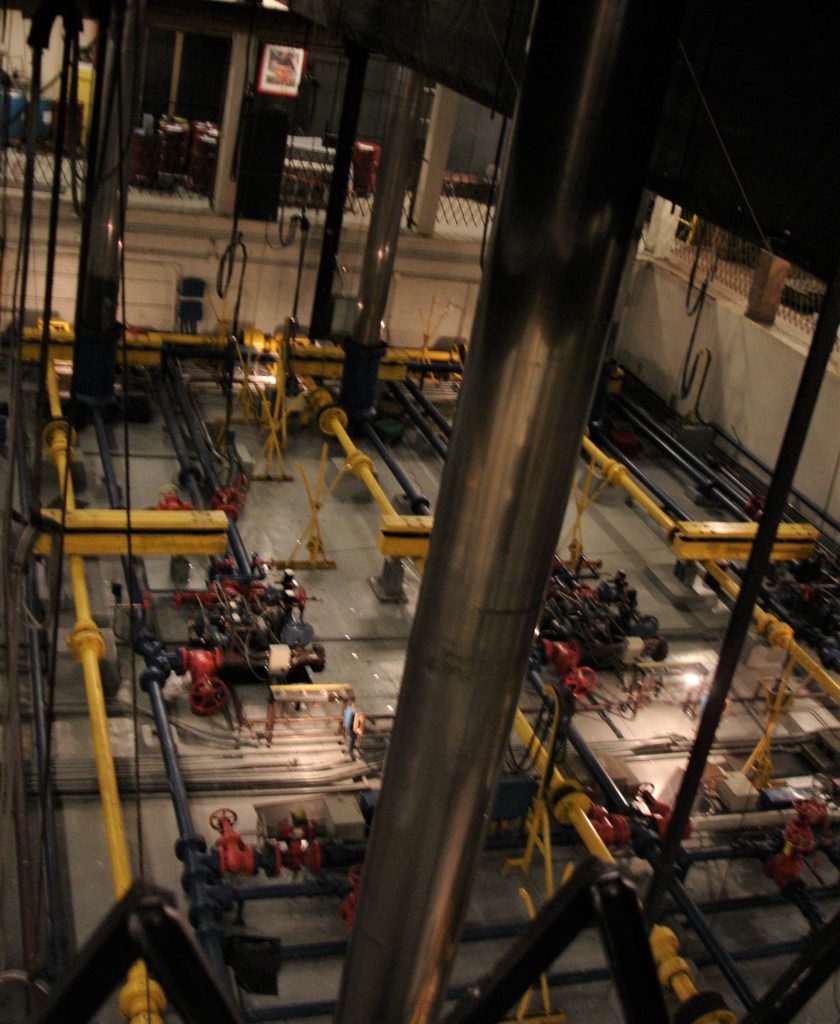 The restrooms are like comfy Art Deco lounges from the 30's, with seating to allow patrons to relax. The walls are covered with these darling vintage paintings.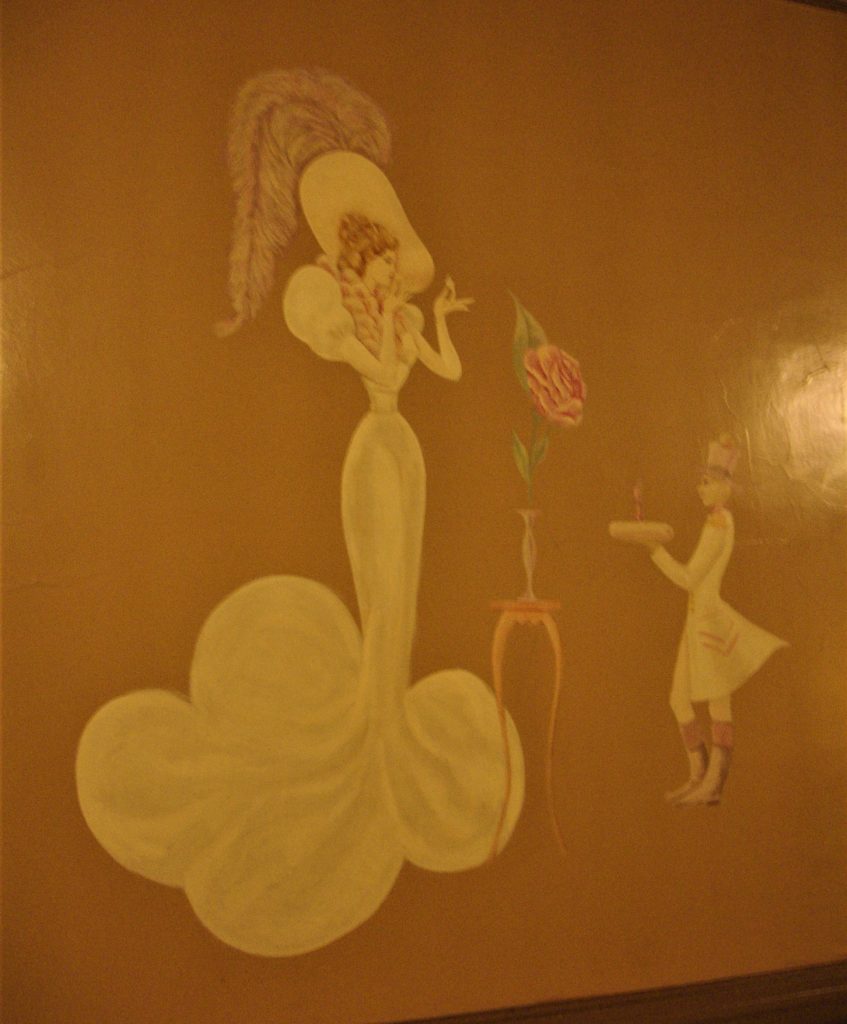 All throughout the Music Hall there are fun photographs and posters commemorating the Rockettes and the history of the venue.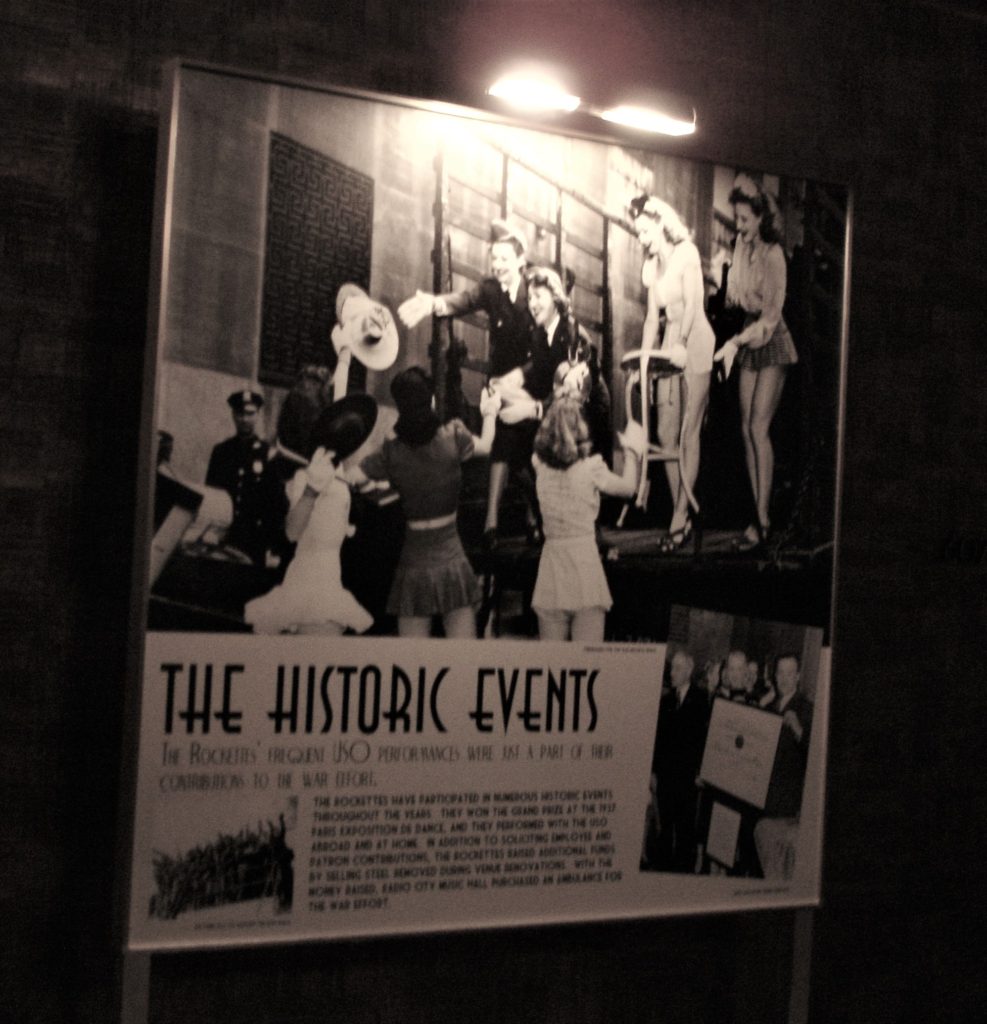 Rockette memorabilia was in abundance, and we even got to see the room where the costumes from previous shows are kept.
Near the end of the tour, we got to meet with a current Rockette. It was fun chatting with her and asking questions. We discovered that Rockettes must be between 5'6″ and 5'10 1/2″ tall. When spread out along the massive stage, with the tallest in the center, all of the Rockettes look the same height! You can see the height difference in this photo, as Kimberlee is 5'10 1/2″, and this Rockette is 5'6″. (I'm only 5'2″, and would not even qualify to audition.)
We had a bystander take this photo with our phone, and as you can see, it wasn't the best souvenir photo in the world. Recently the tour has changed to include a more professional photo emailed to you.
Tours are held daily every half hour beginning at 9:30 AM and ending at 5:00 PM. Tickets are $31 for adults and $27 for children 12 and under, students with ID, and seniors 65 and older. The tour lasts about 75 minutes, but it seems to go by really fast!
Tour itinerary is subject to change, depending on what's going on in the venue at the time. The tour that you get may not include all of the same areas that we saw. For example, when there is a show going on, you won't be able to walk across the stage. (Even if you are between 5'6″ and 5'10 1/2″ and can kick really high.)
Christmas Spectacular starring the Radio City Rockettes
We visited New York in the spring, so the Christmas Spectacular wasn't available. But the Stage Door Tour was so awesome that I really wanted to come back and see the Spectacular! If you are visiting between the second week in November and the first week in January, consider experiencing this show!
Christmas Spectacular tickets range from $46 to $580 each, depending on your seat selection as well as the day and time you choose. There is also the option for a VIP experience, which includes an orchestra ticket and a private reception with the Rockettes and Santa! Tickets for the VIP experience are $599 each. Visit the Rockettes website for details.
Top of the Rock
People always ask: Which is better, the Empire State Building, or Top of the Rock? I loved Top of the Rock for these reasons:
1. You can see the Empire State Building.
2. You get a clearer view of Central Park.
3. You don't spend as much time in line. Top of the Rock has timed entrances, so the lines stay shorter and move quicker.
Before you go up the elevator to the observation decks, there are exhibits on the mezzanine, an interactive virtual walk that takes you across a steel beam high above the city (with a souvenir photo opportunity), and a theater showing a short film about The Rockefeller Center and NBC.
There are three observation decks included with your ticket. A high speed elevator called the Sky Shuttle takes you to the deck on the 67th floor, then you can easily access the other decks using an escalator. The lowest deck is indoors. The middle deck is outdoors with clear safety shields. The top deck is also outdoors, and doesn't have safety shields, making it easier to get good photos.
There are several options for obtaining Top of the Rock tickets. First, you can stand in the ticket line at the venue (slowest option.) Second, you can buy online at the Top of the Rock website. Third, you can purchase a New York CityPass, which includes Top of the Rock and five other New York attractions (best option if you are visiting other attractions available with CityPass.)
Regular prices are $38 for adults, $36 for seniors age 62 and older, and $32 for children age 6-12. VIP access (skip the lines) is $75 total per ticket. CityPass is $132 for adults and $108 for children age 6-17. CityPass tickets do not include VIP access.
Top of the Rock is open daily from 8:00 AM until Midnight, but the last Sky Shuttle leaves at 11:00 PM. We visited in the afternoon in the spring, and although it was a bit breezy, the weather was beautiful, and we could see for miles!
One popular time to visit is just before sunset. Visiting at that time gives you the opportunity to see daytime views, and then the twinkle of lights as darkness descends. The price for a sunset entrance time is $10 more than any other time. Expect larger crowds if you visit at sunset as well.
Rockefeller Center Tour
The Rockefeller Center Tour is a guided tour telling all about the history of John D. Rockefeller and his vision for the complex. Tickets are $25, or $52 for the Rock Pass, which also includes Top of the Rock. CityPass holders also get a $5 discount for the tour.
NBC Studios Tour
The Tour at NBC Studios features a behind the scenes look at two of your favorite live studios such as the Tonight Show and Saturday Night Live. After learning all about the production process, you and your fellow tour guests produce your very own show! Tickets for this tour are $33 for adults and $29 for seniors age 55 and older and children age 6-12. Tours depart every 20 minutes starting at 8:20 AM. Tours end at varying times daily. Check the Tour at NBC Studios for more info.
The Ice Rink
Every year from mid-October until April, Rockefeller Center Courtyard is transformed into an ice rink! Grab your skates and have a blast skating on this outdoor rink. Tickets range from $25 to $33 for adults, depending on the date, and $15 for seniors 65 and up and kids under age 11. Bring your own skates, or rent them for $13. The rink has a capacity of 150 guests, and all skating is first come, first served, unless you purchase a VIP or First Skate ticket. These run $40 to $175 each, and some include hot chocolate or breakfast.
We thoroughly enjoyed our time at Rockefeller Center. I hope we can visit New York in the winter next time to enjoy all of the holiday entertainment!
Also, don't miss Central Park and Times Square, other great areas of NYC!
Have you visited Rockefeller Center? What was your favorite attraction?