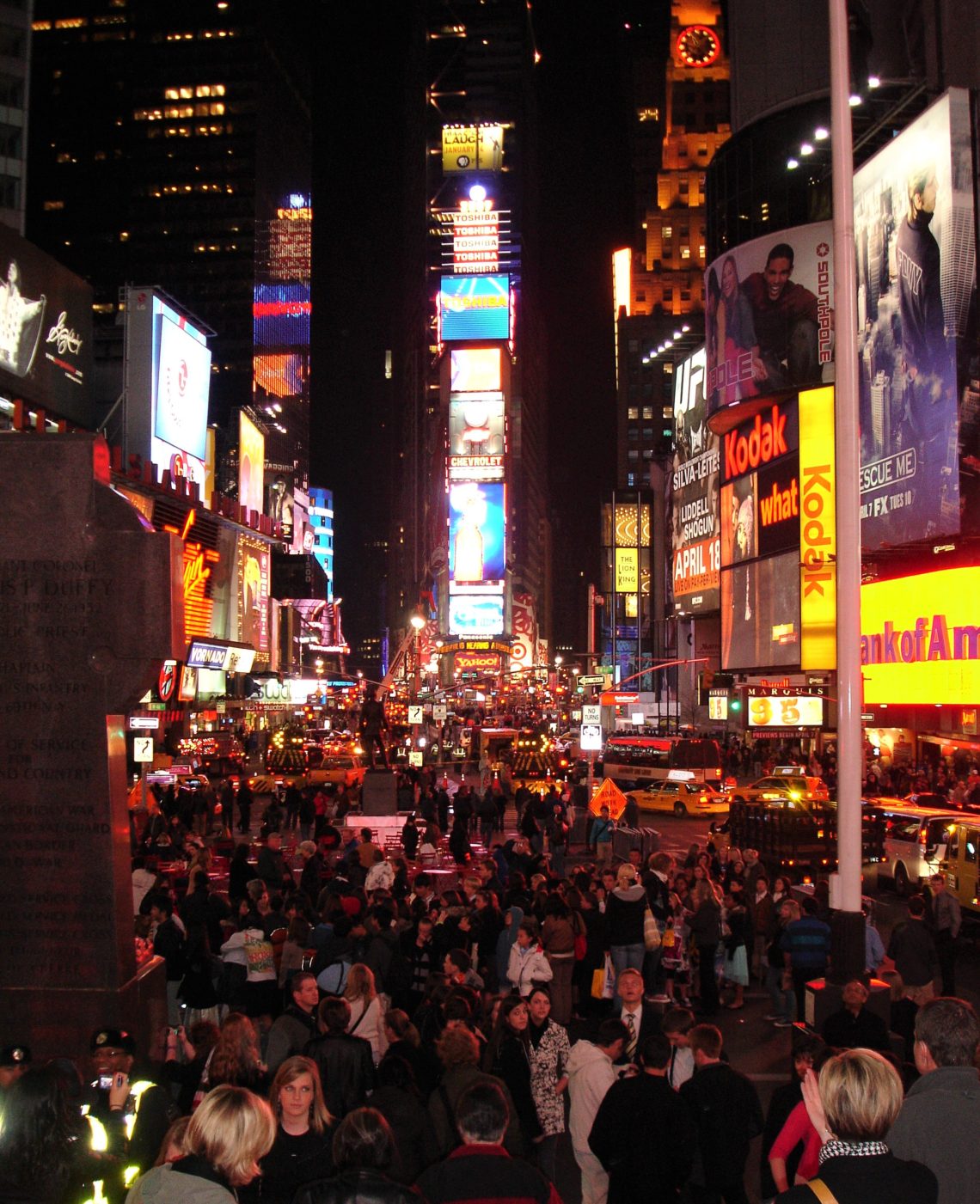 Visiting Times Square in New York City
There are good reasons why the touristy things in New York City are well, touristy. Because they are so fun! I'm not opposed to getting off the beaten path, but don't be afraid to experience an activity that sounds fun just because it's touristy. You will probably have a great time!
Times Square is one of those places. Even if you have never been there, doubtless you know it from the ball that drops on New Year's Eve, signalling the beginning of the New Year. That tradition had it's beginnings in 1904, when a New's Year's party was thrown to celebrate the opening of the New York Times new headquarters. The party consisted of a street festival concluding with fireworks. When the fireworks were banned in 1907, New York Times owner Adolph Ochs had a 700 lb ball built of wood and iron. He illuminated it and lowered it to the ground at midnight on New Year's Eve, signalling the beginning of 1908.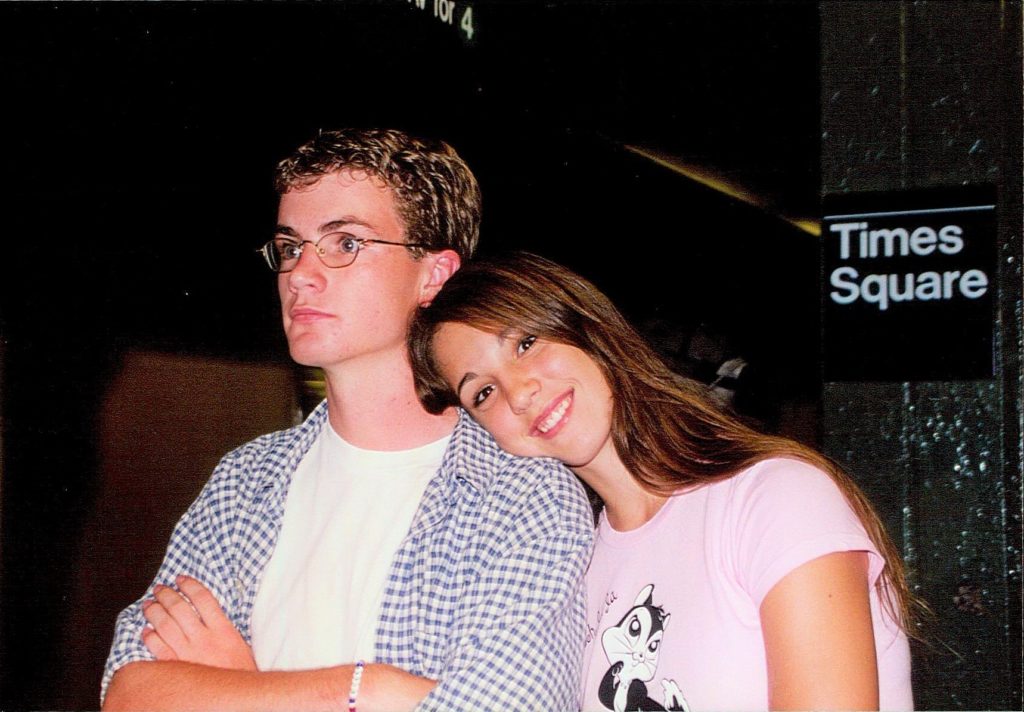 The Squares of New York are formed by the intersection of Broadway and the Avenues. Broadway originally roughly followed the Wickquasgeck trail, formed by early Native Americans. It ran the entire length of the island, beginning at the southern tip. The Dutch widened it, making it their main thoroughfare, and it was later named Broadway by the English.
In 1811, the government imposed a new plan for the streets north of Houston. They were to be laid out in a grid pattern, which was a new innovation in those days. However, Broadway was retained, running at an angle through the Avenues. This caused triangular sections of open land of varying sizes, which were called, ironically, "squares".
What is commonly known as Times Square is really two of these triangular portions of land put together. The northern one is sub-named Duffy Square, and contains a statue of Father Duffy, a highly decorated chaplain in World War I.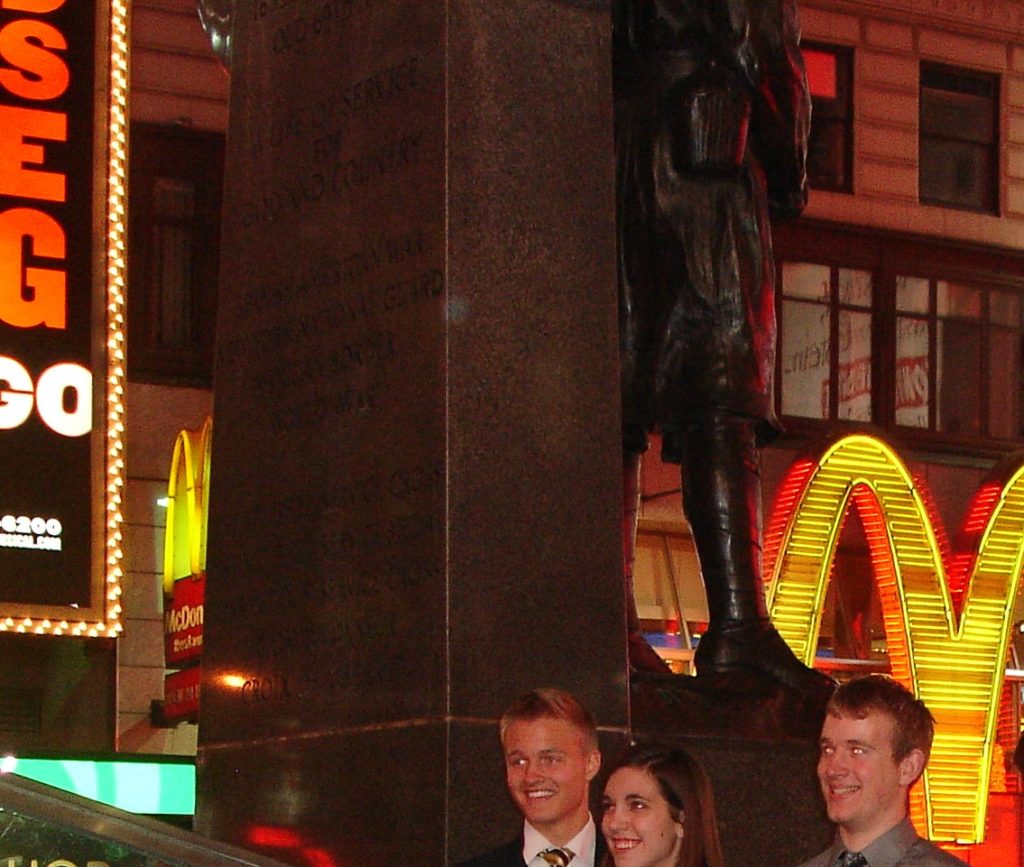 The Southern triangle was originally named Longacre square, but it's name was changed to Times Square when the New York Times re-located to the building at the tip of the triangle on 42nd Street in 1905.
In the past, Broadway in Times Square has been open to vehicular traffic, but in 2009 the city decided to close Broadway between 42nd and 47th streets, and build a pedestrian plaza. It's nice to be able to walk around Times Square without having to be on the lookout for taxis about to run you over!
Times Square is positioned inside the Theatre District, which runs from West 40th Street to West 54th Street between 6th and 8th Avenues. In 1899, Oscar Hammerstein I opened the Victoria Theatre on 42nd Street. It was the same year that electrified trolley lines began running, allowing people greater access to the area. Theaters began pouring into the area from their previous locations further south, and by the beginning of World War I, most legitimate theaters were established in the area.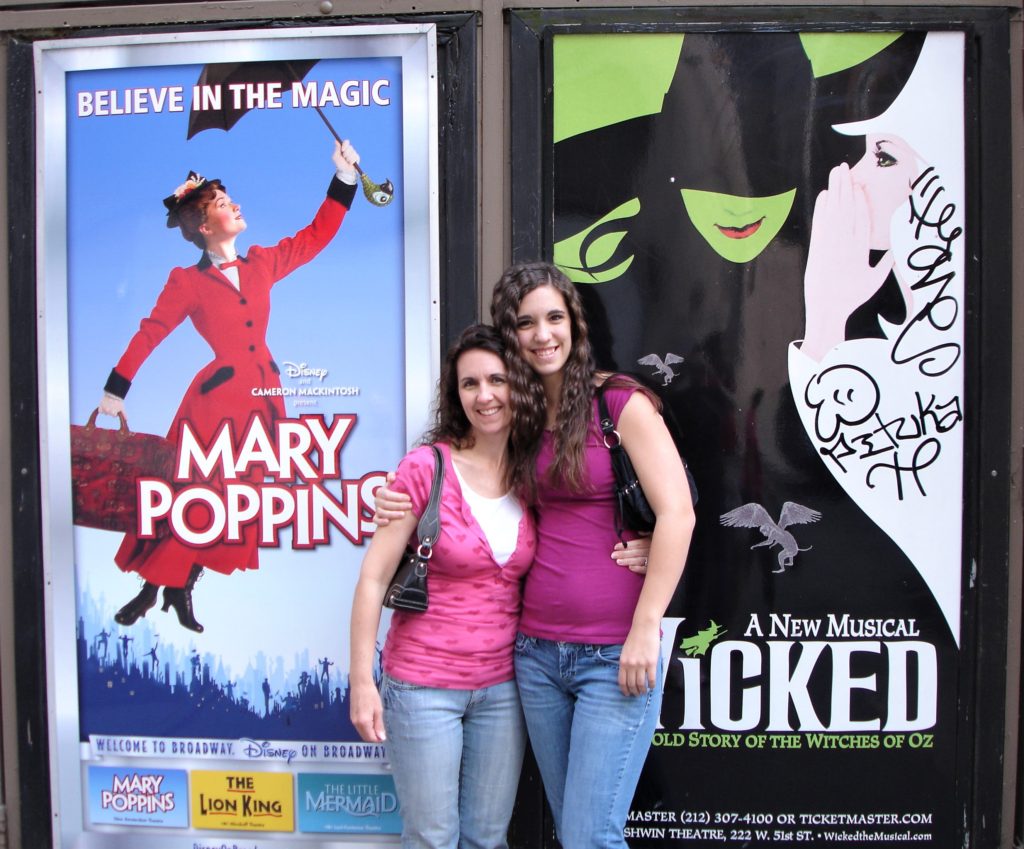 We always make it a point to see several Broadway shows every time we are in New York. They can get kind of pricey, at approximately $100 to $250 per show, which is why the TKTS booth at the north end of Times Square is so popular. The TKTS booth sells same day tickets to popular Broadway shows for up to 50% off!
Hint: Use the Lincoln Center or the South Street Seaport locations for your TKTS if you are in the area. They are not as crowded.
Keep in mind that there are certain limitations at the TKTS booth.
The line is often long, especially at the Times Square location. And it is outside.
You can't choose your seat. When you get to the TKTS window and state your preferred show, you will be offered a seat and you have only a few seconds to decide whether or not to take it.
Some shows have no TKTS tickets available. If your heart is set on a certain popular show, you may be disappointed. (If you download the app, you can see your choices for the day.)
Only tickets for the same day are available.
If you aren't picky about what you see or where you sit, you can grab some great deals at the TKTS booth! I've seen upwards of a dozen shows on Broadway, and the tickets for most of them came from the TKTS booth. I've never had a bad seat.
Hint: If the 7 day fastpass line is open, you can use that much shorter line by showing your ticket to a show that you have seen in the past seven days.
If theatre is not your cup of tea, just walking up and down the streets of Times Square is an experience. It is one of the most energy-filled locations in the city! There are a ton of restaurants and shops to peruse. The Hershey's shop is always a yummy option.
The Levi's store, H&M, and the Disney store are also in Times Square, along with fun gift shops where you can find lots of New York merchandise.
You can pose for a photo on the famous red stairs by the TKTS booth.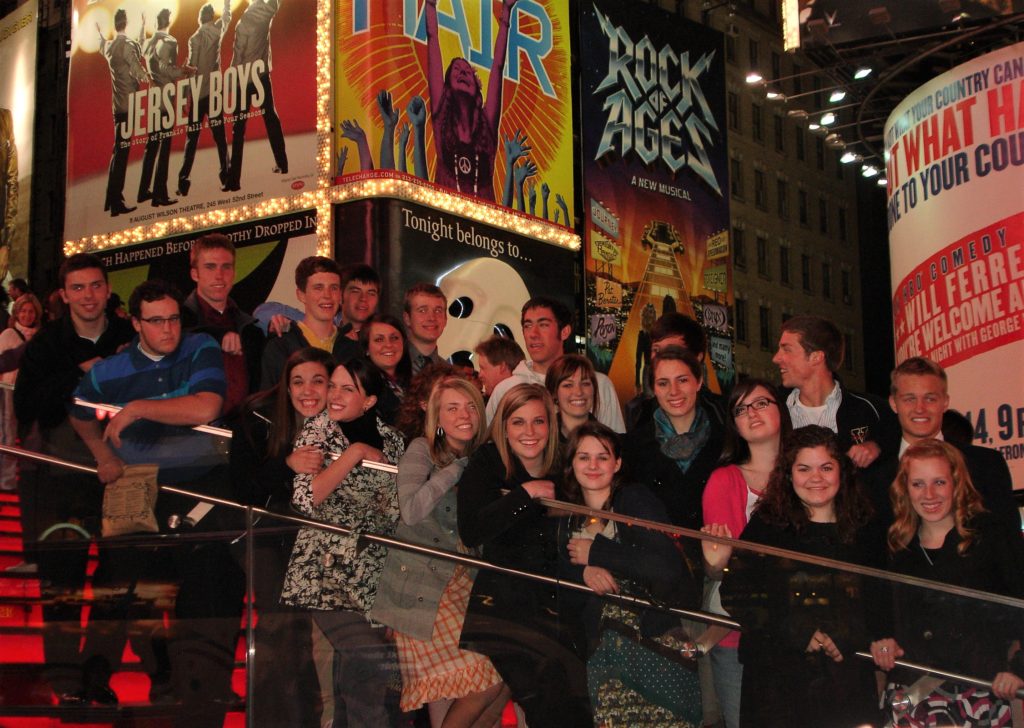 On 42nd St, just a half block off Times Square, you can visit Madame Tussaud's wax museum. No telling who you will meet there!
Another interesting activity we experienced was a tour of the area around Times Square. Broadway Up Close tours offer six different tours, depending on your interests. Five of their tours run $37 for adults and $32 for kids age 12 and younger. These include Broadway's Beginnings, Shubert Brothers and Beyond, Hippies/ Disco's /and Dogs, Hamiltour, and the Ghostlight Tour. The Hudson Theatre tour is $52 for adults and $47 for kids.
The last time we visited Times Square was during a protest. I'm not really sure what was being protested, but Times Square was PACKED! We happened to be driving that day (fyi: driving in New York City is nerve-racking) and it literally took us an hour to go one block. We hopped out to take this photo, and Kelley, who was driving, barely moved during that time.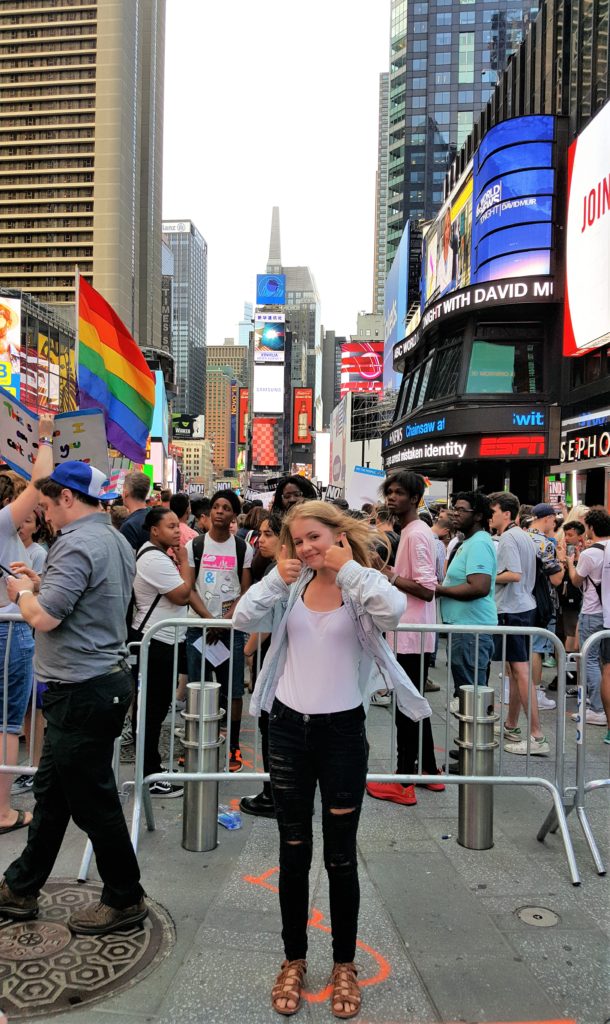 If you love the theatre, Times Square is a must-see. And even if you don't, there are plenty of sights and sounds to keep you busy. Don't miss it!
Also, take time to visit Central Park and Rockefeller Center, other great areas of NYC!
What do you like best about Times Square?