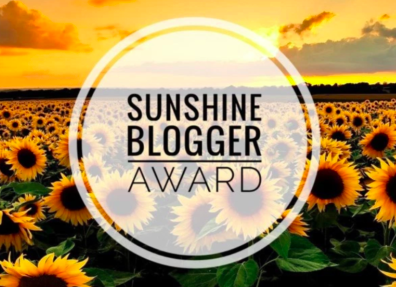 I am so excited and honored that one of my peers, Karen from KMS is Writing has nominated me for the Sunshine Blogger Award. The award is given from bloggers to fellow bloggers who bring positivity and creative content to the blogging community and to their readers. Thank you so much for the nomination, Karen!
A little bit about Karen, author of KMS is Writing
Karen is an empty-nester who recently resigned from her job in corporate journalism. She loves the opportunity to merge traveling and writing, two of her favorite things, as she blogs about her adventures. It's a pleasure to read about her trips with family, friends, and even by herself, and the photos she takes are marvelous!
A little bit about me
As part of the award, the nominees are given 11 questions. It's fun to read the answers of the different bloggers! Here are my responses to Karen's questions.
What do you use daily that you think will still be around in 100 years?
A pen. Computers and phones are great, but I still pick up a pen throughout the day to jot things down.
Beach or mountain vacation?
Definitely the Beach. Mountains are beautiful, but the water calls to me!
Team Harry Potter or Team Lord of the Rings?
I read Lord of the Rings long before Harry Potter, but to tell the truth, Harry Potter stole my heart.
How many hours do you sleep on average?
I sleep about 7 hours per night. Sometimes 6. Rarely 8, maybe on weekends.
Carry-on or checked luggage?
Carry-on all the way! It's so much easier to have it with me than to wait for it at the luggage carousel.
What's the quirkiest thing you keep in your purse/wallet?
My purse is too small to keep quirky things. I keep a fingernail file in there, but I never use it, because I forget it's there!
What's the kindest thing a stranger has done for you?
It's the little things, I think, that show me that strangers are kind, with tendencies towards helping others. Holding a door, offering the last cookie, smiling at a crying child. It gives me faith in humanity.
What's the most meaningful place you have visited and why?
As a member of the Church of Jesus Christ of Latter Day Saints, Carthage Jail in Illinois holds a special place in my heart. This is where the founder and prophet of our church was killed by a mob in 1844.
What's the most meaningful book you have read and why?
I have too many! I'll start with the Book of Mormon, which is another testament of Jesus Christ. It is the foundation of my faith in Christ. When I was young I loved Behold Your Queen by Gladys Malvern, a story of Esther from the Bible. It showed how women can be strong and courageous in the face of overwhelming odds.
What's the story behind the name of your blog?
I have always loved the word Serendipity. It's fun to say, right? But the meaning of the word is to find delightful discoveries, mainly by accident. I decided I don't want to wait for an accidental discovery; instead I want to find delightful discoveries on purpose!
What's your favorite family tradition?
My mom, sisters, daughters, and nieces (along with a few sons and nephews) like to get together each fall and dip chocolates for Christmas. We make the centers at home, then we find a few days where we hand dip the centers on marble slabs and make beautiful chocolates to give to our neighbors! (And we eat a lot of them too.)
Sunshine Blogger Award guidelines
Thank the blogger who nominated you in your blog post and link back to his/her blog.
Answer the 11 questions the blogger asked you.
Nominate 11 new bloggers to receive the award and ask them 11 questions.
List these rules and display the Sunshine Blogger Award logo in your post and on your blog.
My nominees for the Sunshine Blogger Award
I would like to nominate a few bloggers who have terrific content. Check them out to see what I mean!
Sarah, author of Camera Suitcase Go
Shirley, author of Travels with Bibi
Heather, author of Life At My Own Pace
Jennifer, author of Me and My Traveling Hat
Shannon, author of Forever Delaney
Amber, author of That Camping Life
Jen, author of Three Kids and a Car
Kris, author of Follow My Hart
Wendy, author of Beach Living Aspirations
Angela, author of Babies and Passports
Chelsea, author of Johnson Family Vacations
Questions for my nominees
What is your favorite holiday and why?
When you were a child, what did you want to be when you grew up?
Why did you want to be the answer to #2, and did you achieve that goal?
How is your life easier now than when you were younger?
How is your life harder now than when you were younger?
Why did you start blogging?
Describe one person who has influenced you in your life.
What is one thing that makes you happy?
What words of advice can you give?
What is your dream vacation, and why?
How do you like to show kindness?
I'm looking forward to reading all of your answers on your blogs!