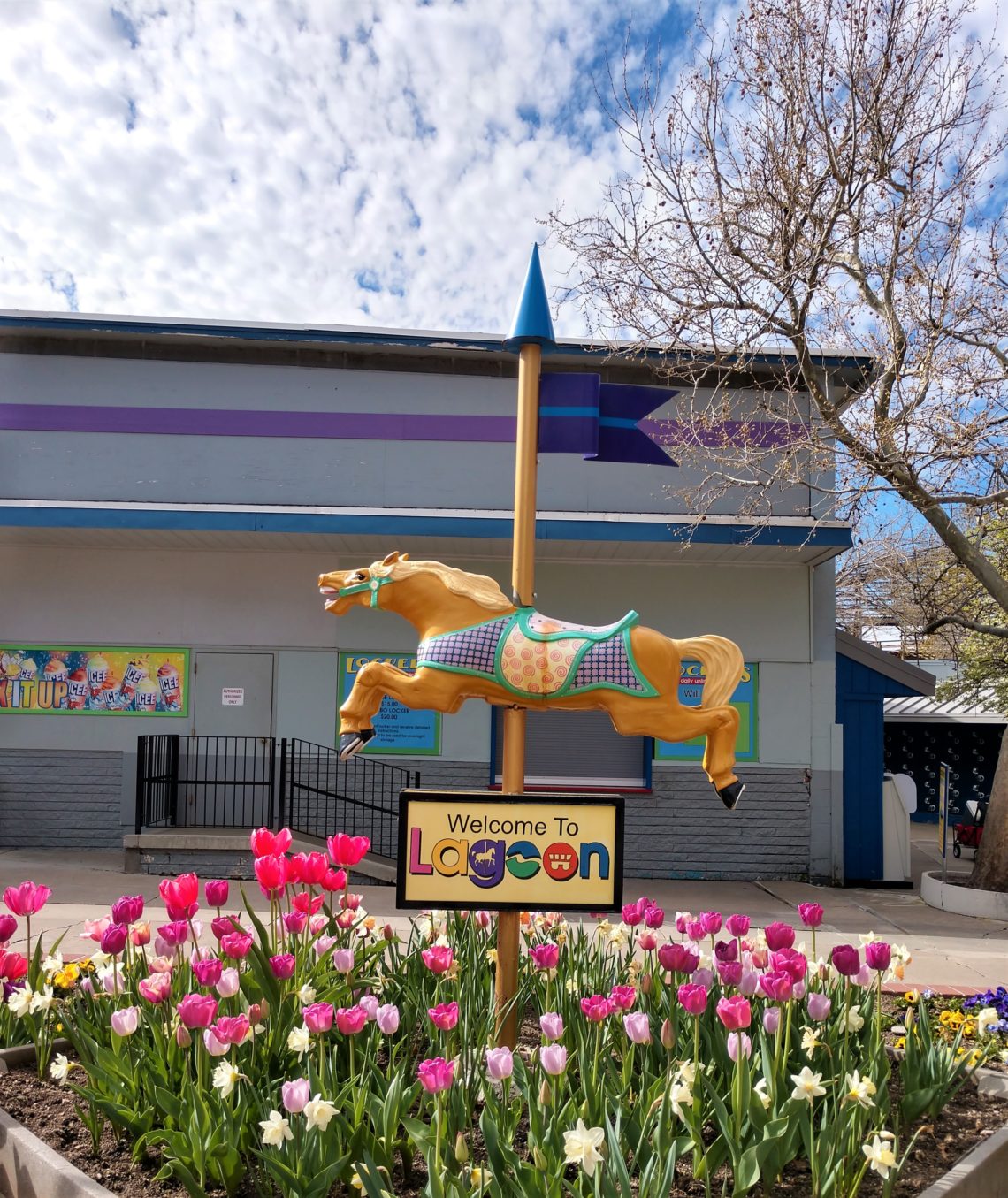 Lagoon – It's what FUN is!
What do you do for fun in the summertime? When you live 10 minutes away from an Amusement Park, you get a season pass!
This year, two of my daughters decided to get their families a season pass to Lagoon Amusement Park in Farmington, Utah. They wanted Grandma to come along too, so they gave me a season pass for Christmas!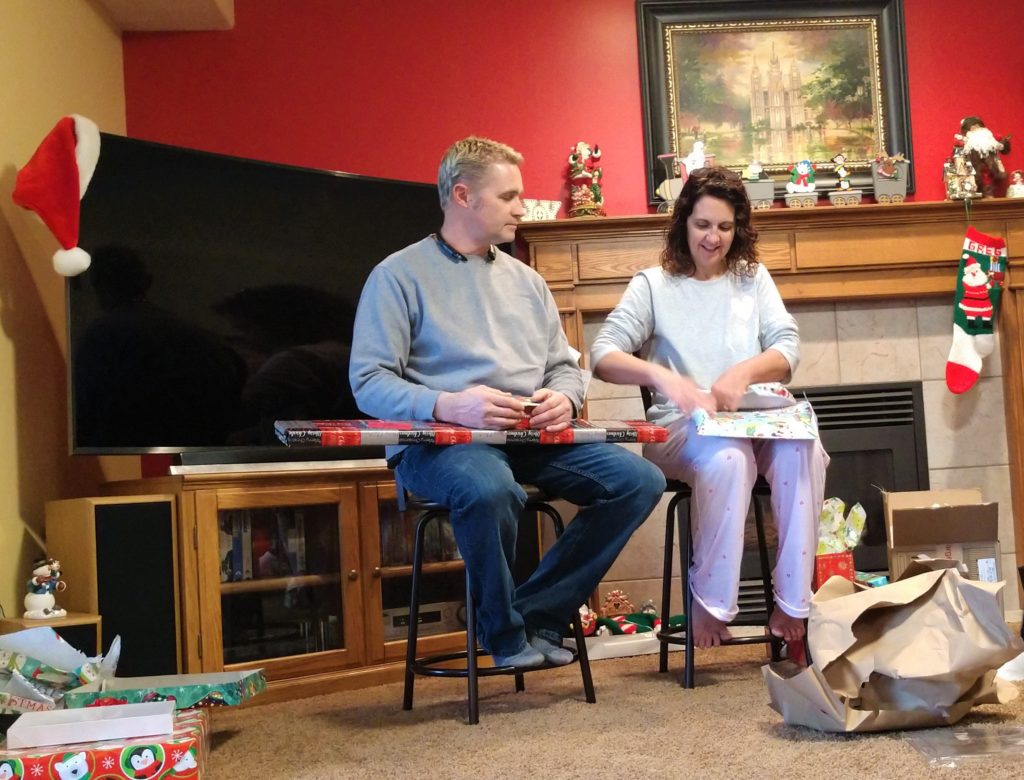 Do I look surprised? I wasn't. We planned ahead and bought our season passes on the Black Friday Sale, which is the cheapest time to buy. It was $109. The price increased incrementally after that, and now that it is the middle of the summer, the price is $145.95. Seniors price is $62.95. So unless you are a senior, plan ahead and get your pass for next year on the Black Friday Sale!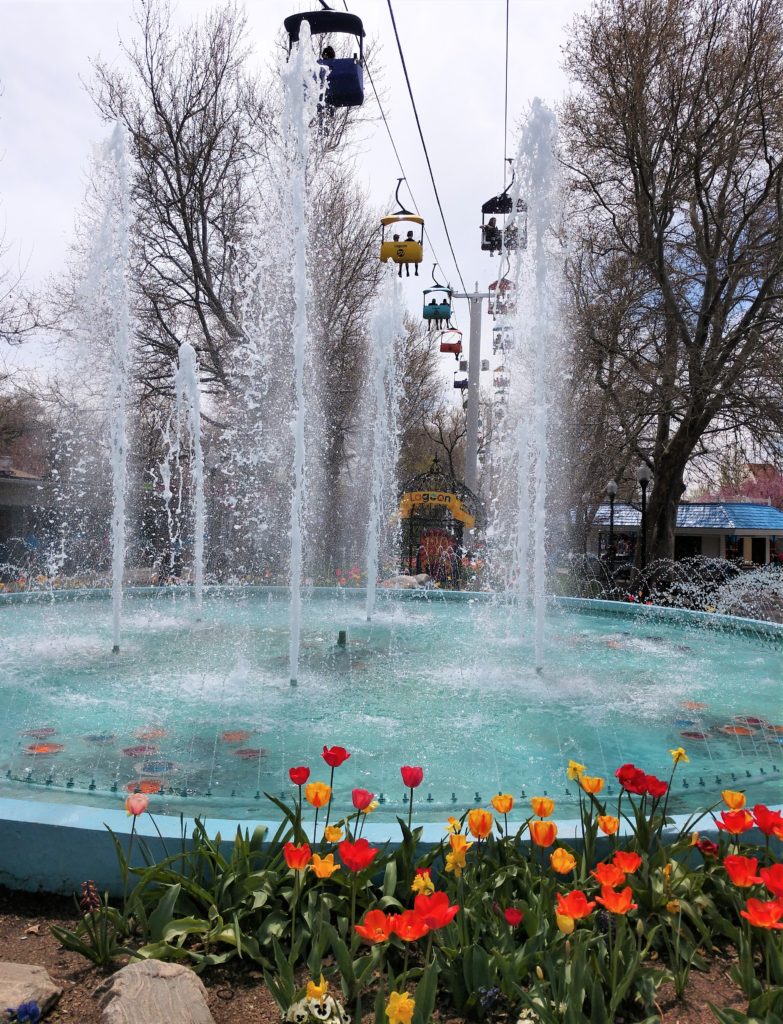 Lagoon has tons of things to do, way more than you can fit into just one day. There are Rides, Games, Lagoon-A-Beach (a water park), and Pioneer village. It is also one of the only Amusement Parks that I've visited that not only allows you to bring in a full picnic, but has several covered picnic areas with tables.
The Midway
Some of Lagoon's rides are the old carnival type rides, such as Tilt-A-Whirl and Music Express. Some have newer technology, like the Samurai. Lagoon also has 10 Roller Coasters, some more intense than others. The newest Coaster, Cannibal, opened in 2015, and has been thrilling guests ever since.
The restraint on this ride is a lap bar that comes up and presses against your middle. Nothing on your arms or shoulders at all.
After the initial inverted drop, it loops and spins all over the place. Very intense! Probably the scariest Coaster I've ever ridden.
Cannibal is one of five Coasters unique to Lagoon. The others include:
Colossus the Fire Dragon is a one-of-a-kind double looping roller coaster.
Wicked has a 110 ft vertical launch.
Roller Coaster is the original Coaster at Lagoon. It was installed in 1921 as The Big Dipper, and was later known as The White Roller Coaster, and now it is simply called Roller Coaster.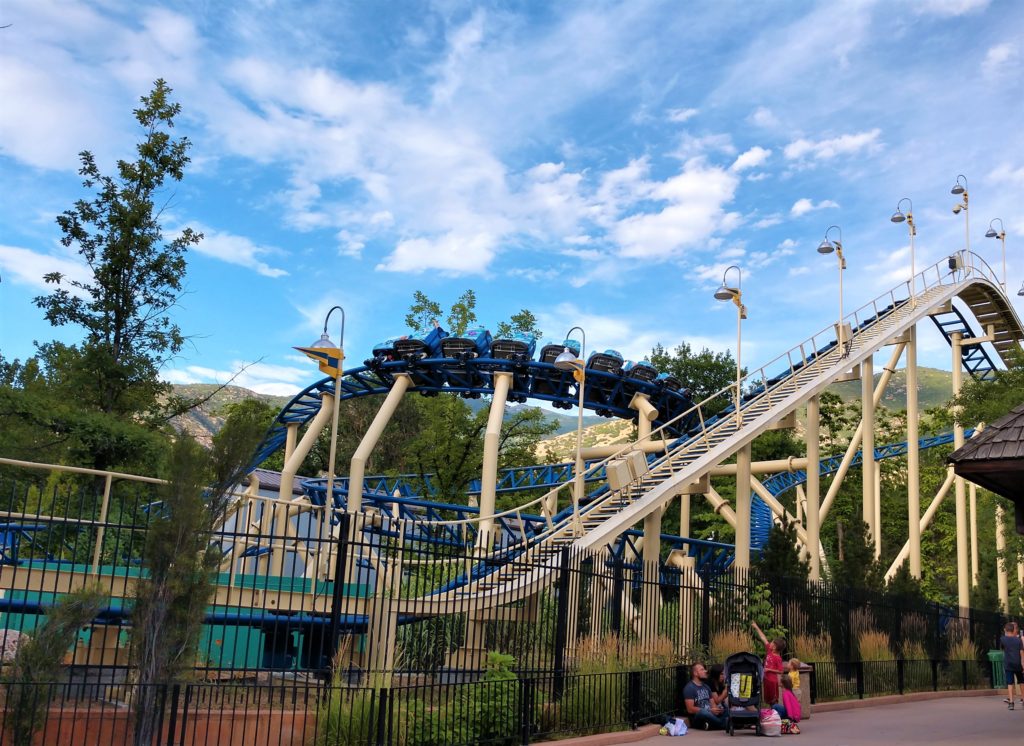 Bombora is a small coaster that even little kids love. It has a fun beach theme and Beach Boys type tunes play during the ride.
Kiddieland
Kiddieland has plenty of rides for the little ones. Most of the rides on the north end of Kiddieland allow parents to ride too, while most of those on the south end require that the rider be under 54″ tall.
Here we are on the Flying tigers!
Kids love shooting the guns on the Skyfighter.
Lagoon-A-Beach
On a hot day in the summer, Lagoon-A-Beach fills up first. It's good to get there early to stake out your lounge chairs and rent a tube, before the hordes of people descend.
Lagoon-A-Beach is included in the price of admission. When we have a season pass, we like to go swim for just a few hours, then leave when it gets super crowded.
The hydrotube slides are completely enclosed tube slides. One slide is completely dark inside, and the other 3 let light in through the blue tube. There are 4 variations to choose from.
The Lazy River is a relaxing slow ride around the swimming pools. The water used to move faster, but they turned off the surges, and now I feel like I barely move.
There is also a platform with 2 speed slides and 3 serpentine slides (one requiring a tube).
The Outrigger has several pools to splash into on the way down.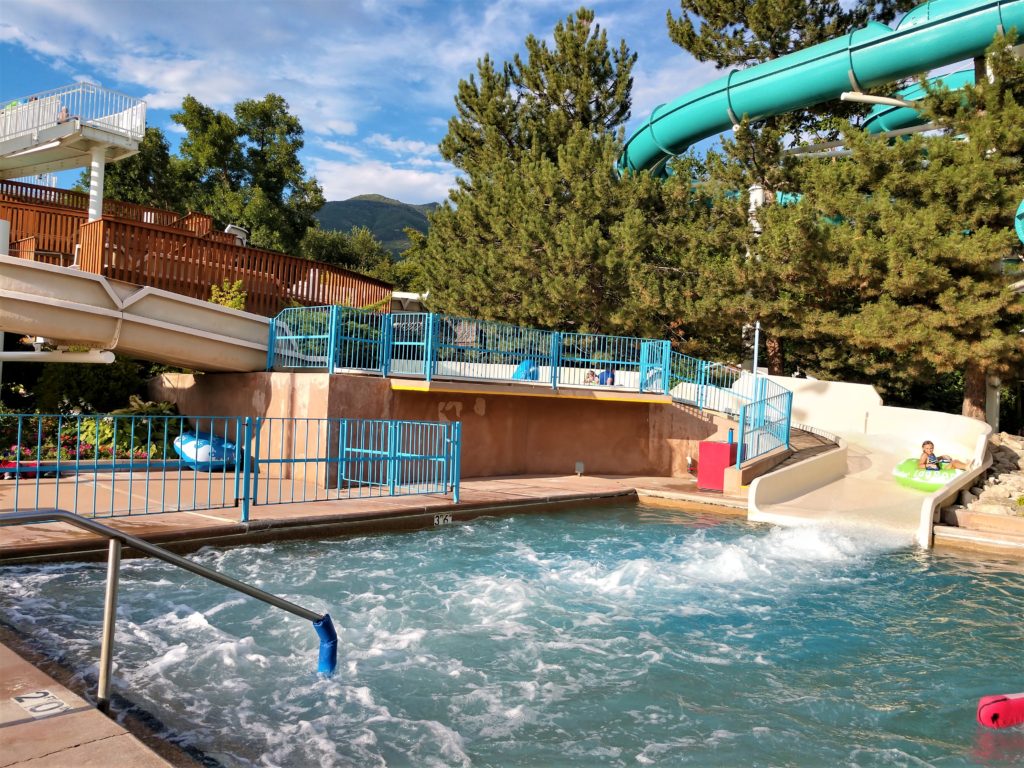 And don't forget the kiddie area! Kids can have fun swinging as well as enjoying 4 different kiddie slides. One of them begins with a waterfall!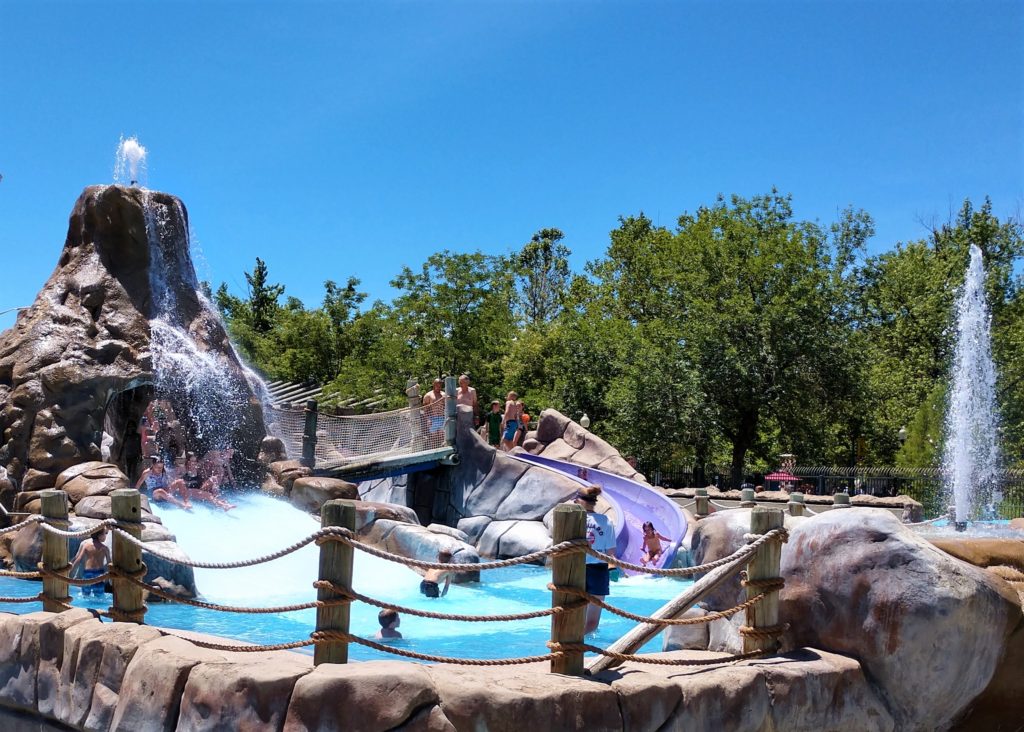 Pioneer Village
America was built on the Pioneer Spirit, and Lagoon's Pioneer Village is a quaint look at a time before all of the technology available today.
There are displays of all sorts of Pioneer life, from Carriages……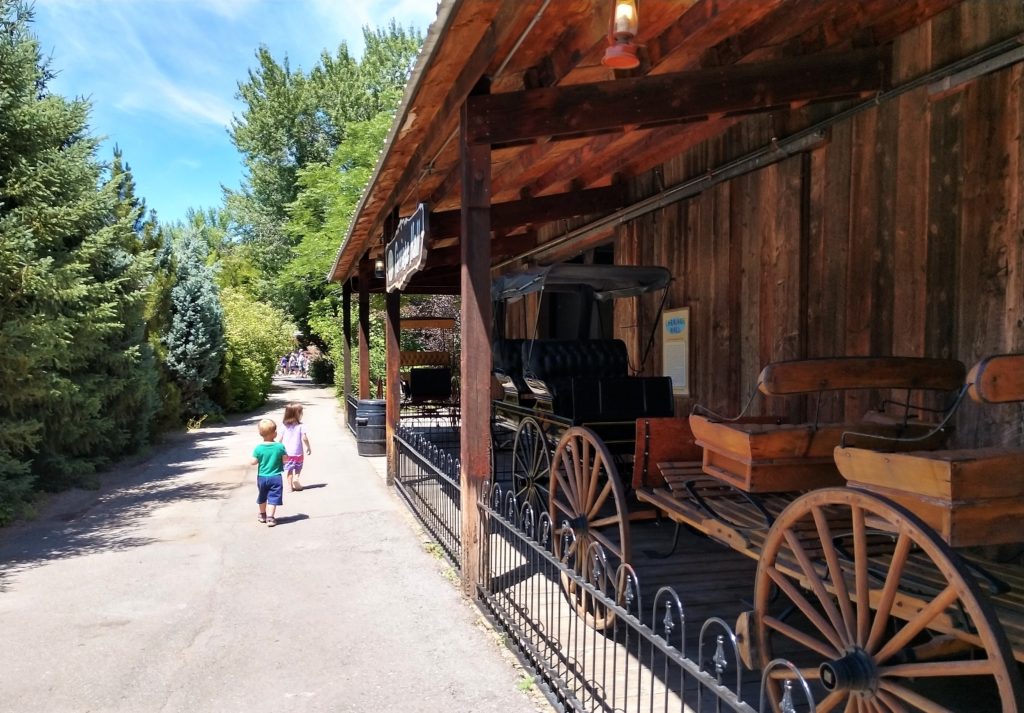 to Old Time Trains….
to the Blacksmith Shop.
Both the Log Flume and Rattlesnake Rapids are located in the Pioneer Village area. They are rides where you will get wet drenched. Take heed, the lines are super long on a hot summer afternoon.
Good to Know info
Regular one day passes are $64.95 for adults, $58.95 for seniors over 65 years, and $46.95 for kids under 48 inches tall. Lagoon has special offers from time to time: check out their specials here.
Lagoon opened on March 30 for the 2019 Season. Pre-summer hours are mainly 10 AM to 7 PM on weekends. Summer hours are 11 AM to 10 PM on Sundays and weekdays (closing at 11 PM on Fridays), and 10 AM to 11 PM on Saturday. Lagoon closes weekdays on August 20, with the exception of Labor Day, Fall Break, and evening hours the week of Halloween. Saturday fall hours are 10 AM to 11 PM and Sunday 11 AM to 8 PM, with a few exceptions. Lagoon-A-Beach closes for the season on September 7, and Lagoon closes for the season on October 31.
X-Venture rides charge an additional fee. The Sky Coaster is $15 per person, Double Thunder Raceway is $6 for the driver and $3 for a passenger, and the Catapult is $20 for the first launch and $10 for a relaunch.
For some fun history of the park, visit my post Lagoon, Back in the Day.
Do you like coasters, or are you more of a water park person? Let me know if Lagoon sounds like a fun day in the comments!