Camping in Big Cottonwood Canyon
It's been an interesting spring, in light of COVID19. After being cooped up in the house for three months, I was ready to get into nature for a couple of days! I talked to my daughter Kelley, and she was up for taking a little break from home. Our criteria was somewhere that a) we could sleep in a tent and b) we didn't have to drive for hours on end with five kids. I have to admit, camping does take a lot of gear, but we didn't mind.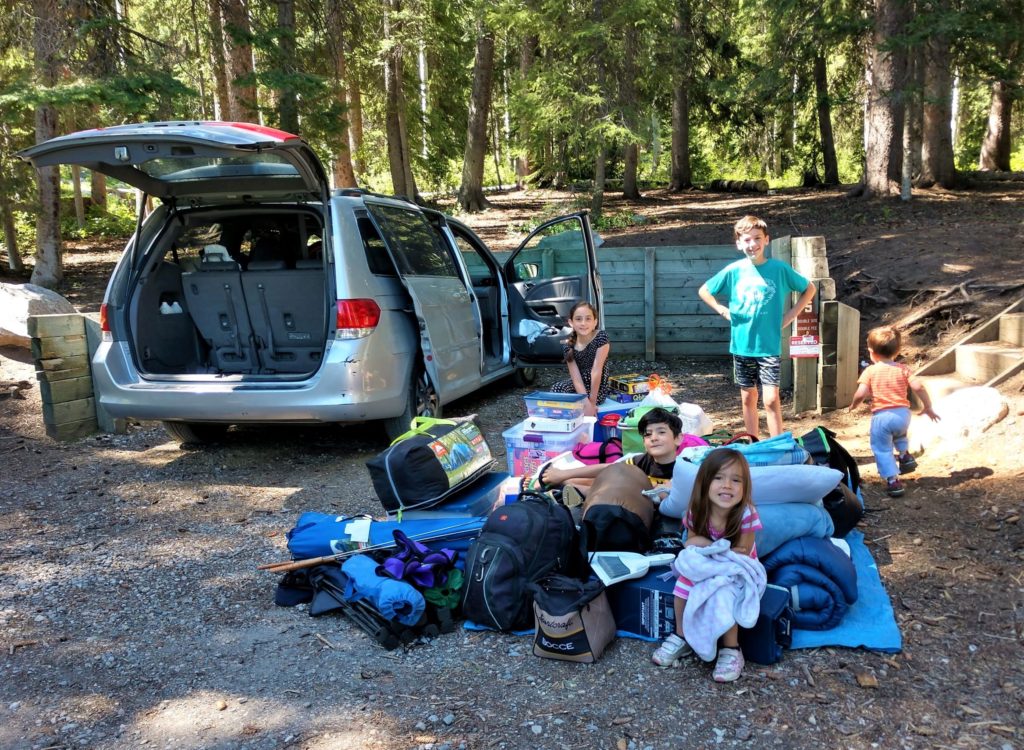 Luckily we live in a beautiful area with mountains close by! Salt Lake City is bordered on the east by the Wasatch Range of the Rocky Mountains, and on the west by the Oquirrh Mountains. We have four ski resorts just a twenty to thirty minute drive up Big and Little Cottonwood Canyons. After some deliberation, we decided to head up Big Cottonwood Canyon, so on a sunny summer Wednesday after lunch, we set off!
All five of Kelley's kids were very excited to find a place to camp. The first campground we came to up the canyon was called Spruces, so we turned in to see what we could find. At the guard station, we were told that Spruces was all filled up for the night. The car erupted with moans and tears, all of the kids positive that we would have to turn around and go home. But we reassured them that there were more campgrounds up the canyon.
The next campground was called Redman campground. It is located between the Solitude ski resort and the Brighton ski resort. The kids were relieved when we began to drive around the campground loop and found several good choices of campsites. We finally decided on site #18 and began to set up camp!
What happened next was unfortunate. The camp hosts had come by in their golf cart and began chatting with us, making a note of which site we had chosen, when they discovered that an error had been made on the signpost and the site was not available after all!
Again, there were tears, moans, and general grumpiness from the kids. How were they ever to find another campsite as nice as this one?
The camp hosts were very nice and apologetic, and suggested a few other campsites, so we loaded up the four corners of the tent and walked it down to site #8.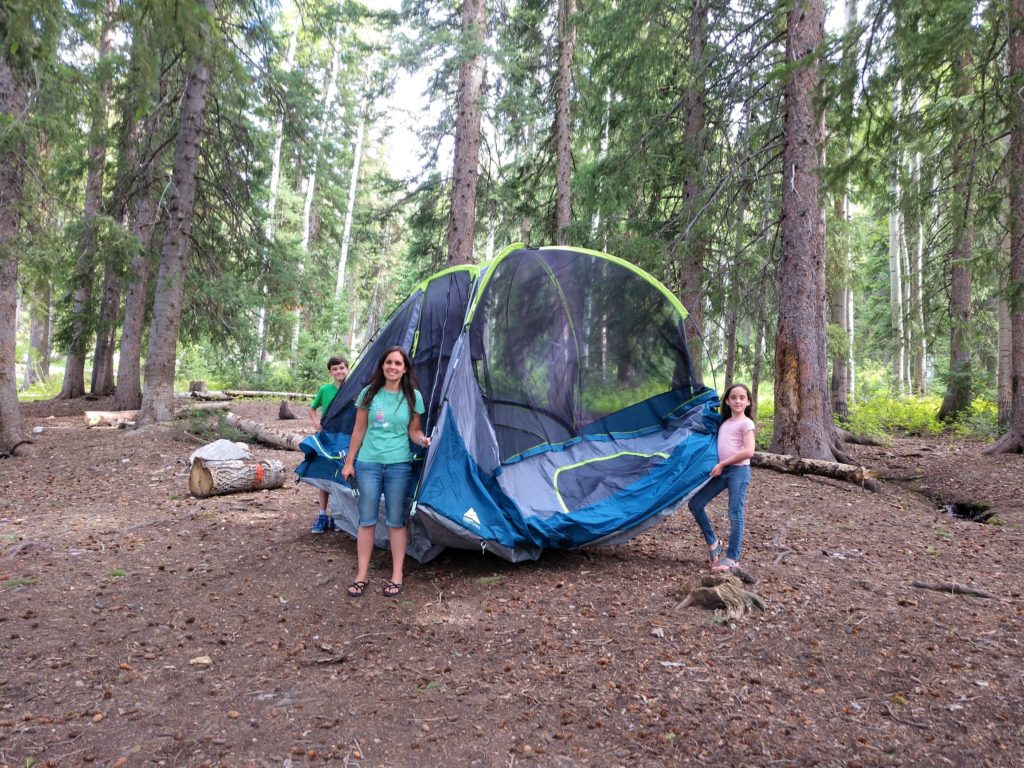 As luck would have it, this campsite had a swift stream running through it, which the older kids loved. They were overjoyed! Until we reminded them that we also had a toddler who could easily fall in and be swept away. We vetoed the site, and the tears started up again.
So it was off to find another campsite. This time we stuffed the tent into the mini-van.
Finally we found the perfect spot! a campsite that the kids grudgingly accepted. We hauled the tent out of the van and re-set it up at campsite #35.
The ordeal of finding a site had taken a couple of hours, so we were all pretty hungry. We quickly broke out the WalMart chicken that we had bought on the way and had some dinner.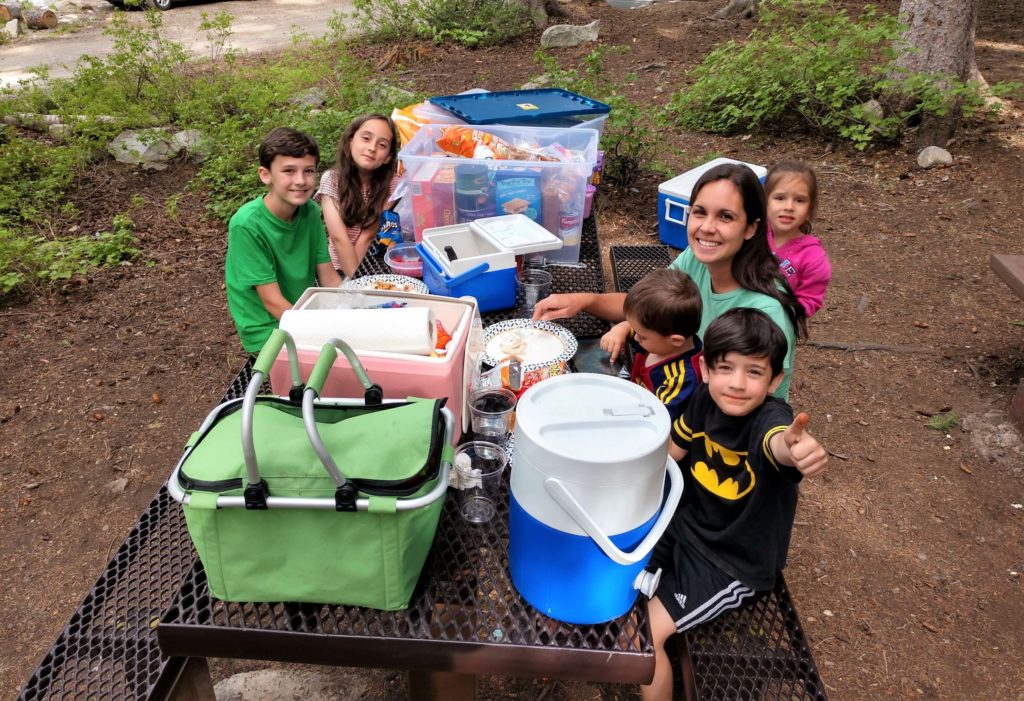 This campsite had perfect trees to set up the hammocks! And a big open space to play bocce ball.
The kids set off on an exploration adventure up the mountain. There were no campsites behind us, so they had the whole mountain to explore.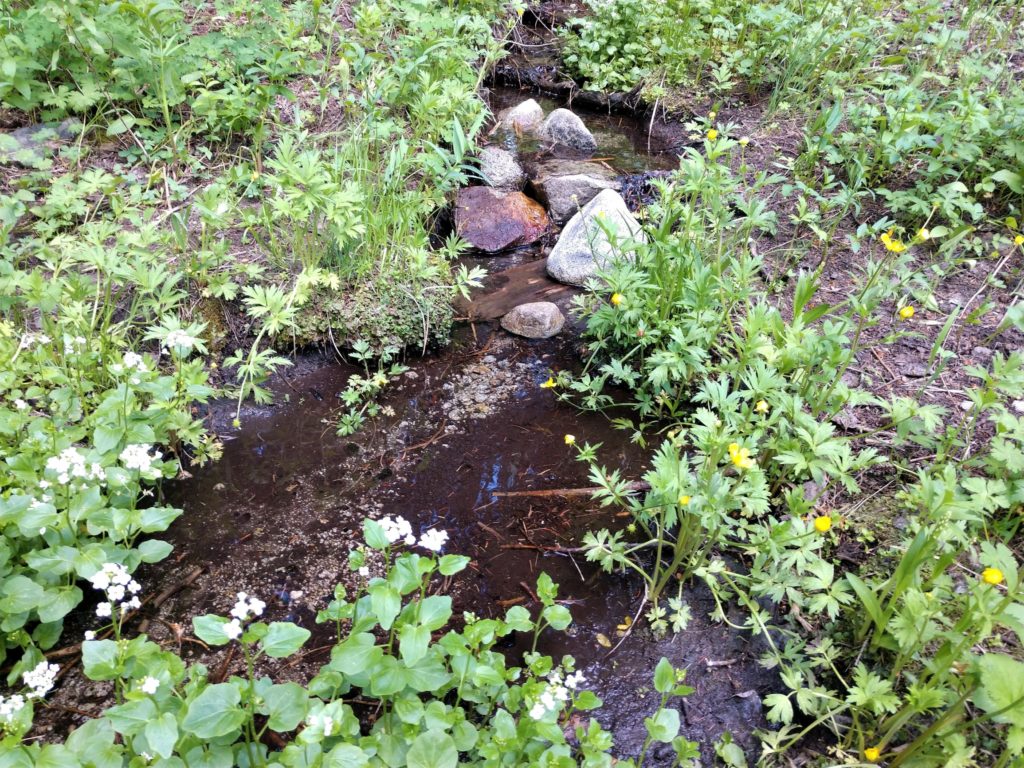 The majestic pine trees surrounded us on every side.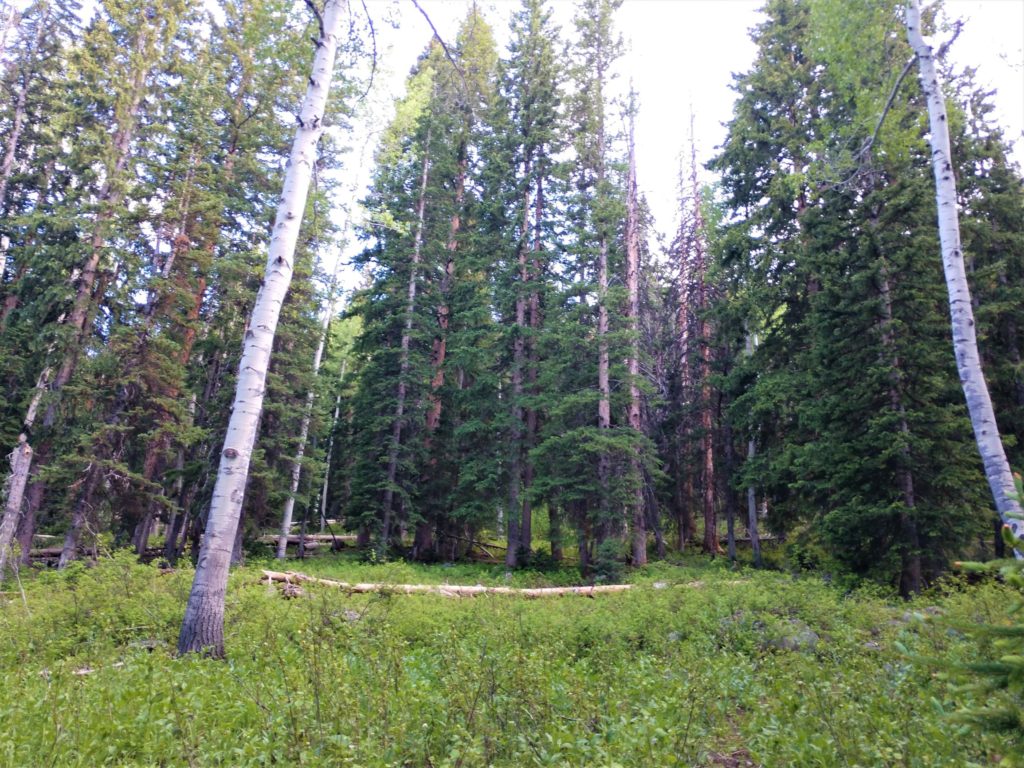 There was a natural spring that ran down the mountain. It was just big enough to hop over, but not big enough to fall in!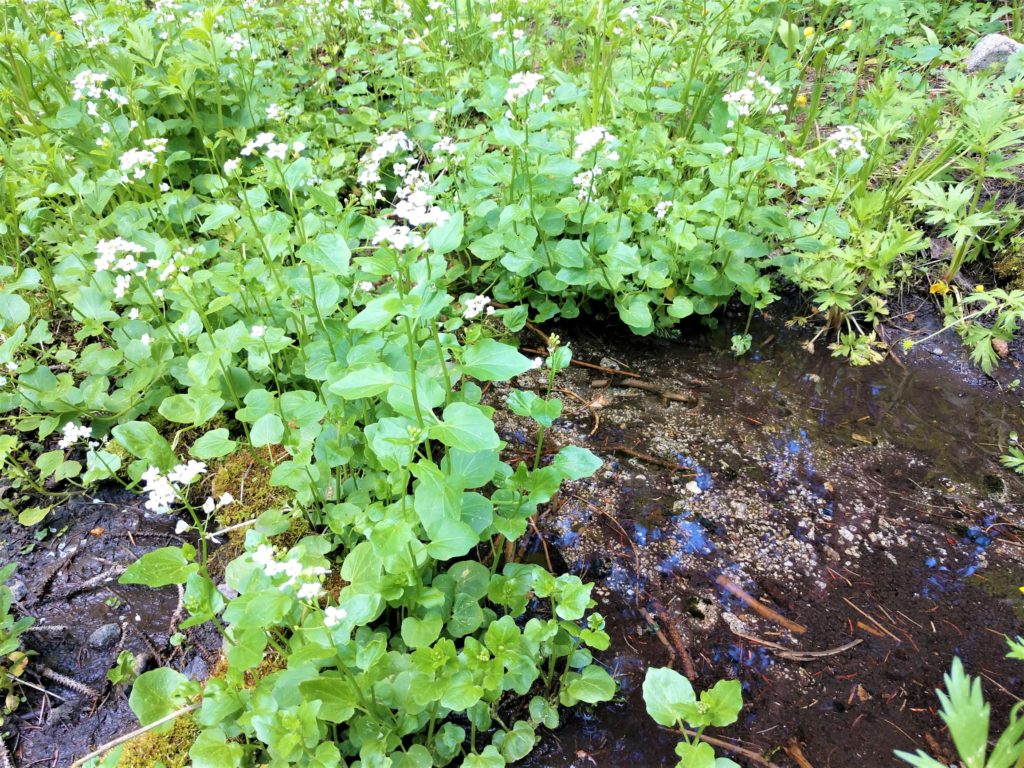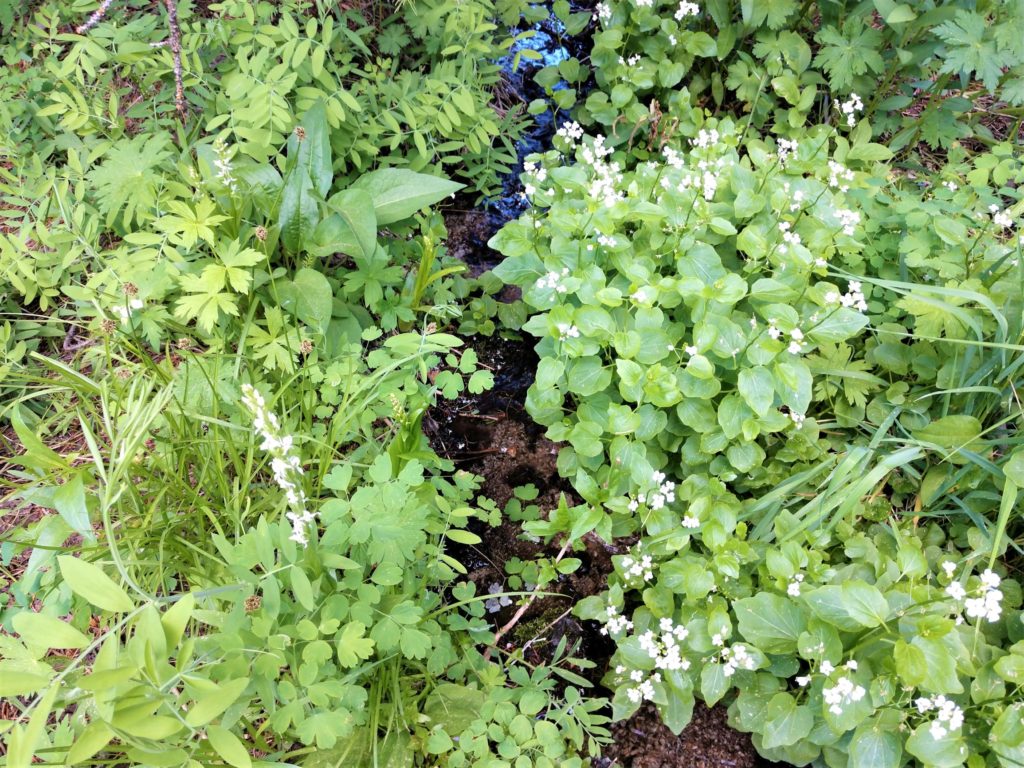 After a small fire and a couple of marshmallows, we all climbed into the tent for a good nights rest night of kids waking up at all hours, having to go to the bathroom, and even throwing up.
I took the opportunity to take a little walk the next morning before everybody was up, and it was super peaceful. I even watched several chipmunks scavenging for food. They came right up to our table, and as long as I was quiet, they weren't afraid of me at all. Pretty soon the toddler joined me and scared the chipmunks away. He spent the next 20 minutes calling for "munk".
After breakfast, we all piled into the van for a short drive down the canyon. We had decided to hike Donut Falls, a popular hike in Big Cottonwood Canyon. It was a fun hike, easy enough for kids. The river was kind of high, so I would recommend water shoes for the last little bit.
After our hike, the kids were tired and wanted to rest in the hammocks, so Kelley and I scouted out our loop of the campground. You can find the map and information for reserving a site here. Campsites range from $26 per night for a single site to $175 per night for a group site.
Once you drive into the campground you can go left or right. To the left takes you to the sites closer to Highway 190 (the upper loop), and to the right takes you further from Highway 190 (the lower loop). We stayed on the lower loop, which encompasses campsites 23 thru 44. Our original campsite (the one that the kids were so reluctant to give up) was on the upper loop.
I want to point out that there is an error on the reservation site's map. It shows the lower loop road crossing this river near campsite #23, when it is actually a dead end. Campsite #23 is right next to the river, as shown here.
Also, sites 456 and 789 are actually groups of three separate campsites each. If they are not reserved as a group when you get there, you can reserve one of them separately. Be aware that when looking at site 789 on the reservation site, the photo only shows site 7. Site 8 is a beautiful site, but it is the one with the fast moving river that we didn't feel comfortable with our little kids.
Other than your river preference, you can't really go wrong with any of the sites. One of the great things about camping in a pine forest is that most of the campsites have lots of shade!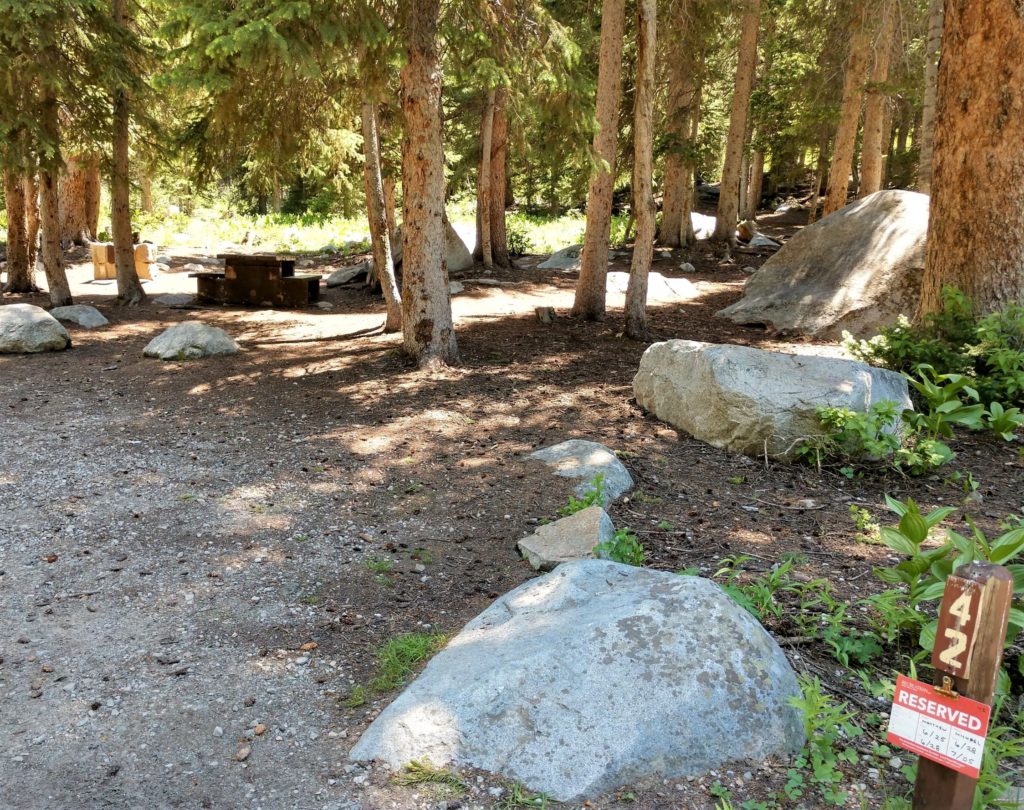 Site #38 is in more of an open area, so it lacks the shade. But it has a long parking space that is great for an RV. And it is right next to the restroom!
The restrooms are clean, with running water and flush toilets. They don't have mirrors – because who wants to see yourself while camping anyway?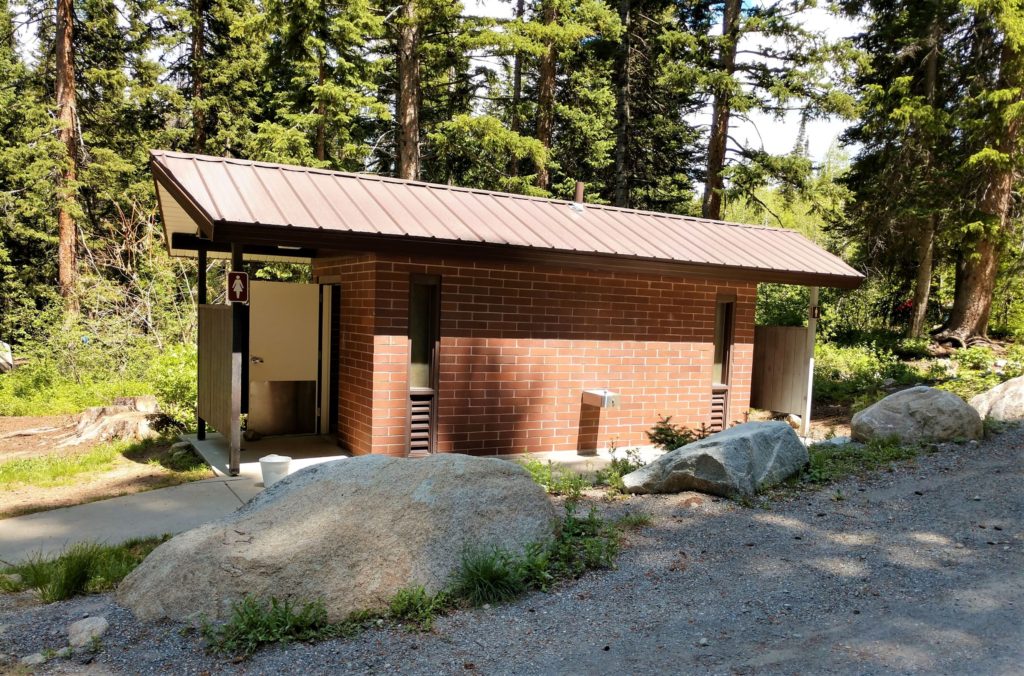 Most of the sites have a flat area for a small or medium-sized tent. If you have a large tent, you may have to sleep on a slight slope. Our slope was ever so slight, and we didn't even notice it.
The second evening we managed to make a roaring fire and were able to cook yummy tinfoil dinners. Then we made a huge mess cooking and eating our s'mores. Good thing we brought the wet wipes!
Hint: Put your graham cracker on something flat, top it with your chocolate, and hold it over the fire until it is soft. Then add a browned, squishy marshmallow and place another graham cracker on top. Delicious!
Even though everything did not go perfectly, we loved our time camping at Redman Campground in Big Cottonwood Canyon! Do you like to camp? What are some of your favorite destinations?