10 amazing things to do in San Francisco
I absolutely LOVE San Francisco. I love the sea air. I love the bustle. I love the cable cars. I love the wharf. I love all of the touristy places. I could visit San Francisco every single year and not get tired of it. So next time you are there, pick a couple of things that you've never tried before, and try them!
Note: I don't earn commission from any links in this post, but I hope they will be helpful to my readers.
Cable Cars
My absolute favorite thing to do in San Francisco is ride the Cable Cars. There is something so nostalgic and thrilling about them! I love to get a place on the running board where I can hang on tightly as the Car rounds the corner or passes an oncoming Car.
If you visit the Cable Car Museum at Washington and Mason, you can find out all about how the cars work (hint: they are run by a cable), see the cables actually running under the street, and read up on the history of the Cable Cars in San Francisco. It's a fascinating museum, and it's free! They are open 10-5, (10-6 April Thru October), but closed on Thanksgiving, Christmas, and New Years Day.
Both the Powell-Mason and the Powell-Hyde lines go right past the Museum, and the California line is about a 3 block walk. If you have never experienced the Cable Cars or their museum, do it! It's the best!
Cable Cars are $7.00 per ride, so it's a way better deal to get the one, three or seven day MUNI visitor passport ($15, $32, or $42 with the clipper card) if you will be using public transportation during your visit. The MUNI pass is good on buses, Cable Cars, and Historic Streetcars. Or get a CityPASS for an even better value!
Alcatraz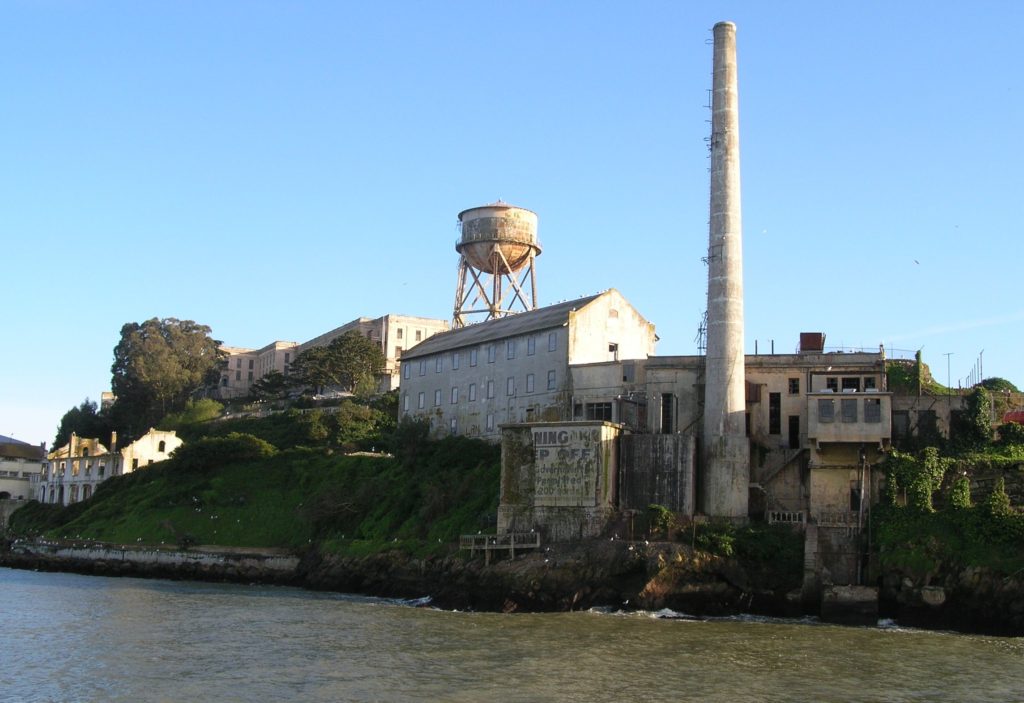 Most people know Alcatraz as the Federal Penitentiary, otherwise known as "The Rock". It served as a maximum security prison from 1934 to 1963. When you visit Alcatraz, your ticket includes an audio tour entitled "Doing Time, The Alcatraz cellhouse tour." It is an informative and interesting look at life as a Federal Inmate.
If you have time for more touring, or prefer to take a tour with a National Park Service guide, these are available also at no additional charge. Check the message board either on Pier 33 or when you disembark at the Island for the tour schedule. Tours are offered on the history of Alcatraz, the gardens, Alcatraz in Hollywood, and several other subjects.
Don't forget to book your Alcatraz tour early! The ferries to Alcatraz sell out weeks in advance. And make sure to book through the official National Park Service website, Alcatrazcruises.com. Some other sites will charge you extra money to buy your tickets for you!
Golden Gate Bridge
The Golden Gate Bridge is the most recognizable landmark in San Francisco. It is 1.7 miles across and 746 feet above the water. It was finished in 1937, nearly 20 years after it was first proposed. It spans the entrance of of the San Francisco Bay, the strait being christened the "Golden Gate" by Captain John Fremont in 1846.
The Golden Gate Bridge is a toll bridge for automobiles – but only if you are headed into San Francisco. It is currently $8.00 for a two-axle vehicle. If you are leaving San Francisco, you don't have to pay a toll!
There are pedestrian sidewalks along the side of the bridge. It's fun to walk out a ways and look off the edge towards the city. Most of the time it is cold and windy out there, so be sure to bring a jacket!
There is parking at the visitors center near the bridge, but only 26 metered spaces, so most of the time it is full. The rates are .25 for 15 minutes, if you are lucky enough to grab a space. On weekends and holidays, there is an additional lot on the Southwest side of the bridge. Rates are $5.00 per day.
If you don't have a car, or don't want to worry about finding a space, take the MUNI bus to the bridge. It lets you off at the visitor's center, and picks you up at the same place. A single ride is $3.00 each way, but I would highly recommend getting a MUNI visitor passport for the time you are in San Francisco. There are one, three, and seven day MUNI visitor passports ($15, $32, or $42 with the clipper card), and they include Cable Cars too. Or, for an even better value, get the San Francisco CityPASS!
Ghirardelli Square
Ghirardelli Square is located just west of Fisherman's Wharf, up the hill from the Powell-Hyde Cable Car turnaround. It has a giant lighted sign spanning most of the block that proclaims "Ghirardelli Square", making it hard to miss.
Ghirardelli Square was named for Domingo Ghiradelli, a man of Italian descent who came to San Francisco in 1849, when the gold rush was getting into full swing. After several false starts, he finally opened a chocolate shop in 1852 on the corner of Kearny and Washington, which morphed into the company we know today.
The chocolate company kept growing out of it's spaces, and moved twice more before buying the present Ghirardelli Square in 1893 as a factory for his chocolate manufacturing. The very next year, Domingo Ghirardelli died on a visit to Italy, leaving the company in the hands of his sons.
Today, the chocolate company uses a very small portion of the former factory as a retail chocolate shop and ice cream parlor, with an additional smaller chocolate shop on the opposite end of the square. The remainder of the space is a marketplace, featuring interesting retail shops and restaurants.
Of course, the chocolate shop and ice cream parlor is my favorite part of the Square. Guests to the chocolate shop can often get a free sample of chocolate just by walking into the store. The ice cream parlor features the famous Ghirardelli hot fudge sauce on many of it's delicious sundaes. And there is even an exhibit of chocolate manufacturing that is fun to view.
For hours and parking rates, along with a list of stores in the square, visit the Ghirardelli Square website.
Bay Cruise
A San Francisco Bay cruise is a fabulous experience! We went when the sun was low in the sky, and caught some beautiful photos of the sun shining off the Bay. It was exhilarating to have the seagulls fly alongside with us as we cruised along with the spray in our face mostly missing us.
Our cruise sailed around Alcatraz and under the Golden Gate Bridge. We got some unique views of the bridge as we sailed under it.
Hint: Bay cruises do NOT stop at Alcatraz. For a tour of Alcatraz, see the official booking site of the National Park Service.
There are two main fleets offering cruises of the Bay, the Red and White fleet, and the Blue and Gold fleet. The Blue and Gold fleet is included on the San Francisco CityPASS. Tours do fill up, so try to get tickets in advance. In addition, there are several private boats that offer Bay cruises for cash, if you walk down to the intersection of Jones and Jefferson Streets.
Pier 39
If you visited Pier 39 prior to 1990, you did not see the hordes of Sea Lions sunning themselves on the floats adjacent to to pier. They congregated elsewhere back in the day, most noticeably at Seal Rock near the Cliff House and Sutro Baths ruins. However, today they love Pier 39, and you can see plenty of them there! In 2014 a free interpretive learning center opened at Pier 39, where patrons can learn all about the California Sea Lion.
Sea Lions are not the only attraction at Pier 39. Long before the Sea Lions made their way there, the Pier housed shops and restaurants and a shallow diving pool for entertainment. The diving pool was soon replaced by a Venetian Carousel, then later with a double decker Italian Carousel, which is still there today. In addition, Pier 39 hosts street performers, Aquarium of the Bay, and several amusement type rides.
Pier 39 is a lively place, jam packed with all kinds of things to tickle the senses. Although the sea lions and their learning center are free, as well as the street performers, most attractions require a separate entrance fee.
Aquarium of the Bay runs $27.95 for adults and $17.95 for kids 4-12. Kids 3 and under enter free, and Seniors 65+ are $22.95. Aquarium of the Bay is also included on the CityPASS.
Victorian homes
The most famous Victorian row houses in San Francisco are located across the street from Alamo Square. They have been pictured on postcards and in movies and TV shows, including the opening credits of the popular TV series, Full House. This type of home has come to be known as "Painted Ladies", because of the colorful facade.
These Victorian homes, built in the 1860's and 1870's, were originally painted white. They were modest homes compared to the mansions of Nob Hill, and built of redwood instead of the more expensive stone. The original white color was intended to make them look like they were constructed of stone. It wasn't until 1963 that an artist named Butch Kardum came up with the idea to paint them in vivid colors, and once he did, the novel idea caught on. Now it seems like they were always colorful, and they exemplify San Francisco architecture.
You can see examples of Victorian homes all over San Francisco, if you just walk around a bit. But if you want to know more about them, and even possibly see inside one, take a free tour given by San Francisco Cityguides. Their tours Landmark Victorians of Alamo Square and Victorian San Francisco are two excellent tours that teach the rich history of Victorian homes. If you enjoy them, consider making a donation to the Cityguides.
Chinatown
Ahh, Chinatown, a bustling and colorful neighborhood in which you can find all sorts of treasures! The official entrance is on Grant Avenue at Bush Street, where you will find the iconic Dragon's Gate. If you start at the gate, you will head up the hill on Grant Avenue until you get to California St., then start going down the hill again. At California and Grant is Old St. Mary's church, built in 1853, the oldest Asian church in North America.
While Grant Avenue is the busiest street for shopping, there are other interesting streets and alleys to explore. Ross Alley is adorned with colorful murals and also boasts the Golden Gate Fortune Cookie Factory, where you can watch fortune cookies being made and also buy a bag to take home. Pagoda Alley has explanations of it's name written on the street in both Chinese and English. It morphs into Hang Ah (meaning fragrant) Alley at the opposite end, apparently because of a perfumery that was opened at some point. Waverly Place is an alley full of temples painted bright colors. It is called by some the street of painted balconies.
If you are in the mood for some Dim Sum, walk down Stockton street. There are numerous small places that have delicious meats and baked goods. Many of them are sold ala carte, and are very reasonably priced. The shops are small, with only a table or two at the most. You order at the counter, and can either use one of the tables or take your food with you as you stroll through Chinatown.
Lombard Street
Who can resist a street nicknamed The Crookedest Street in the World? Especially when it is so beautiful with all of the flowers blooming! Lombard Street may not actually be the crookedest (I've heard rumors that Vermont Street is crookeder), but it is definitely the most popular. Cars drive down in a constant stream, and people walk up and down the stairways on both sides. It doesn't take too much time, but is a fun walk. And you get your exercise!
San Francisco Maritime National Historical Park
San Francisco Maritime National Historical Park is just west of Fisherman's Wharf. It includes Hyde St Pier Historic Ships, the Maritime Museum, a Visitor's Center, and the Aquatic Cove Park and Beach.
The Fleet of ships on the Hyde Street Pier are interesting to walk through. They are set up as they would have been in the time period that they actually sailed. A ticket is required to board the ships, but not to walk along the pier. Tickets are $15 and are good for 7 days.
The Visitor's Center is located across the street from the Hyde St Pier Entrance. It has a cool exhibit that explores the waterfront of San Francisco throughout history. It is free and open from 9:30 until 5:00 daily.
The Maritime Museum sits in a white Art Deco building called the Aquatic Park Bathhouse building. It exhibits model ships, paintings and dioramas. It is open from 10:00 until 4:00 daily, and is also free to enjoy.
There is an old song that says, "I left my Heart in San Francisco." That's how I feel every time I leave this beautiful and energetic city!
Have you ever been to San Francisco? What are your favorite things to do?