Hiking in Bryce Canyon National Park
I'm so happy that our National Parks are getting so much attention lately. We have 5 gorgeous National Parks here in Utah, and it's so fun to get out and see what they have to offer! Last year we visited Zion National Park, and this year we decided to try Bryce Canyon National Park. Both are gorgeous red rock, but Bryce Canyon is unique in that it is made up of formations called Hoodoos.
Hoodoos are formed when water freezes into ice and expands in the crevices of the rock plateau. It breaks down the rocks into walls, which further erode to form windows in the walls, and then eventually the tall irregular Hoodoos that Bryce is famous for. In this photo, you can see the walls, one window at the lower left of the photo, and a couple of fully formed Hoodoos.
The reason that they form such strange shapes is that the plateau is made from different types of rock layers that erode at different rates, depending on the amount of calcium carbonate.
We visited Bryce Canyon the last week of July, 2020. The visitor's center was open, but could only accommodate a set number of guests, so there was a socially distanced line to get in. Masks were required in the visitor's center area. The tent you see in the background of this photo has select items for purchase from the gift shop, so technically you don't have to go inside to purchase a souvenir if you don't want to.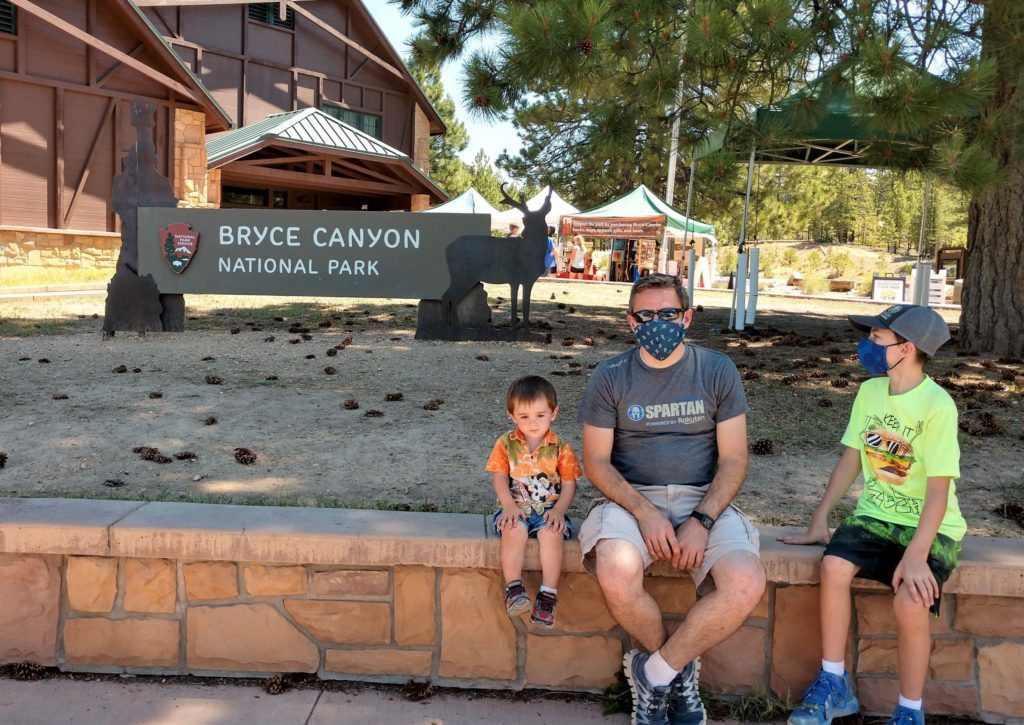 I only waited for a couple of minutes to get inside the visitor's center. I wasn't looking for something to buy, but there is a display of Bryce Canyon and how it was formed that was interesting to me.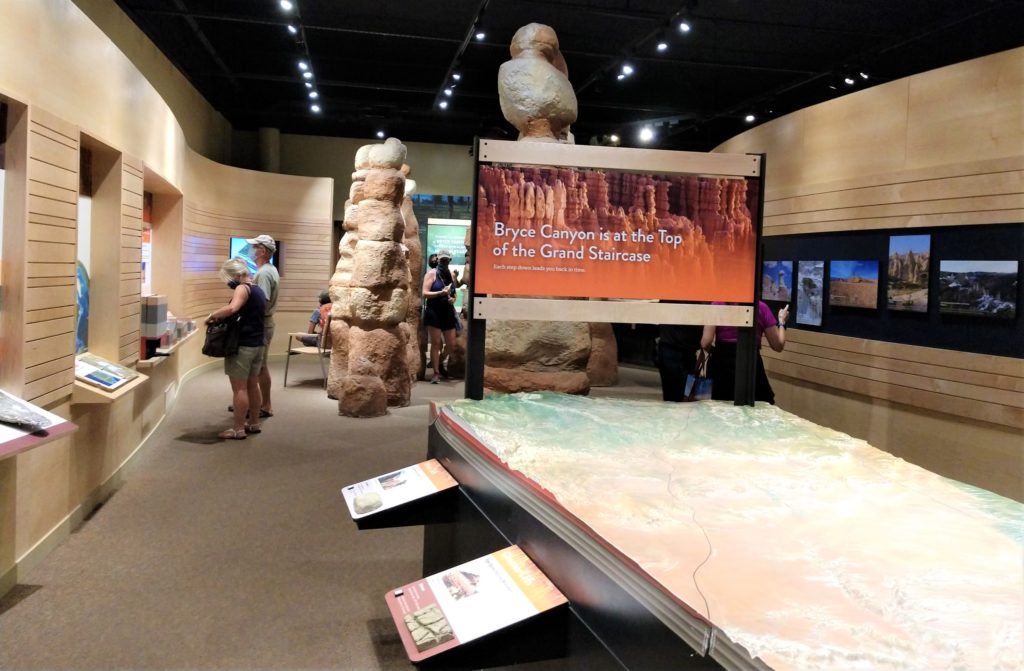 There are two campgrounds in Bryce if you are a camper. One is first come-first served, and the other takes reservations on the internet. Visit the NPS website for Bryce camping information. If you prefer sleeping in a bed, The Lodge at Bryce Canyon is open, or you can find a room outside the park. We found a cute little AirBnB in Panguitch for a great price.
The end of July is traditionally pretty hot, so on our first day we decided to get up early and do as much as we could before the sun got too high in the sky. It was about a half hour drive from Panguitch to Bryce. We were lucky enough to have a 4th grader, so we took advantage of the free Every Kid Outdoors Pass. If you don't happen to have a 4th grader, the entrance fee is $35 for a private vehicle or $20 per person to walk in.
We started at Sunset Point and headed off on the Navajo Loop trail. There was plenty of parking at Sunset Point early in the morning, but the parking lot was full by lunchtime when we finished our hike.
The overlooks at Bryce are absolutely stunning! No matter which viewpoint you choose, you can see miles and miles of hoodoos. The Sunset point overlook was the first stop on the Navajo Loop trail.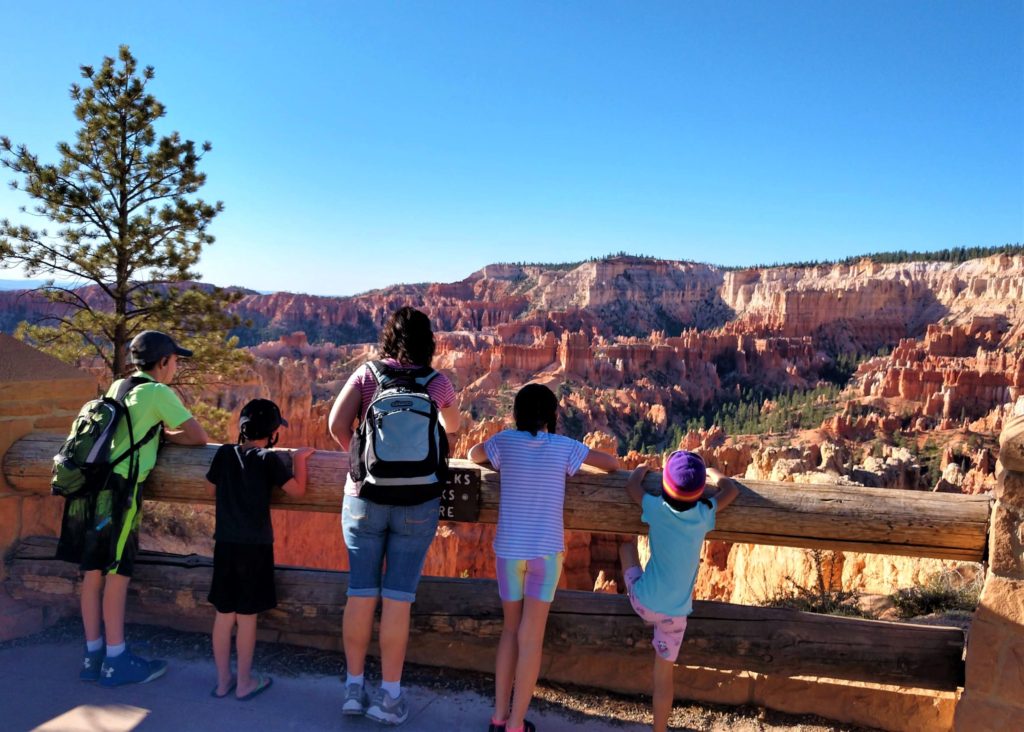 I love how the green trees interact with the orange rock!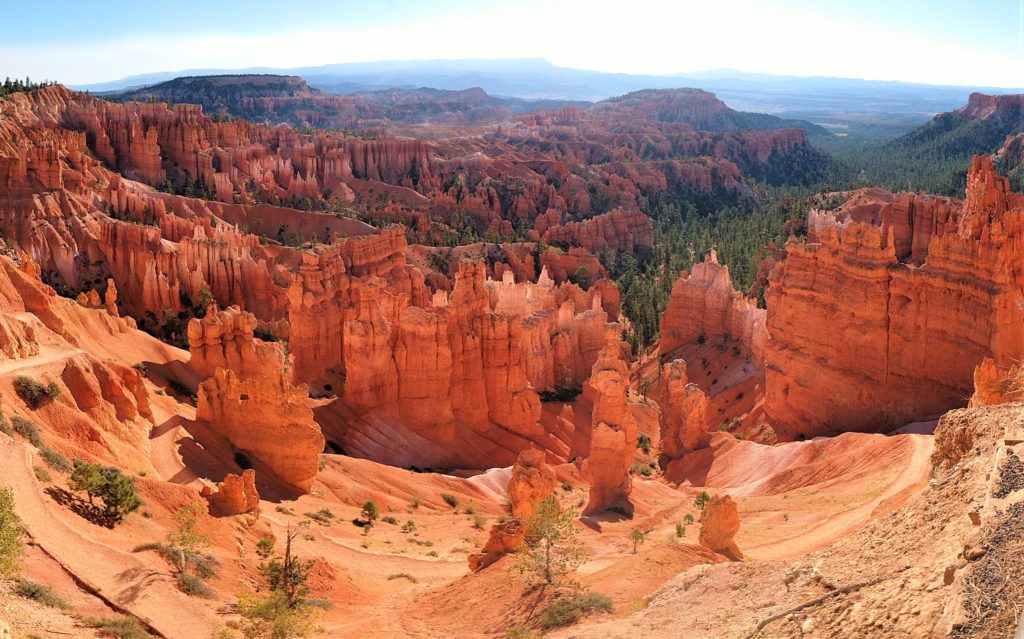 When hiking the Navajo Loop, you can choose to follow the loop either direction. We chose to start with Wall Street. It begins with switchbacks down into the canyon.
Near the bottom, Wall Street narrows into a slot canyon for a short distance.
I loved that these trees were growing at the exit of the slot canyon. It made me feel very small.
After you get down on the floor of the canyon, the trail winds around, passing beautiful scenery.
This guidepost was located approximately halfway through the loop. It gives a little information about the trail and also explains the "Hike the Hoodoos" challenge. If you can find three of these round benchmarks and take a photo of each of them back to the visitor's center, you can get a treat!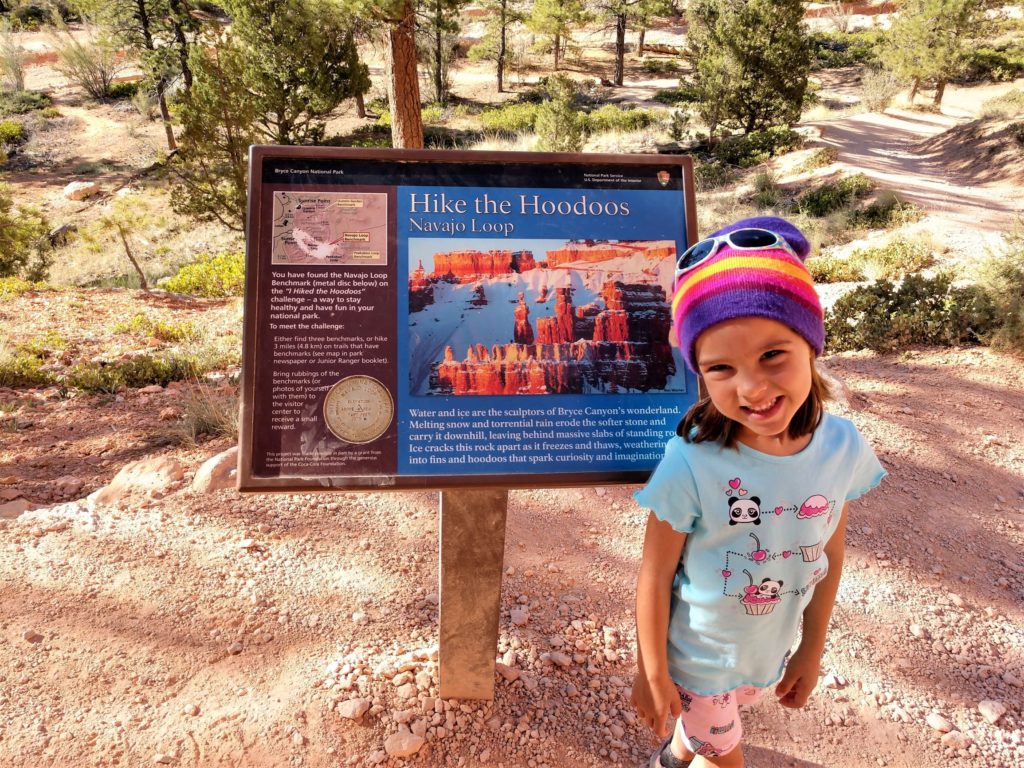 The Navajo Loop trail continues back up toward Sunset Point and passes Two Bridges, pictured here. Be sure to follow the trail to see the bridges; it's only a couple of steps off the path around the corner.
We stopped to have a snack near Two Bridges, then turned around and went back the way we had come. We had already planned to hike the Queen's Garden trail as well, but we wanted to see the bridges, so we took a detour to do so. If you don't have time for everything, skip the Two Bridges, and go straight from the Navajo Loop to the Queen's Garden trail.
The Queen's Garden trail meets the Navajo Loop trail down at the bottom of the canyon. We weren't super tired at this point, but sometimes you just have to stop and rest! Luckily there was still shade at this point in the hike.
Walking along the bottom of the canyon was not hard at all. It was cool to see the Hoodoos from a different angle.
After walking along the bottom of the canyon, the trail gradually becomes a bit steeper as you make your way back up to the top. This was a little ledge where we could rest in the shade.
It still wasn't very steep at this point, and most of us were still smiling!
When you get to this sign post, it's a little confusing as to what you are supposed to do. The main trail goes a different direction, and we wondered if there was a separate trail from Queen's Garden to the top.
We shouldn't have worried, as it was only a short distance into Queen's Garden. This photo shows the entire spur trail.
I'm really glad we didn't skip Queen's Garden! It was fun to see how the shorter rock formation in the center of the photo looks like a statue of the Queen of England.
There is a guidepost to help you find the Queen, if you are having trouble. I think she has eroded a bit since this guidepost was erected.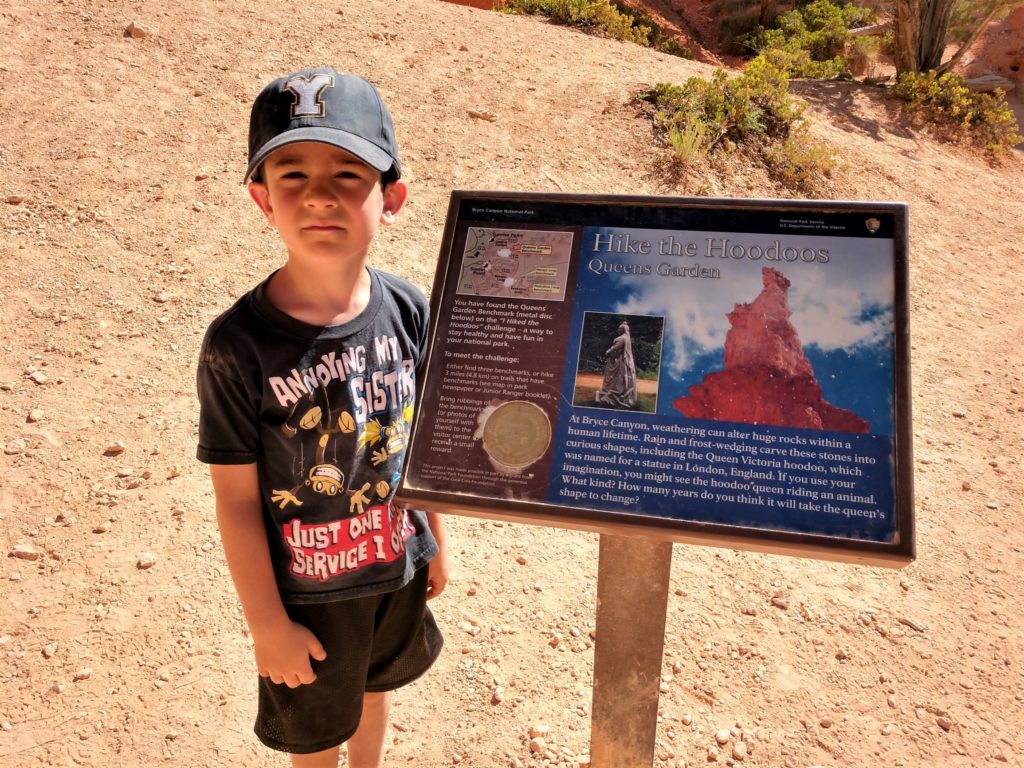 Lest you think you should continue hiking from Queen's Garden, there is a helpful signpost here.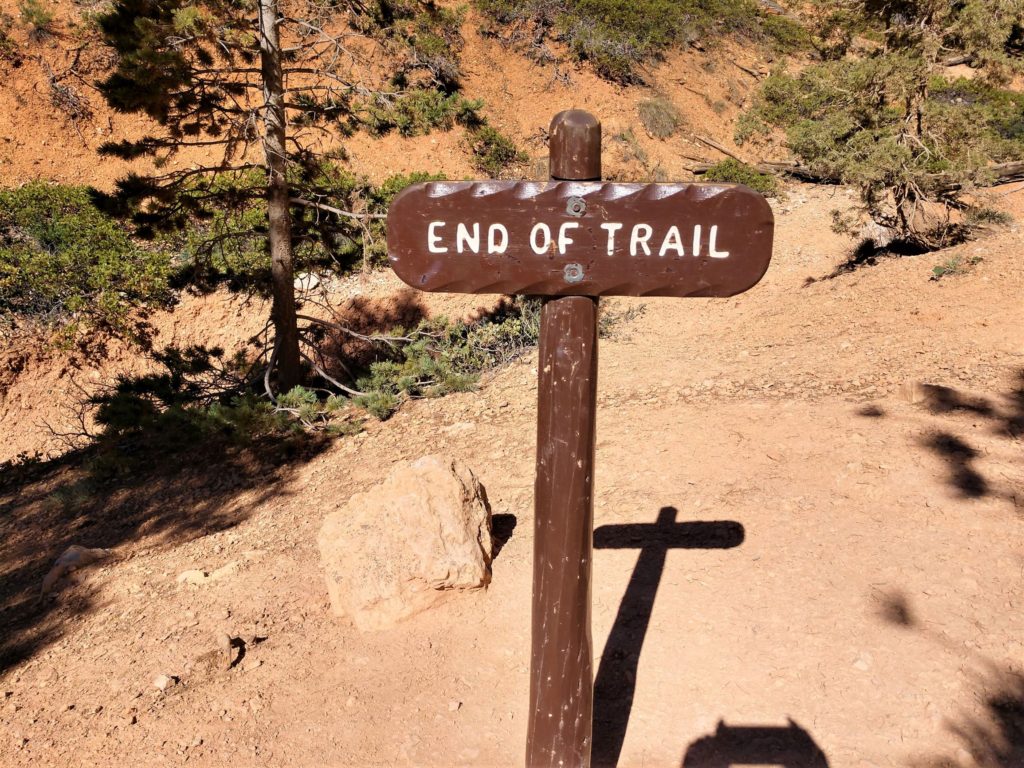 After Queen's Garden the trail starts to get steep, as you hike into the Hoodoos.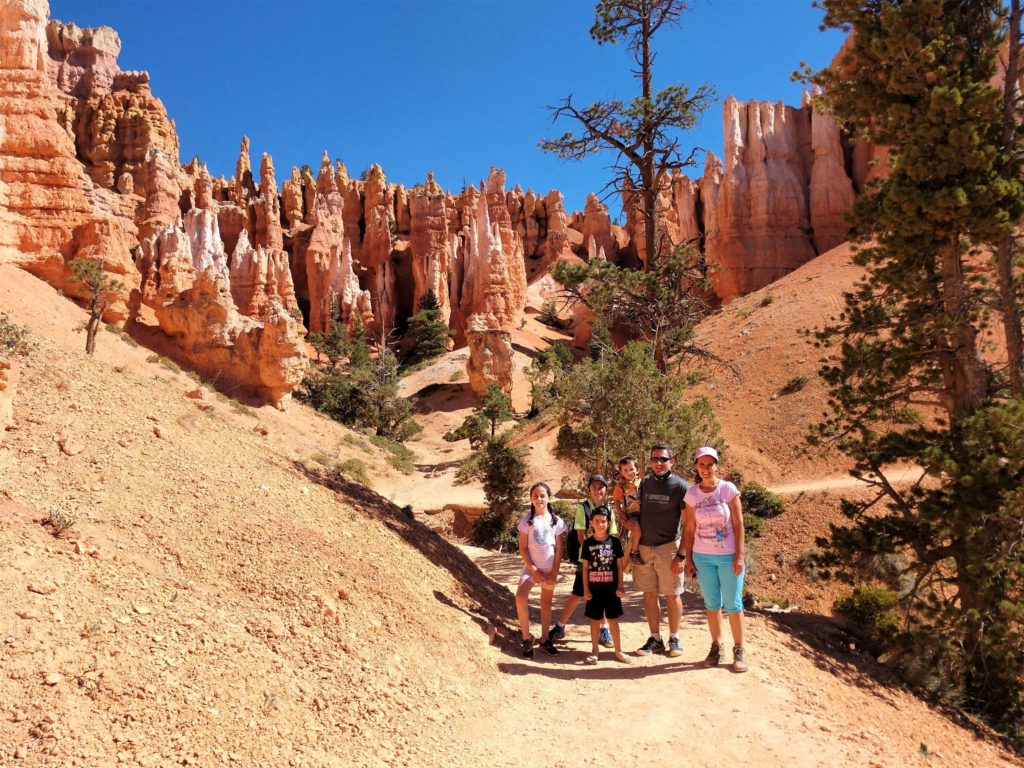 The 5 year old decided that her shoes were too small at this point, because her toes were hurting. Poor Mom ended up carrying her up the steepest, hottest part of the hike.
By this time the sun was high in the sky and there was no shade to be found anywhere. I was kind of wishing that we had gone the opposite direction, because it seemed so steep and hot. But I'm not sure any trail would have been shady at noon!
It sure was beautiful!
Here is a map of our hike. We started at the Sunset Point parking lot, hiked down Wall Street, continued on the Navajo Loop trail to Two Bridges, turned around and came back down, connected to the Queen's Garden trail, took the spur to Queen's Garden, came back to the main trail, and ended at Sunrise Point. We then walked the easy walk along the rim back to our car. As my grandkids would say, "Easy Peasy Lemon Squeezy!"
There are other trails to hike In Bryce Canyon. Sometime when we don't have kids with us I would love to do Peek-A-Boo Loop. Have you hiked in Bryce Canyon? What were some of your favorite trails?
Also, don't miss how to experience Bryce Canyon without (much) hiking in my post Bryce Canyon National Park Scenic Drive.