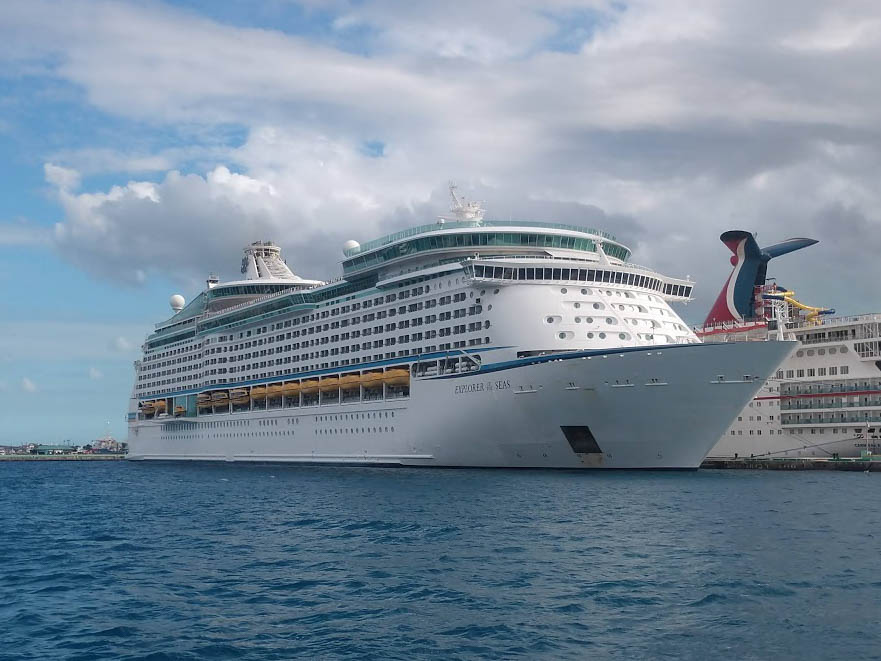 5-Day Bahamas Cruise on Royal Caribbean's Explorer of the Seas
I'm Kelley, and I love cruising too!! Last fall, my husband and I were looking for a vacation to get away in the wintertime, and we found a great deal on a cruise on Royal Caribbean! It was just over $300 for a balcony room on a 5-day cruise on the ship Explorer of the Seas with two stops. We jumped on it, and I'm so glad we did!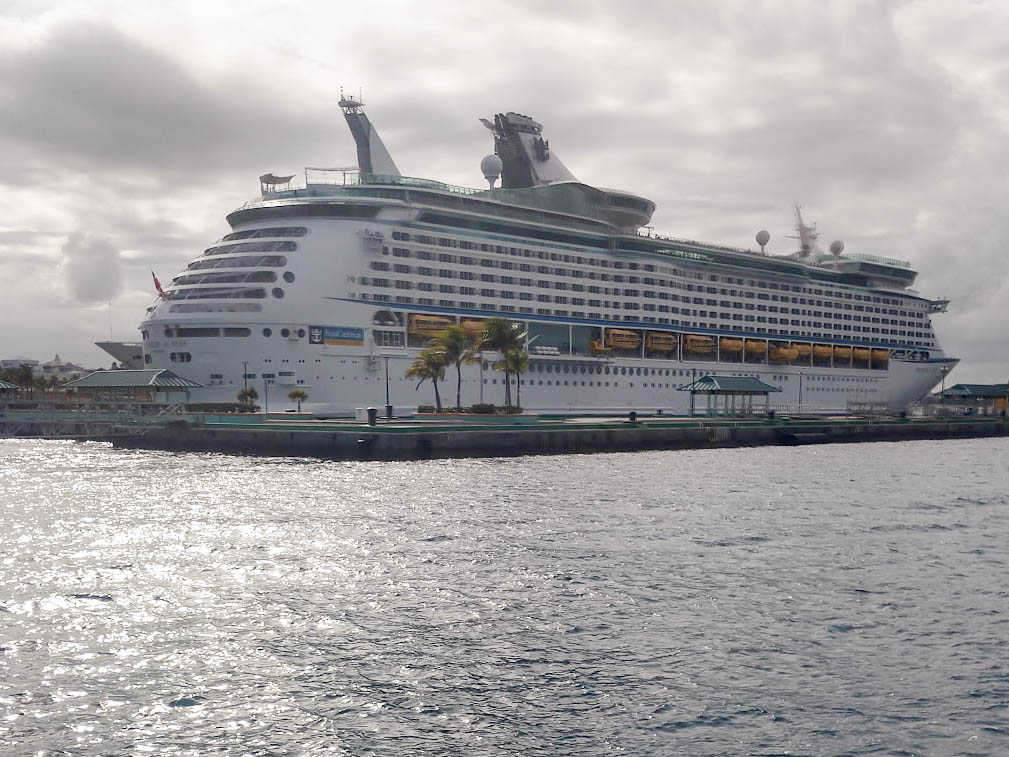 Our cruise departed out of Miami, which gave us a choice of two airports to fly into. The Miami airport is about 20 minutes away from the Port, but the Fort Lauderdale airport is only 45 minutes away. It was much cheaper for us to fly into Fort Lauderdale, so that's what we chose. We had a red-eye flight, so we ended up sleeping on the airport floor for a couple of hours because we didn't have anywhere else to go. When we were ready, we took a Lyft to the port. This was super easy, and ended up being the cheapest way to go (only about $30 each way!). When we got to the port, we still did have to wait a little before we could get on the ship, but we had most of that day to enjoy the ship!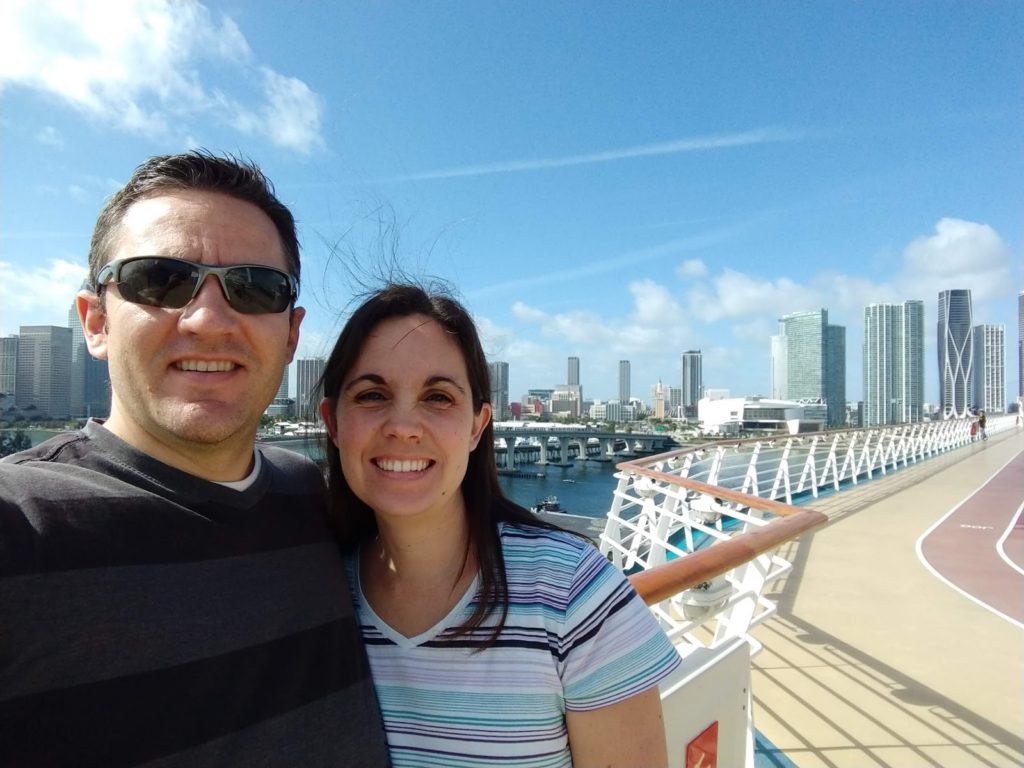 Our room wasn't ready when we first got on, but we walked all around the ship, got some lunch at the Windjammer (the open cafeteria), and even did some swimming!
When we finally got to go to our room, I was super excited. I have never had a balcony room before, and it was awesome! We somehow ended up at the back corner of the ship, and the balcony was about 3 times bigger than normal. It said that the view was obstructed, but it really wasn't. We were able to hang a hammock, and it ended up being one of our favorite places to be!
As we set sail, the sun was just going down, so we got a fun picture!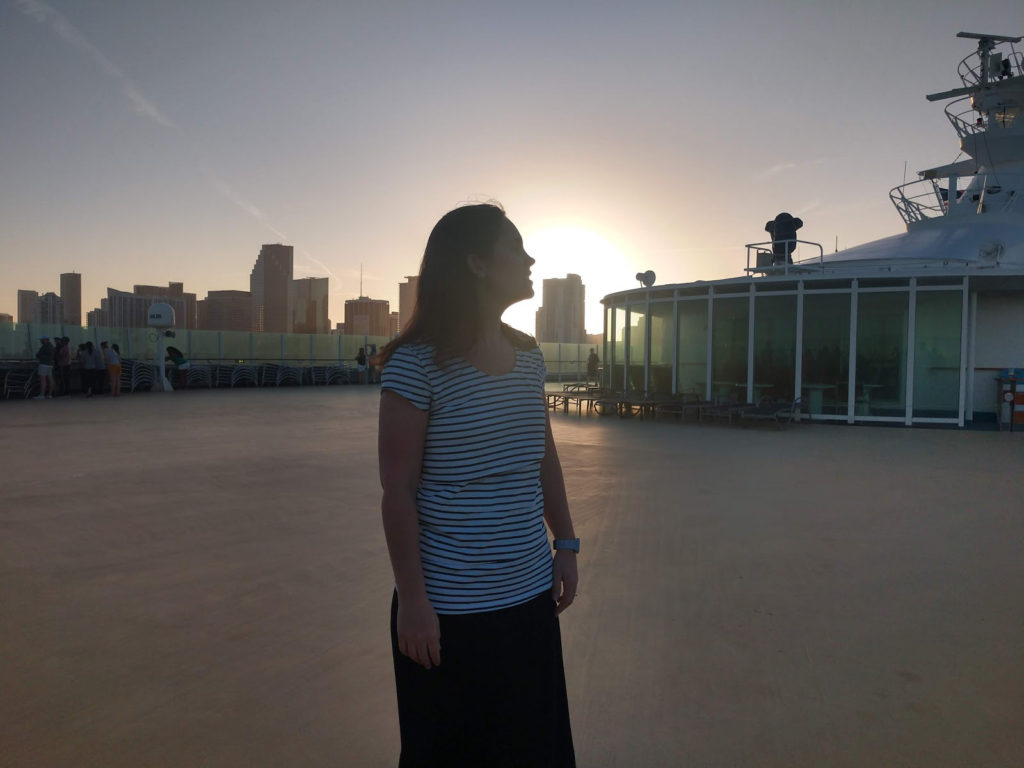 The dining room is one of my favorite places on a cruise ship. They have so many different options, and everything is good! If you can't decide what you want, or want to try more than one thing, that's totally okay! One night, I even asked for a dessert to take back to my room for later. It was awesome!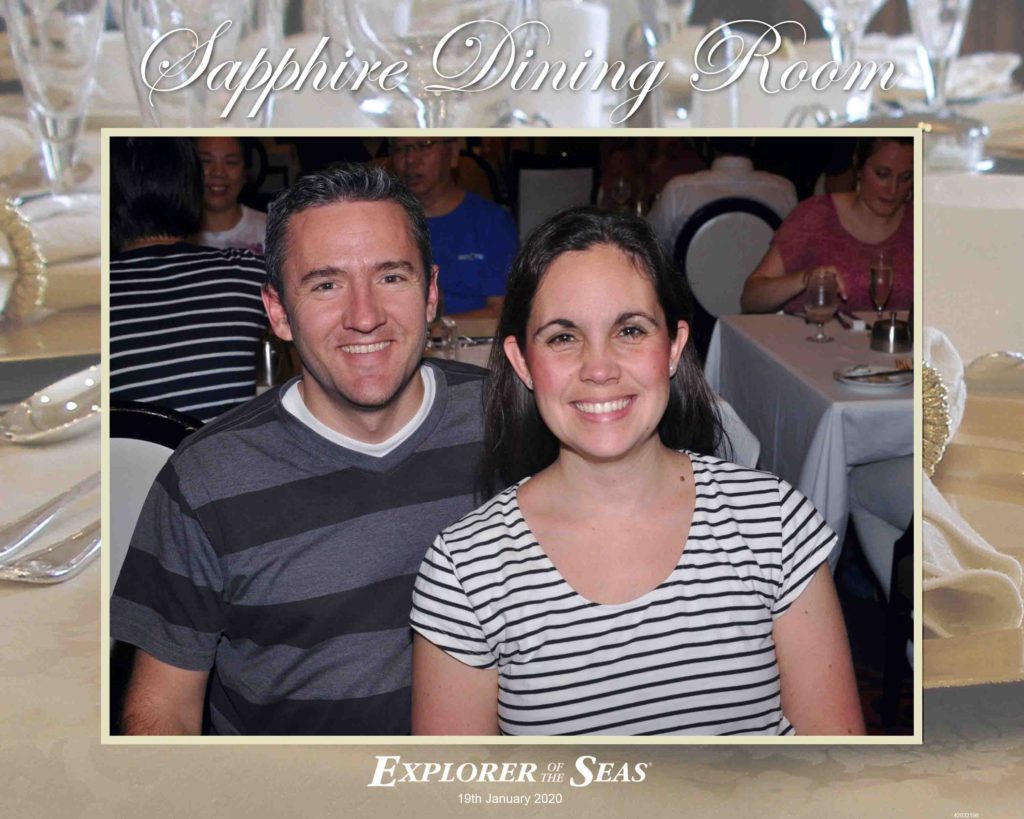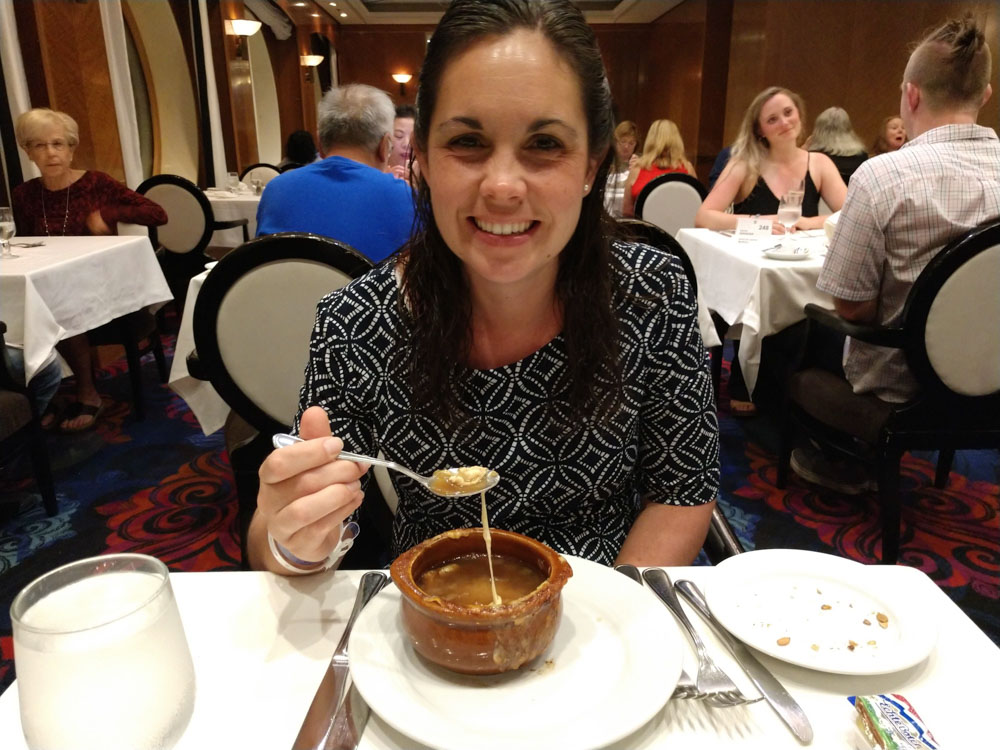 Our first stop was Nassau, Bahamas. We had signed up for a snorkeling and beach day on a little island called Pearl Island, and it turned out to be perfect! (I highly recommend booking shore excursions at least a few days before the actual cruise, because you can get up to 25% off.) Our group was the only one on the island, and there were a lot of fun things to do. First we went snorkeling and got to see lots of colorful fish, plus sea urchins and live starfish. One of the other cruisers had brought floating fish food, which was a brilliant idea because the fish swarmed all around her! That's definitely something I'm going to try next time.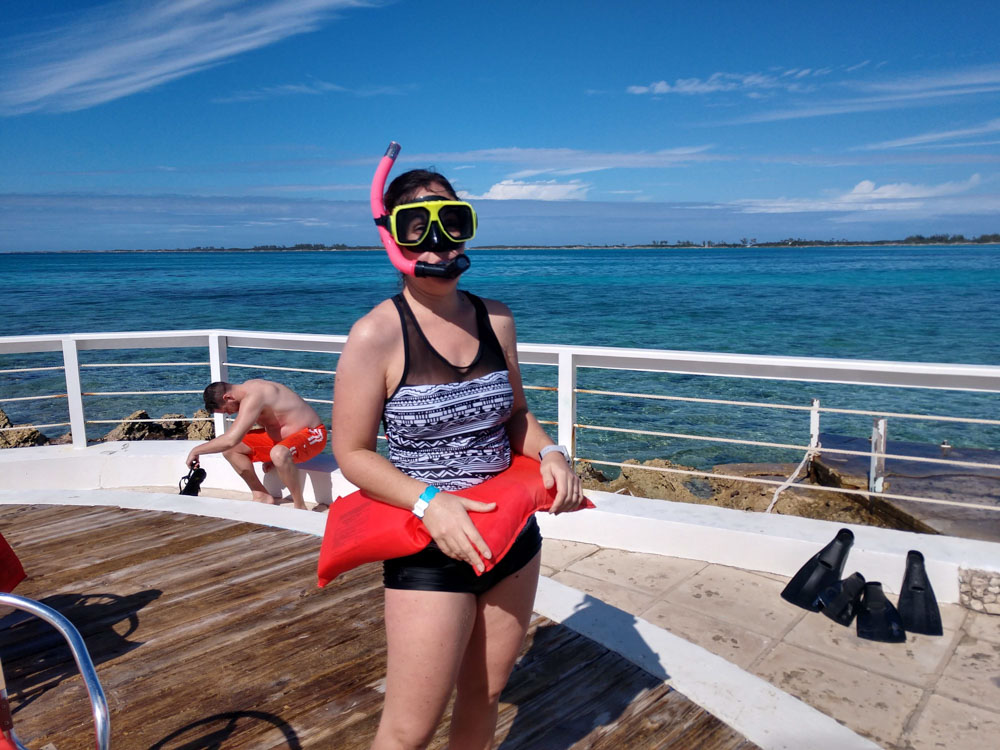 The rest of the afternoon included lunch, a cool lighthouse, relaxing on the beach, and even kayaking and stand-up paddleboards.
The next day was a sea day, but there were so many fun things to do! Most Royal Caribbean ships have a Flow Rider, which is a blast. It's a little tricky to get the hang of, but I got some good tips from people and was able to get up on my knees after a few attempts. Neil did it too, and he got up right away. We were going to try the stand-up surfing, but chickened out in the end…..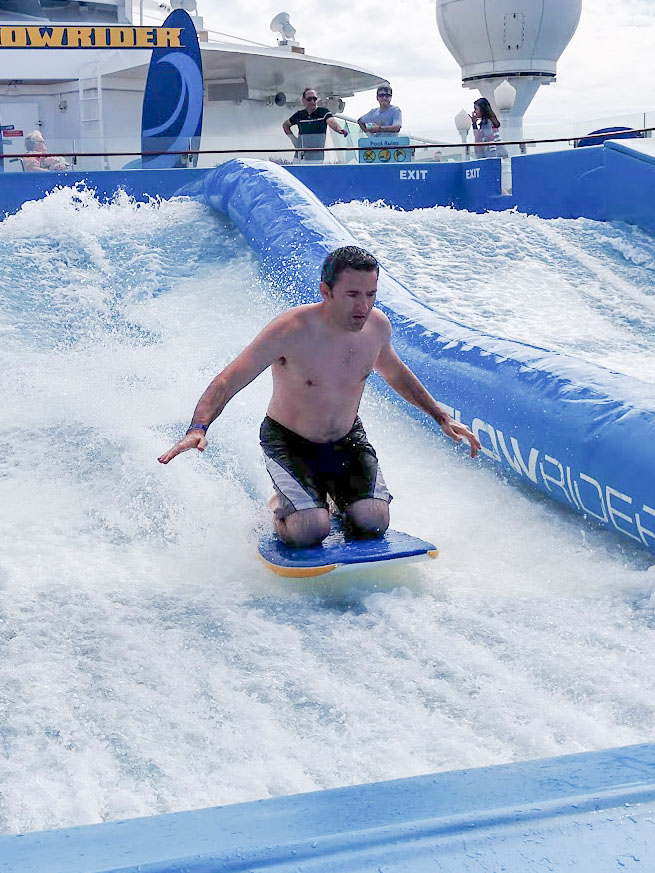 There was also a rock-climbing wall on board. Neil did this several times, and even won the adult speed-climbing competition! This is the second time he's won on a cruise, which is super cool.
Other activities onboard included mini-golf, swimming pools and hot tubs, a belly-flop competition (which we didn't enter, but enjoyed watching!), and even ice-skating.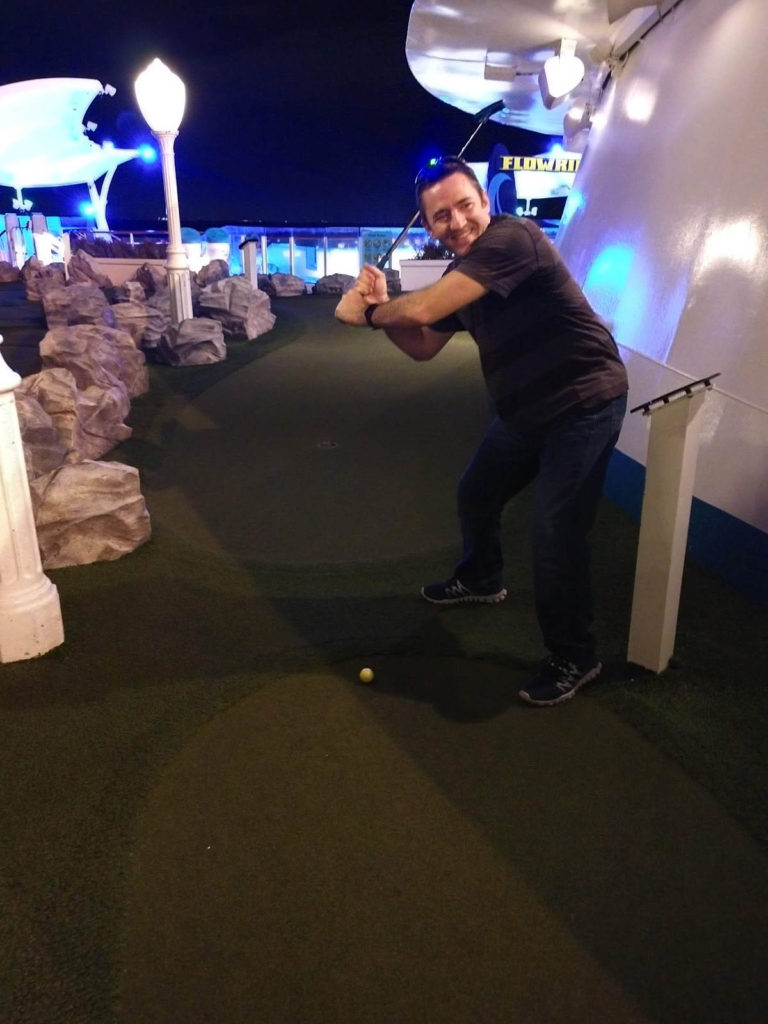 Our second stop was at Royal's private beach on Labadee, Haiti. We've been here before, and I knew exactly which shore excursion I wanted to do: the zip line over the beach! I couldn't do it last time because I was pregnant, and we were both excited to try it. The winds picked up as we were starting, so we had specific instructions to lay flat the whole time, or we wouldn't make it to the end. This made it a little difficult to see, but it was still super fun!
The rest of the day was spent enjoying the sun and the water. We did a little souvenir shopping, but the locals there are so pushy that it wasn't much fun. At the end of the day we had reserved an hour to play on some floating slides and trampolines and such. As we were getting ready to go, they told us there were jellyfish in the water and to swim at our own risk. Neil and I both ended up getting stung, but not too badly. It was still fun, but it was much more of a workout than I thought getting up onto those floating islands!
Our last day was another sea day, where we were able to take advantage of all the ship's offerings again. I highly recommend the shows and activities onboard, as well as taking advantage of all the yummy dining options. I love going to the dining room for breakfast, because the quality of the food is much better there. Another tip is to buy a photography package before you board. I think it was $120 for digital downloads of all your pictures, as opposed to $20 per picture while you're on the ship. We didn't do that this time, but I think I will in the future! We really like to take advantage of getting a good picture on formal night.
Overall, this was a fantastic cruise! It felt like the perfect number of nights, the weather was beautiful (and such a nice break from the cold Utah winter!), and it was super relaxing. I love cruising!